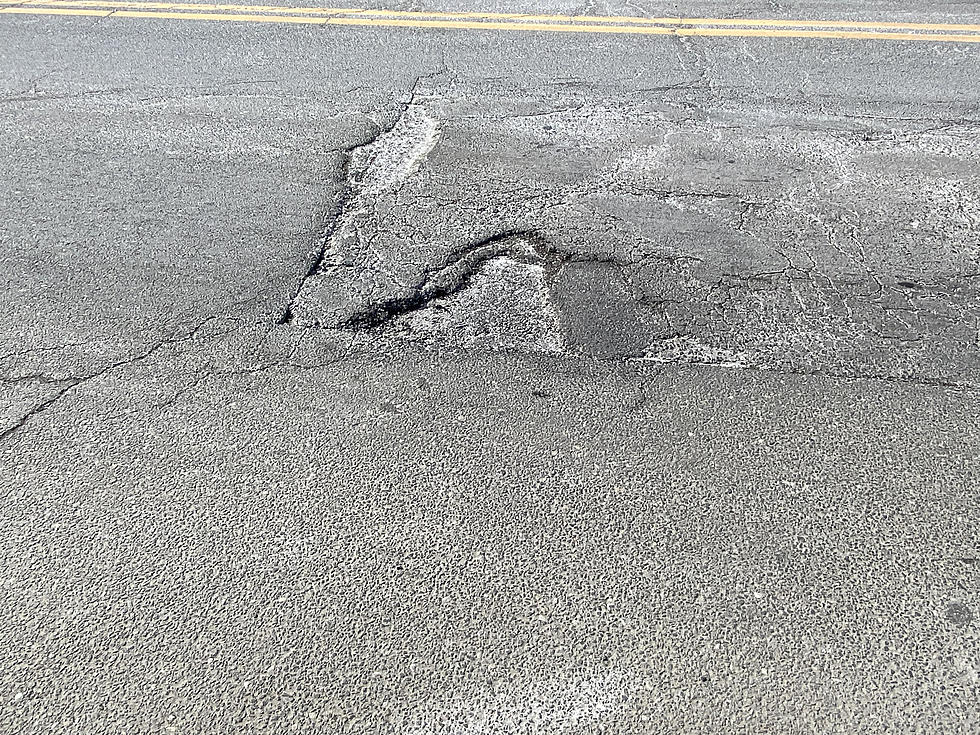 The Potholes on Danbury's Shelter Rock Road are Devastating + Frustrating
Lou Milano
Potholes are one of my pet peeves, they are right up there with people scratching lottery tickets in line at a convenience store.
I've made it my personal mission to wipe out as many of them as possible. I figure, the more light I shine on them, the more likely they are to be filled. Someone suggested that I spray paint phallic images around them. The theory there is, if people are offended, the city will be quicker to remove them but that would be too predictable on my part. I just want to highlight them in a legal way so we can get them out of here.
I also think it's important to know where they are, that way we can avoid them. Back when I had my muscle car, I hated roads with a lot of imperfections. My Trans Am had an extremely low clearance and the last thing you want to do is bottom out in your favorite vehicle.
For these reasons, I'm doing a street-by-street pothole map for Hat City residents.
The Potholes on Danbury's Shelter Rock Road are Devastating + Frustrating
Awhile back, I promised the people of the great City of Danbury that I would create a pothole map and this is just one chapter in the book of potholes.
When I began my pothole journey, I debuted with the potholes of West Street and they are some of the worst I've ever seen. I focused mainly on the area of West Street near the Citgo gas station. Next, it was Main Street where potholes mix with manhole covers and huge divots in the road, to create an unpleasant situation for your car's front end.
Then I put a call out to the Ethan & Lou Radio Show listeners and asked for some tips. I wanted to hear from our listeners to find out where they think the problem areas are. I was told Hardscrabble was rough, someone suggested Woodbury Street and another told me to look at Shelter Rock Road. I chose to head off to Shelter Rock and put the others on the back burner for now.
Soon, I'll venture out for Part 4 of the Danbury pothole map and as I mentioned earlier, I've got a lot of leads. So, if you see a man in your neighborhood, parked on the side of the road snapping photos of the ground, it's just me. Feel free to holler, "what do you say? What do you know?" You can even shout "top of the morning" or "good evening" to me. What I'd like people to stop doing is screaming, "get out of the road a------!" I mean I can take it and all but I'm just doing my job, as silly as that may sound to you.
P.S. If you find this series of articles annoying or overblown, hang in there. We have a long way to go, you are not nearly as pissed off now as you will be in a few weeks.
These Potholes on West Street in Danbury Will Devour Your Car + Your Soul
Potholes are the bane of my existence and this is not a new issue to me. I've never been a person who has "good luck" with my vehicles and that has been reflected in a lifetime of car repair invoices. Below are some facts about potholes, along with a series of photos I took of potholes on West Street in Danbury.
Potholes Are a Problem on Main Street in Danbury, But They Might Be the Least of the Road's Issues
When I began my pothole journey, I debuted with the
potholes of West Street
and they are some of the worst I've ever seen. The area of West Street near the Citgo gas station, just after Division Street is a torturous little stretch of road, and where I took most of my photos. The next mission for me was Main Street and it took some doing.
I had to break it down into sections of road so I could safely access these potholes without being struck by a vehicle. To that end, I was forced to omit what I believe is the worst pothole area on Main Street, from the Danbury Police Station, down to the Mobil gas station. There was no good place to really park and I wasn't walking the entire stretch of road this time of year.
I was impressed to learn certain stretches on Main, had no potholes and that is something you'd never guess if you traveled the road every day because it's an extremely rough ride. Potholes are just part of the tapestry of the awful, jarring mess you will drive your car through. Main Street has tons of huge divots in the pavement, many manhole covers, train tracks, grooves and general chunks of road that seem to have gone missing and were replaced with pebbles. Then you have your double parked cars, aggressive drivers and illegal motorcycles to add to the layered, and anxiety laden experience. These are the potholes of Main Street in Danbury.
Fascinating Images of the Bunkers + Rubble From an Abandoned Missile Site in CT
WARNING: Under no circumstances should you enter this property. By doing so you risk bodily harm and/or prosecution for trespassing on private property.
Recently, I found a
Youtube video
that gives a visual tour of a decommissioned missile sit in CT, located in both Portland & Glastonbury, CT in the Meshomasic State Forest. The video was posted by
"Adventures in Melancholy"
and the host does a great job of explaining exactly what we are looking at. The following photos are from the video and they are of the Hartford site, meaning it was intended to defend Hartford, CT.