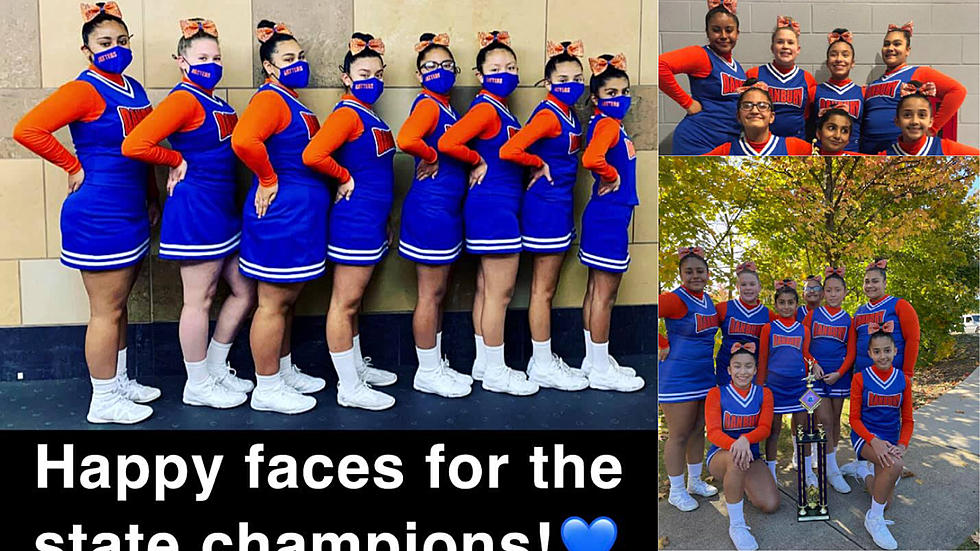 Danbury Hatters D14 Cheerleaders to Represent Hat City in National Championship
HCYS Danbury Hatters via Facebook
Ladies and Gentlemen, we are awash with Sporting Champions here in Danbury.
In the past three weeks, Danbury's Glover Teixeira became the UFC Light Heavyweight Champion of the World, the Danbury Trojans Pop Warner 12U Football team won the New England Regional Championship, and now, we have another Champion in our midst, and they need your help.
The Hat City Youth Sports (HYCS) D14 Danbury Hatters Cheerleading team recently won the D14 Connecticut State Championship, and just this past weekend in Bridgeport at the Northeast Regionals, the team narrowly took home 3rd place. The great news is they've been rewarded for their efforts with a chance to represent Danbury, Connecticut at the AYC National Championships in Kissimmee, Florida December 9-12, 2021.
As we all know too well, getting funding for an unexpected trip is extremely tough, and that's why this wonderful thing called Gofundme.com exists. A Gofundme.com campaign has just been established by Melissa Tunno, with the purpose of defraying the costs of the HCYS D14 Danbury Hatters Champion Cheerleader Team's flights and hotel stays while they're competing at the National Championships in Florida.
Your Danbury Hat Tricks Hockey team has also teamed up with Melissa to host a special HCYS fundraiser night on Friday, December 3 at the Danbury Arena. Half of all the ticket proceeds from the Hatters game against the visiting Delaware Thunder will go to HCYS. Tickets are priced at $15 for adults, $11 for kids, and you can purchase them directly from Melissa, up until 5 PM on December 1, by emailing HCYSCHEER@gmail.com.
This is a major financial undertaking for the families, and they need our help to get the girls down to the National Championship. Can you just imagine their excitement? Please, donate if you can, or attend the special fundraiser for the HCYS Danbury Hatters Cheerleaders at the Danbury Arena.
Danbury Area Residents Share Stunning Fall Sunset Photos for 2021
What is easier than driving all over the Danbury area collecting photos at sunset? Delegating that task, that is exactly what I did recently. I asked our Ethan and Lou Radio Show (I-95) listeners to submit the best photo they took of a 2021 fall sunset. I put the request out on our Facebook page and in an alert on the I-95 Rock Mobile app. These are some of the many submissions I got back and they are stunning looks at sunsets in the Greater-Danbury area.
Danbury Officials Throw Parade for UFC Champ + Hat City Resident Glover Teixeira
Glover Teixeira had already
met with the new Mayor
Elect and was
swarmed
by fight fans and Hat City residents in Roger Park. All that was left to do was an official parade and ceremony for the public which took place on Sunday November 14, 2021. Flanked by local officials Glover took a ride down Main Street to Rogers Park where he was gifted a plaque commemorating his victory over Jan Blachowicz.
Least Expensive Towns in CT