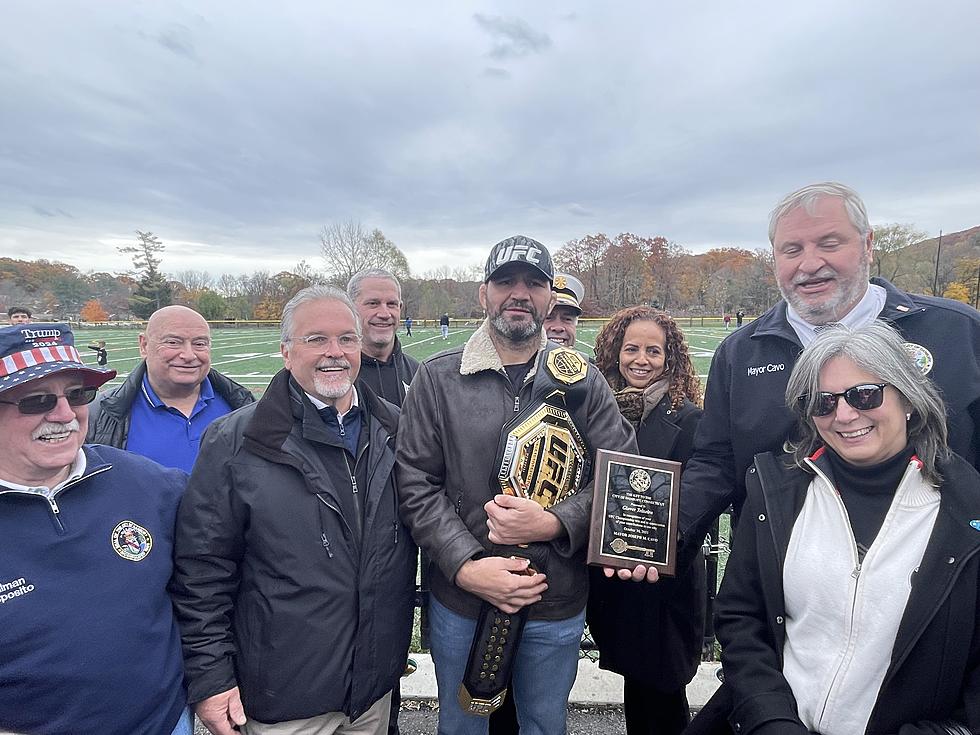 Danbury Officials Throw Parade for UFC Champ + Hat City Resident Glover Teixeira
Dean Esposito
Glover Teixeira is a Danbury resident and UFC Light Heavyweight Champion of the World.
The 42-year-old grabbed the belt on Saturday (10/30/21) during UFC 267 after besting his rival Jan Blachowicz with a rear-naked choke submission move. The victory made him the second oldest person to ever win such a title in the UFC.
One of the first things Teixeira did when he was asked about the win was to thank Danbury saying:
"I want to thank my city Sobralia, (Minas Gerais, Brazil), my family, Danbury, Connecticut, my gym...They're all excited over there. You know I'm coming home with the belt baby! I told you guys, I'm coming home with the belt."
Danbury Officials Throw Parade for UFC Champ + Hat City Resident Glover Teixeira
Glover Teixeira had already
met with the new Mayor
Elect and was
swarmed
by fight fans and Hat City residents in Roger Park. All that was left to do was an official parade and ceremony for the public which took place on Sunday November 14, 2021. Flanked by local officials Glover took a ride down Main Street to Rogers Park where he was gifted a plaque commemorating his victory over Jan Blachowicz.
Congratulations to Glover his fans and his family. The City of Danbury is proud to have a Camp at home. Never give up on your dreams.
13 Dead Giveaways That You're Not From the Danbury Area
There is no great way to do this without laying out the boundaries. For the purposes of getting eyeballs on it, I said "Danbury Area" but we all know that this extends beyond. This is an odd place, and we all have a lot in common that we don't talk about because it's pointless to.
So, this list is for Danbury, Brookfield, Bethel, Ridgefield, Newtown, New Milford, New Fairfield, Brewster, Mahopac, Carmel, Somers and I guess we will include North Salem but only if you promise not to get cute with me.
Being from the Greater Danbury Area means a lot of things and we can all identify them without having to ask too many questions or probe too deep. We can spot an outsider from a mile away. If you are attempting to blend, good luck and beware of the following.
These are 13 Dead Giveaways That You're Not From the Greater-Danbury Area.
The Most Famous Inmates To Serve Time in Danbury
Some of Danbury's Coolest Christmas Light Displays 2020: Part 2