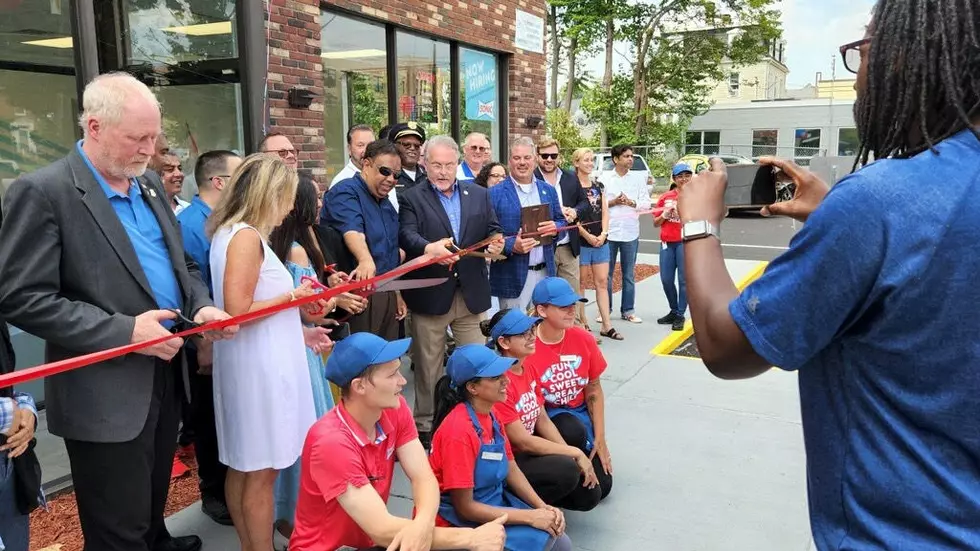 The Grand Opening of Sonic in Danbury Was a Lively Affair
Ron Rogell
Ain't no party like a grand opening party, cause a grand opening party don't stop.
At least this is the case in Danbury, CT. I've attended a bunch of ribbon-cuttings in my days at I-95, and learned nobody does it better than Danbury. The recent Grand Opening of the Sonic Drive-In on White Street was packed and loaded with familiar faces.
The Grand Opening of Sonic in Danbury Was a Lively Affair
Thursday (7/21/22) was the Grand Opening of the new Sonic Drive-In on White Street in Danbury and it was quite the event. We (I-95) were broadcasting live from 11 am - 3 pm but we were not alone. A ton of local officials made the trip to welcome the new business. The Danbury Sonic location is owned and operated by franchise partner Mir Sabbir Ahmed. Ahmed was very welcoming to us and the other guests. Everyone had a great time despite the sweltering summer heat.
A ribbon-cutting has a rhythm to it. It's an organism that I'm not comfortable with yet. You wait until everyone is in attendance, you walk around in circles, giving/receiving business cards and then there is the necessary, but wildly anti-climactic cutting of the ribbon.
If you attend a ribbon-cutting ceremony in Danbury, you will see a lot of the same people. You'll probably see Al Robinson of Hat City Blog who never misses a Hat City event. Al was doing was I was supposed to be doing, interviewing people. I just wasn't in the mood. Instead I walked around filming people, who were filming people like Al Robinson.
Al does great work, check him out at Hat City Blog. Ron Rogell also does great work, he's an actor, go check him out if you don't believe me.
P.S. The Danbury Sonic is looking for employees. If you're interested in learning more about their opportunities, you can apply at careers.sonicdrivein.com
P.S. #2 - My new goal in life is to steal the official Danbury city hall ribbon-cutting scissors.
It may take years but they will be mine.
Below is the Hat City Blog video that Al Robinson was shooting.
5 Signs That Prove New York is Outrageously Funny
I grew up in New York State, and I think it contributed to my sense of humor. Recently I took a trip to the Watkins Glen, NY area with my wife and children. We had a lot of laughs and some of those giggles came right from the signs we saw in the Empire State. These are five of the signs that caught our attention, and proved New York is just a funny place.
New Milford Man' s Chilling Texas Chainsaw Massacre Truck Seen in Monroe
This past weekend's (6/4/22) Barnum Festival in Monroe, CT was a success by anyone's measure. It was a place to go see classic cars of all kinds, have some food and see live music. In that sea of automobile madness was a terrifying thing. There was a vehicle with a recognizable and chilling theme, the Texas Chainsaw Massacre Truck. I spoke to the truck's owner Sam Gentile from New Milford, to find out how this came together, and why.