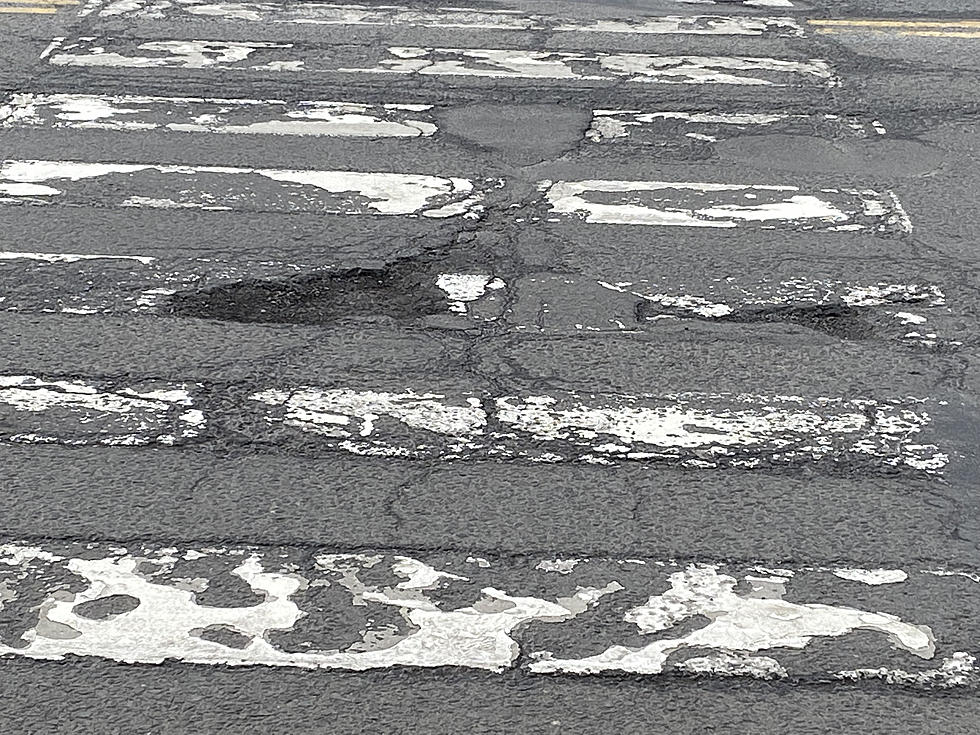 Danbury's Main Street Has a Pothole Problem, But That is the Least of the Road's Issues
Lou Milano
Potholes are one of my pet peeves, they are right up there with people scratching lottery tickets in line at a convenience store.
I decided awhile back that I was going to develop a pothole map for the city of Danbury and then real life got in the way. I'm happy to report, things are going very smoothly in my life, so now I can get back to the business of complaining about surface, nonsense issues like this one.
A couple of weeks ago I started my visual tour with a breakdown of the potholes on West Street in Danbury and now I'm back with part 2, a visit to the potholes of Main Street in Danbury.
Potholes Are a Problem on Main Street in Danbury, But They Might Be the Least of the Road's Issues
When I began my pothole journey, I debuted with the
potholes of West Street
and they are some of the worst I've ever seen. The area of West Street near the Citgo gas station, just after Division Street is a torturous little stretch of road, and where I took most of my photos. The next mission for me was Main Street and it took some doing.
I had to break it down into sections of road so I could safely access these potholes without being struck by a vehicle. To that end, I was forced to omit what I believe is the worst pothole area on Main Street, from the Danbury Police Station, down to the Mobil gas station. There was no good place to really park and I wasn't walking the entire stretch of road this time of year.
I was impressed to learn certain stretches on Main, had no potholes and that is something you'd never guess if you traveled the road every day because it's an extremely rough ride. Potholes are just part of the tapestry of the awful, jarring mess you will drive your car through. Main Street has tons of huge divots in the pavement, many manhole covers, train tracks, grooves and general chunks of road that seem to have gone missing and were replaced with pebbles. Then you have your double parked cars, aggressive drivers and illegal motorcycles to add to the layered, and anxiety laden experience. These are the potholes of Main Street in Danbury.
Main Street Danbury's biggest problem might be the car line in front of St. Peter's School. When it's time for the kids to end their day, the buses pull up in front of the school and they take up the whole curb in that area, eliminating the use of the right turn lane.
Then, the parents who pick their children up by car, line up behind them and when they run out of curb, they skip side street and take up the right lane in front of Connecticut Institute for Communities.
The congestion at that time in that area has a rolling effect on the north and southbound lanes of Main Street, and all of those side streets. It's a lot of fun, especially when everyone started beeping at one another as if they blame each other for this obviously flawed system.
The pictures below are of the aftershock, this is about ten minutes after the busses leave.
I've taken pictures of this mess plenty of times and the people in their cars always seem to be really appreciative of my work. That is not true, they don't seem to like it one bit.
These Potholes on West Street in Danbury Will Devour Your Car + Your Soul
Potholes are the bane of my existence and this is not a new issue to me. I've never been a person who has "good luck" with my vehicles and that has been reflected in a lifetime of car repair invoices. Below are some facts about potholes, along with a series of photos I took of potholes on West Street in Danbury.
10 Wild But True Facts About CT Roads + Motorists
Each year, the average American spends
54 hours a year
in traffic. We are out on the roads so often we are bound to learn a few things about the roads themselves and our fellow drivers but there are some things many of us will miss. Here are some wild but true facts about Connecticut's roads and motorists that you may not know.
Danbury in Photos 2021
It's that time of year where media outlets inundate you with a braggard list of all the work they've done for the year. By December, everyone is pretty much out of ideas anyway. This is sort of like that. The following are photos I took of Danbury, CT for stories I wrote about the Hat City in 2021.