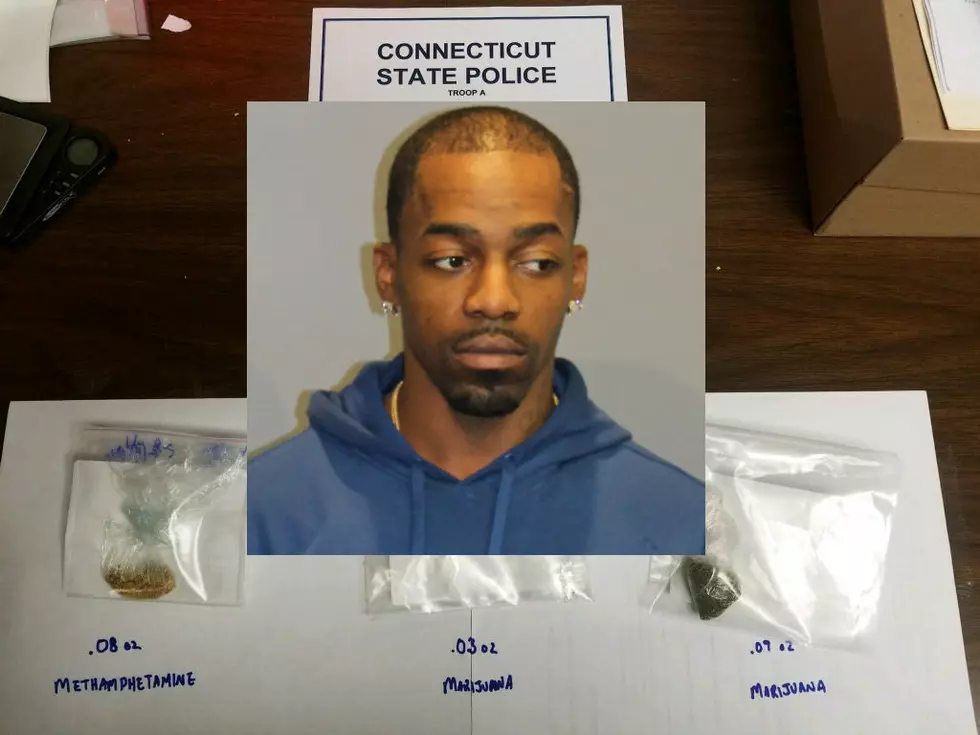 I-84 Driver Arrested With Meth After Chase in Stolen Car From Ridgefield
CT State Police
A Waterbury Man has been arrested by State Police after a brief pursuit on I-84 in a car that police say was stolen from Ridgefield.
According to a press release from the Connecticut State Police, Troopers were waiting at the westbound ramp at exit 25a on Interstate 84 in Waterbury based on a report of an erratic driver late yesterday (October 16). Once the vehicle was spotted, troopers followed the car in question, but because of the never-ending construction zone in that area, didn't attempt a traffic stop at first. Upon exiting the work zone somewhere near exit 22, the trooper that was following the car engaged his emergency lights, at which point the operator sped up and refused to pull over. A sergeant who was on I-84 ahead of the pursuit, slowed traffic down, forcing the operator to pull over because he could not get around the backed up vehicles.
From there, the car's VIN confirmed that it had been stolen from Ridgefield and the Connecticut license plates did not match. Police say the operator, 29-year-old Cornelius Coney of Waterbury, was found to be in possession of methamphetamine and marijuana. Coney is also said to have been driving the car without a valid driver's license. He was arrested and charged with possession of narcotics, engaging in police pursuit, possession of marijuana, larceny, misuse of license plates, reckless endangerment, and operating a motor vehicle with a suspended license among other motor vehicle charges. His bond was set at $50,000, which he was able to post. Coney is due at Waterbury Superior Court on November 8.
Watch the Delicious Magic Happen at Ice Monster on Federal Rd. in Danbury:
What Happens When Ethan & Lou Talk Baseball?
What's With the 'Corrupt Probate' Signs on Route 7? We Have Answers