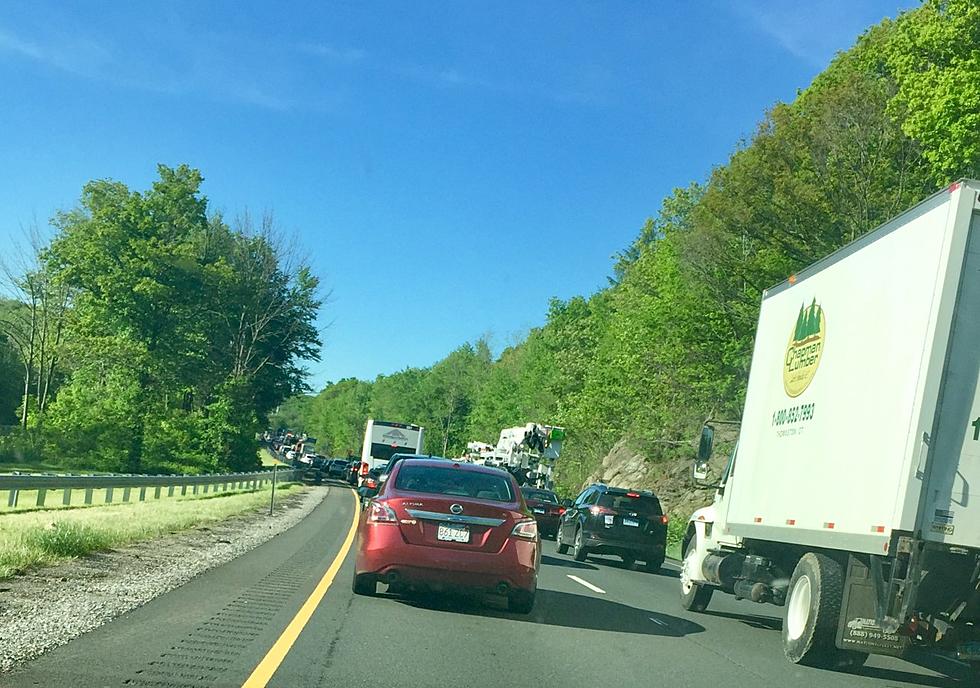 I-84 Danbury Commuters: What's the Worst Delay You've Ever Faced?
Photo by Large "84 sucks" Dave
My life has improved in so many ways since I moved from Waterbury to Torrington, but the best improvement is: I'm not an I-84 commuter anymore, I don't have to worry about getting stuck in my car for hours every day.
Waterbury to Danbury should only take a half an hour, right? I can't tell you how many hours I've spent in park, staring at trees in Southbury. Even when 84 is light, all it takes is a disabled vehicle on the shoulder not even blocking a lane, and it will cause a 2-mile backup. Take a lane out? Or even worse two out of three lanes? You better charge your phone, and find a cup to pee in.
When a crash happens between Exit 3 and Exit 7 in Danbury, you might as well cancel your plans. It's taken me hours at times to get between the Rt.7 exits. 84 sucks, when a crash happens near Exit 17 in Middlebury, it backs up all the way to Newtown. The Rochambeau Bridge realignment back-ups? How I hate thee.
What's the longest that you've ever been stranded in your car on 84?
My record is 4 hours. I want to say that it happened in 2009? I left work at 5:30PM in Brookfield, I got on 84 East at Exit 9, and I came to a dead stop just past Exit 16 in Middlebury. It took me 4 hours to make it down the hill to Exit 17, I walked into my house at 9:30PM. It turned out to be an overturned tractor trailer across all lanes, luckily the driver wasn't hurt.
Which of New Milford's 4 Dunkin's is the Quickest? (In Your Opinion)
I pass by all 4 of the Dunkin's in New Milford on my way into work, and I've been into all of them multiple times, which one do you think is the quickest to get in and out of?
I Got My Hands on the Best Cheese in Bantam, And The World
A huge congratulations to the incredible team at Bantam/Litchfield's Arethusa Farm, you wear yet another World Championship belt! I had to pay my respects and wet my beak with a fresh hunk of the Best Cheese IN THE WORLD for 2023 today.
Monster Eel Caught in Connecticut Waters