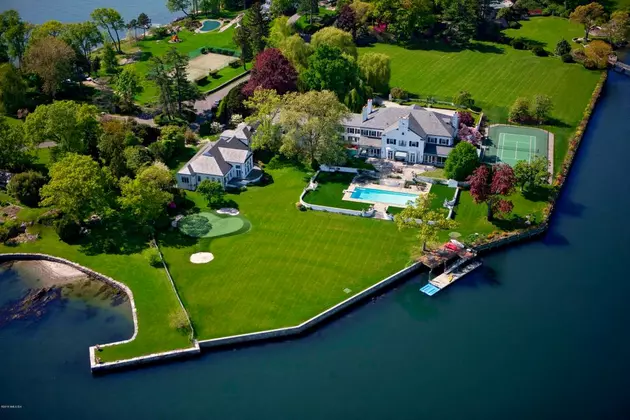 The Most Expensive Home in Connecticut Could Be Yours For a Cool $45 Million
Zillow/Coldwell Banker/Tamar Lurie
This Greenwich, CT estate features 8 bedrooms, 10 full baths, 3 half baths, a tennis court, putting green, indoor pool, sound views and a very green lawn. The house itself is just shy of 20,000 square feet and is located at 21 Vista Dr. in Greenwich, CT.
This is the front of the house that holds the thirteen bathrooms, ya know, in case you ever need to poop thirteen times simultaneously.
Here's your outdoor pool, which, in my opinion, is satisfactory for hosting a luncheon.
Here's a dining room in case you are ever hosting the Pope.
I don't know what you call this room, but if you ever want to have a seizure, you can step inside and take a good long look at the carpet.
Movie theater — must have.
Here is your indoor pool so you can take your morning laps.
You've got to love the a-- loads of money that are out there. We all ask the same question when we see things like this — what do these people do for a living? No one seems to know, but it's got to be a rough life.
If you are in the market for this stunning palace, and believe you can qualify for the estimated $181,000 mortgage, click here and get pre-qualified or reach out to Tamar Lurie direct.
What Happened When Ethan and Lou Found a Snake IN the Radio Station?
What Do Ethan and Lou Know About Today's Pop Culture?: