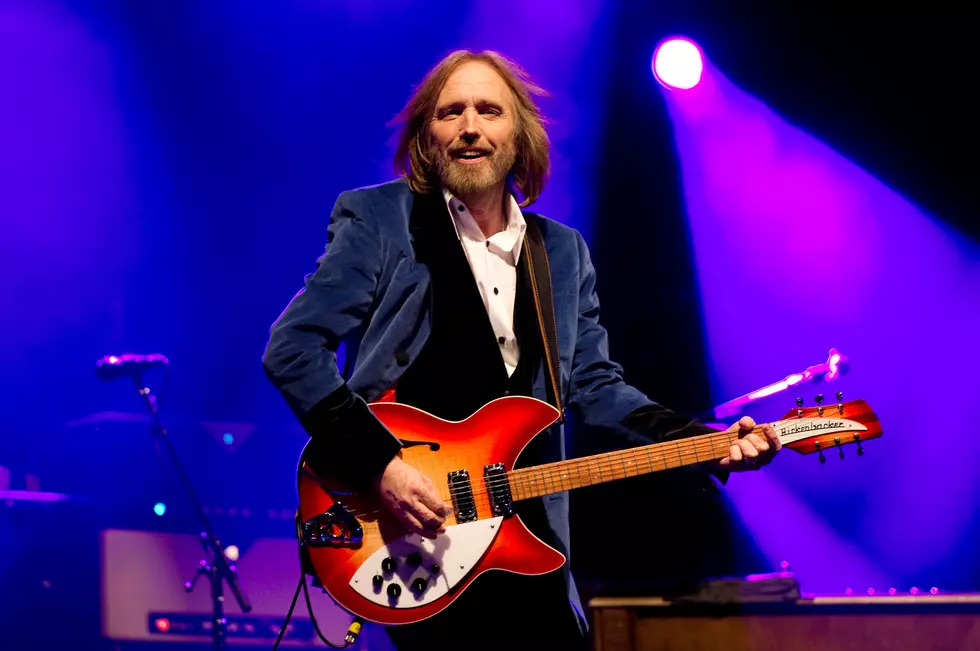 From A Dirty Road To The Gates Of Heaven: Tom Petty Finally Gets His Wings
Getty Images
There are millions of Tom Petty fans around the world in mourning this week. This is just one fan's story:
Well I started out down a dirty road
Started out all alone
It was summer of 1989. That's when I became a fan. I heard "I Won't Back Down" on the radio, saw the video on MTV. Petty looked so cool wearing his trademark top hat. You know the video. I went out and bought 'Full Moon Fever'. I worked at my local elementary school that summer. I waxed and mopped floors, scraped gum off the walls. It was a sweltering hot summer and I was working in a building with absolutely no air conditioning. I had maybe 10 or so cassettes that made up my music collection at that time. That was it. One of those cassettes was 'Full Moon Fever'. Man, I played that thing 'till I wore it out. I had to buy a second copy. "Free Fallin", "I Won't Back Down", "Runnin Down A Dream", "A Face In The Crowd", "Yer So Bad", "Depending On You", "Alright For Now". Wow. All of those songs became like a best friend helping me get through the long hot days as I walked those empty school halls going from one empty classroom to the next.
I remember I met a girl that summer – Kristen Connelly. Much to my disappointment it turned out to be nothing but a summer fling; it was over as soon as September came around. But the music? Hell now. Petty's music was right by my side as I headed into my senior year of high school. The sun was setting on summer and a new school year was about to get underway.
And the sun went down as I crossed the hill
And the town lit up, the world got still
That fall I struggled to adjust but got by at school. I also worked weekends at a local bar; cleaning up the place for a few extra bucks. Guess what? I used the money to buy a new Tom Petty cassette each week at the local record store – Strawberry Records. One by one I bought and listened. His first album, 'You're Gonna Get It', 'Damn The Torpedoes', 'Hard Promises', 'Long After Dark', 'Southern Accents', 'Pack Up The Plantation: Live', 'Let Me Up (I've Had Enough)' and how could I forget 'Traveling Wilburys Vol. 1'?. One after another they all struck a chord with me. I listened to them in the car cruising around town or on my way to the mall. The hits I heard on the radio, the deep tracks that felt like they belonged to me and me only. I loved them all. I connected with the songs and the man who sung them. Tom Petty was quickly becoming like that cool uncle that you wanna hang with. The leaves left the trees, the fall turned to the cold winter months, then came the spring and before I knew it high school graduation. My life was about to change in a big way.
Well the good old days may not return
And the rocks might melt and the sea may burn
It was time to head out on a new journey. I was moving out of the safety of my childhood home and quiet hometown of Southington and into a college dorm in New Haven. It was just me among a group of complete strangers and an uncertain future ahead. I made damn sure I brought all of my music with me and, yes, that included my Tom Petty collection. I put them all in a travel bag and kept them in a safe place in my dorm room.
As it turned out, during my sophomore year of college, Petty was back with a new album 'Into The Great Wide Open' and, once again, it was all over the radio and MTV. It now became the soundtrack to my turbulent college days. New friends, new adventures, new girlfriend, soon to be new ex-girlfriend. The ups, the downs. The parties, the fears of future and there was T.P. in the background singing about how he's learning to fly but ain't got wings. Struggling to face reality, wishing he were flying around the clouds only to be sent crashing down to earth once more. Made perfect sense to this college kid.
Well some say life will beat you down
Break your heart, steal your crown
So I've started out, for God knows where
I guess I'll know when I get there
College ends and here we go again. Just when I was getting settled into college life I'm pushed out of my nest once more and forced to face the "real world".
I worked at the mall in the fall of '94 and sure enough Petty was there again to get me through with a new batch of music. This time 'Wildflowers' arrived and, yes, it was another commercial and critical success thanks to the hits like "You Don't Know How It Feels", "You Wreck Me" and "It's Good To Be King" and an amazingly underrated track called "Time To Move On". Time to move on it was. I was about to get my very first "professional" job as a journalist.
In 1996 I got a job as Sports Editor of The Cheshire Herald before getting into radio full-time. As the years went on I kept a close eye on anything Petty released. 'Echo', 'The Last DJ', 'Highway Companion' all delivered at least one track I would cherish in one way or another. Then he turned a whole new page and experienced a musical rebirth with 2010's 'Mojo'. It was my favorite Petty album since 'Into The Great Wide Open'. "After all these years," I thought. "He still has plenty of gas left in that tank of his!" He followed with another great record called 'Hypnotic Eye' in 2014 and, oh yeah, also released some excellent Mudcrutch albums in '08 and '16.
Tom Petty was still on top of his game as he celebrated his 40th year this past summer. He said his days of extensive touring would soon be over but had plenty of music left in him and we fans had no reason to doubt that. Then came Monday, October 2nd 2017. Now he's gone. Hard to make sense of that.
I'm learning to fly, around the clouds
With all the amazing songs I can pick from to remember Tom Petty most by it's by far the live version of "Learning To Fly" which he included on his "Live Anthology" box set. This is Petty where he loved to be most – on stage surrounded by the sound of his fans singing along to his music. Only on this track, in light of his recent passing, it sounds as if his fans are now singing Tom straight up into Heaven. As I listened I thought about all of his personal struggles – the verbal and physical abuse from his father as a child, his house being burned down, divorce, the loss of his bandmate Howie Epstein to an overdose, his own drug addiction - were all quickly fading away. He is finally flying over his troubles, looking down at the world below. Life is no longer weighing him down, he's as light as a feather. He started out for God knows where, now he's finally learned to fly. He's finally gotten "there".
Fly on T.P. Thanks for helping this kid learn to fly.
You can listen to Eric Senich live on Saturdays from 10am to 3pm on 95.1 FM. You can also listen online by clicking here or by downloading the radioPup app for your mobile device.