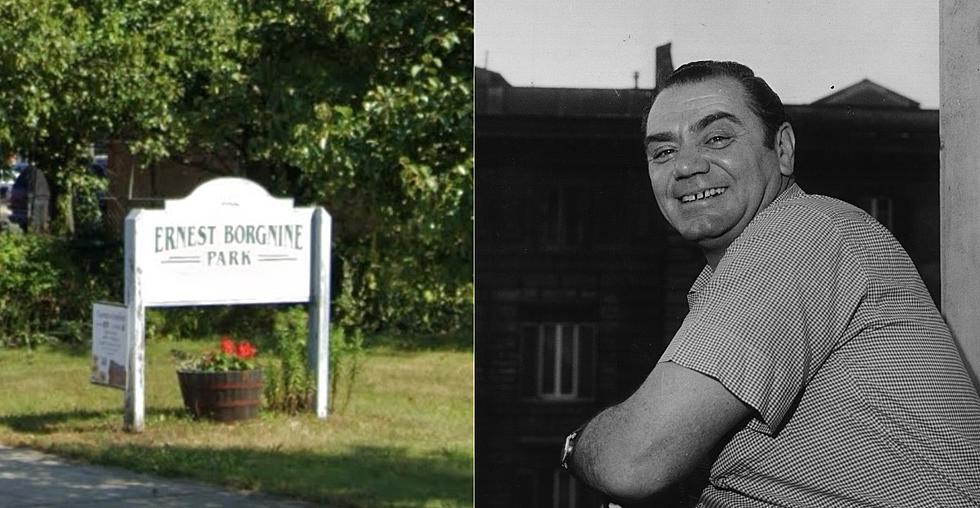 Do You Know Which Connecticut Town Is Home to Ernest Borgnine Park?
Google Instant Street View
Ernest Borgnine is not a modern day name in any sense.
You'd have to be at least my age (43) to know who he is but he was a very big star in Hollywood, for a long time. Borgnine's film and television career began in the early 50's with small TV roles but it accelerated in a hurry.
He had his first big break in 1953 as Sergeant "Fatso" Judson in the movie "From Here to Eternity." In 1955 he won the Oscar for Best Actor for his starring role in Marty, beating out Frank Sinatra and James Dean.
His career was on fire from that point on, and would remain so until the late 90's. With all of the faces Borgnine wore and the characters he played, he is best known for playing Quinton McHale in McHale's Navy. Ernest Borgnine was a recognizable Hollywood face in a romanticized film era.
He also happens to be from Hamden, CT and has a park named after him there.
The park was named for him in 2005 and sits on the corner of Dixwell and Putnam Avenues in Hamden. Road Side America says "Ernie never forgot where he came from and makes frequent trips back to his hometown." 
The park is in an area of town where you can get cash for houses. It does not appear to have much to it, except some bushes and the sign. But it's there, he has a park, what do you and I have? If you visit you can hit up the CVS after and pick up your meds.
The meat of Borgnine's career was before my time but I remember seeing him all over TV when I was a kid.
He was a character actor that played all sorts of roles, good guys, bad guys, tough guys, dads and grandpas but I'll always remember him for one thing. No, not the Poseidon Adventure, I'll remember him playing himself on Fox and Friends.
That's right, I'll remember this man saying he diddles himself a lot into a hot mic. R.I.P. Ernest, you brought a lot of laughs to a lot of people.
Want more useless information and hilarious observations? Check out the Ethan, Lou & Large Dave Podcast on Apple and Spotify.
Insanely Difficult Mini Golf Hole in Brookfield Destroys All Who Dare to Face It
JJ Stacks in Brookfield bills itself as the perfect summer food and entertainment family destination. The restaurant located at 537 Federal Road in Brookfield has a bit of everything from burgers, dogs and fries to adult beverages. They also have a slogan that goes "JJ Stacks, where family fun is a hole in one."
Exclusive Photos, Videos, and Interviews on the Set of New Milford Horror Movie
"Candlewood" is a horror film that just finished filming in New Milford, CT. This is how the filmmakers described the project on their Indiegogo:
"Candlewood is the first movie of three in the psychological/horror feature film franchise. A blended family moves from the city to a small town in Connecticut, where a local urban legend adds chaos and terror to an already fragile family dynamic. The staunch patriarch, who desperately wants his family to not see him as a failure but as the father that did everything, he could to keep his family together through difficult times. Candlewood follows a family leaving New York City for a simpler life in the country town of New Milford, CT. The haunting and mysterious true stories of missing hikers near a popular state park, Lover's Leap, coupled with the town of Jerusalem sitting at the bottom of Candlewood Lake gives credibility to our narrative. We bring to life the struggle of good vs evil and what happens when lifelong, outdated traditions are challenged."
A while back I got in touch with the folks behind the movie, invited them on the I-95 Morning Show with Ethan, Lou and Dave and talked about the film, and shooting in New Milford. We spoke with Director Myke Furhman and Writer/Executive Producer Victoria Flores-Argue. During that discussion, I demanded to be in the movie, telling the duo that I have some experience acting on TV shows that never actually made it onto TV. Against all odds, they did invite me to participate and I visited the set on October 20th to shoot a scene that is important. I was extremely nervous and I had zero idea of what I was in for. Below are some insider moments from my day on-set and from others.