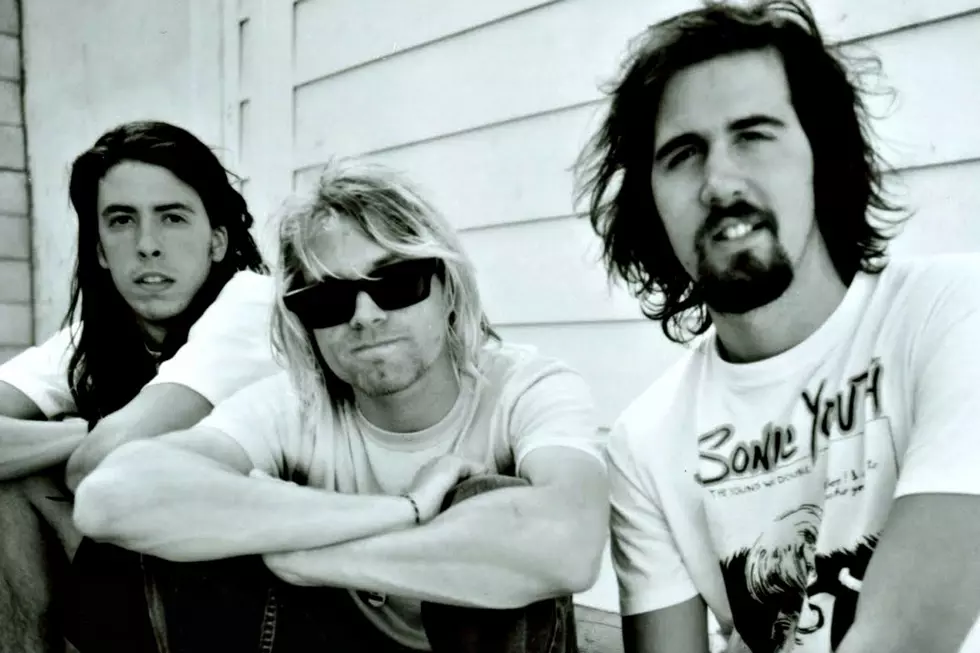 How Dave Grohl Became a Member of Nirvana
DGC
In the fall of 1990, Nirvana were one of the fastest-rising young rock bands in the Northwest — but they were still waiting for the drummer that would transform them into the group that bassist Krist Novoselic would later describe as "a beast that walked the earth."
That drummer was Dave Grohl — at 21, already a grizzled veteran of the Washington, D.C., rock scene whose résumé boasted a stint with the punk band Scream. As Drum Magazine later noted, it was at a Scream gig in San Francisco where Cobain — in attendance at the behest of Melvins frontman Buzz Osbourne, who knew and liked both bands — first saw Grohl in action.
"I was standing with Kurt and Chris," recalled sound engineer Craig Montgomery. "Kurt said, 'That's the kind of drummer we need.' Dave had an energy that was hard to miss, and Kurt and Chris were pretty blown away by his playing. He seemed like a good fit for what they were doing."
Shortly thereafter, Cobain and Novoselic invited Grohl out to Seattle, where he arrived on Sept. 21, 1990 — something not known by Nirvana's drummer at the time, future Mudhoney member Dan Peters, who'd been in the lineup just long enough to track one single, "Sliver," and whose first (and last) show with the band took place Sept. 22, with Grohl watching from the audience.
Days later, Grohl joined Cobain and Novoselic for a session at local studio the Dutchman, quickly proving he was the missing link they'd been looking for. The group's early years had seen a revolving door of drummers, but as Novoselic told Michael Azerrad in the band biography Come As You Are, "We knew within two minutes that he was the right drummer. He was a hard hitter. He was really dynamic. He was so bright, so hot, so vital. He rocked."
That left Cobain to dismiss Peters, which he reportedly did only after announcing Nirvana's latest lineup change during a local radio appearance a few days later — but then, as Grohl notes in the Modern Drummer article, interpersonal communication wasn't necessarily Cobain's strong point. "I don't remember them saying, 'You're in the band,'" recalled Grohl. "We just continued."
And as they continued, their momentum kept increasing: Nirvana signed their major-label deal with DGC Records a few months after Grohl's arrival, releasing their second studio effort, Nevermind, in September 1991. By the following January, they had a No. 1 hit on their hands, setting in motion Nirvana's whirlwind ascent to worldwide rock stardom — and their equally rapid, and tragic, dissolution.
 
 
See Nirvana Among the Top 100 Albums of the '90s
You Think You Know Nirvana?