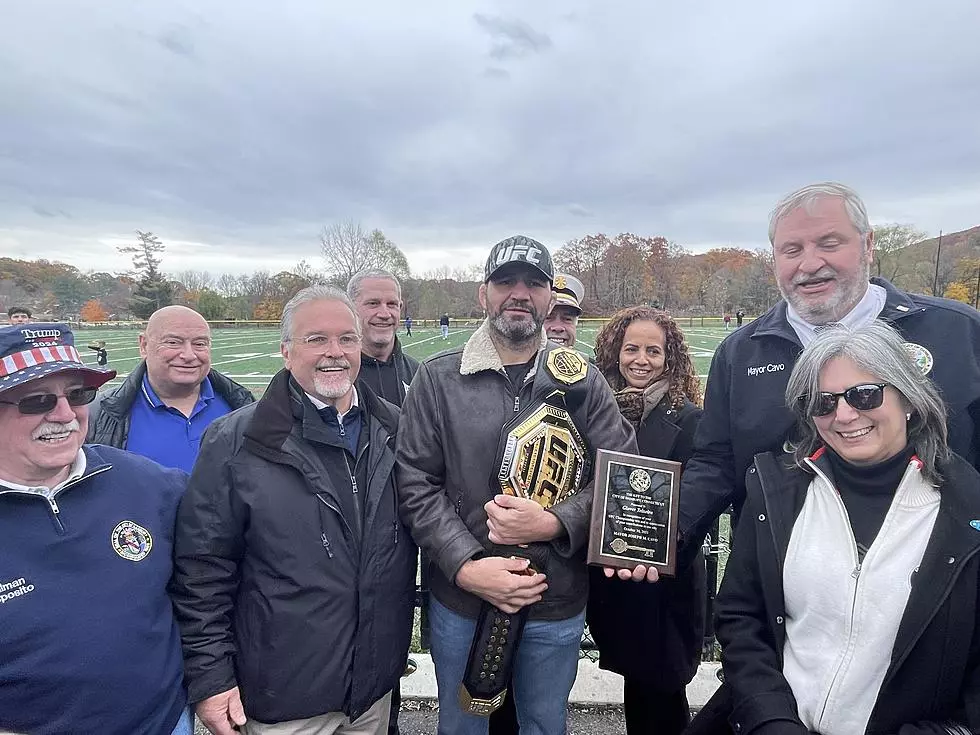 Danbury Will Host Free Event to Honor Retired MMA Champ
Dean Esposito
Glover Texeira is a Brazilian-American Mixed Martial Artist who happens to be a Danbury resident.
If the name sounds familiar, that is because it's been printed in countless publications over the last two years. In October of 2021, Glover Texeira became the UFC Light Heavyweight World Champion by defeating Jan Błachowicz at UFC 266.
In the wake of the victory, fans swarmed the City of Danbury to get a piece of the champ. Everyone wanted to thank him, congratulate him or have their picture taken with fighter.
After losing the Light Heavyweight Championship belt, Texeira got another opportunity to take the title back in January of 2023, at UFC 283. Glover fought like a champion but was unable to capture victory, losing to Jamal Hill. While Hill grabbed the win, it was Glover who had the lion's share of the spotlight. Glover retired in the ring, during his post-fight interview. Texeira laid his gloves on the mat and said "I'm too tough for my own good." 
Glover Texeira finished his storied pro fight career with a record of 33-9.
Now that Texeira has retired, The City of Danbury is getting set to honor him. On Sunday February 26th, the City of Danbury will host a free event at the Portuguese Cultural Center. Glover will join the Mayor of Danbury and all of his fans from 3-5 pm at 65 Sand Pit Road in the Hat City.
Danbury Mayor Dean Esposito made the announcement on the Thursday (1/26/23) edition of the I-95 Morning Show. This is what Esposito had this to say:
"We're taking an opportunity to celebrate Glover on his career. He fought the other night, unfortunately he didn't win that fight but he's held the title in the past and he's a Danburian and we just want to honor his career and what he's done in that sport, winning the title in the past. His efforts in that last fight were courageous and we just really appreciate him as a Danburian and we want to let everybody know to come and celebrate with us."
I've never had the pleasure of meeting Glover but I've talked with a few people who have and they all had the same takeaway. Glover is unbelievably positive and has an extraordinary belief in himself. I asked Dean Esposito if Glover's positive attitude is as infectious as people say, this was his response: :
"Yes. Definitely Lou as you know we had a parade down Main Street to celebrate his victory. He was a worldwide champion right here in the City of Danbury. We were so proud of him and we're still proud of him, you know that. The reality is, once you meet him and get to talk to him, it is infectious. He's a really good person he's contacted me quite a few times since he became champion and he wants to get more active in the community with the youth to bring the sport forward and work with us." 
The Mayor added the following in a press release from City Hall:
"I am honored to host this event in recognition of Glover Teixeira's dedication to the City of Danbury. Glover is an excellent role model to so many throughout our community, and his story of perseverance and hard-work is truly inspiring." 
You can listen to the Mayor's segment on the I-95 Morning Show below.
You can listen to our entire interview with Danbury Mayor Dean Esposito below. In it, we also discussed transportation upgrades coming to Danbury and a recent crime allegedly commit by teenagers.
Danbury Officials Throw Parade for UFC Champ + Hat City Resident Glover Teixeira
Glover Teixeira had already
met with the new Mayor
Elect and was
swarmed
by fight fans and Hat City residents in Roger Park. All that was left to do was an official parade and ceremony for the public which took place on Sunday November 14, 2021. Flanked by local officials Glover took a ride down Main Street to Rogers Park where he was gifted a plaque commemorating his victory over Jan Blachowicz.
8 Main Street Danbury Facts So Unbelievable, They Have to be True
Danbury: "The Hat City"
At one time. Danbury was known as the hat making center of the universe. The hat making industry is what this town was built on but frankly, I'm tired of talking about hats. We are so much more than that. Danbury has a lot of intriguing true stories and many of them originated in the same place, Main Street. Main Street Danbury holds truths so unbelievable, you kind of have to. How can one 2-mile stretch of road, hold so many stories? I just does.
Want more Danbury News? If so, check out the Ethan, Lou & Large Dave Podcast. The show is available wherever you get your podcasts, including Apple and Spotify. The program is the same one we do on the radio but with limited commercials and no music. You can also listen live by streaming the show on the I-95 Rock Mobile app, or tune into I-95 (95.1FM).