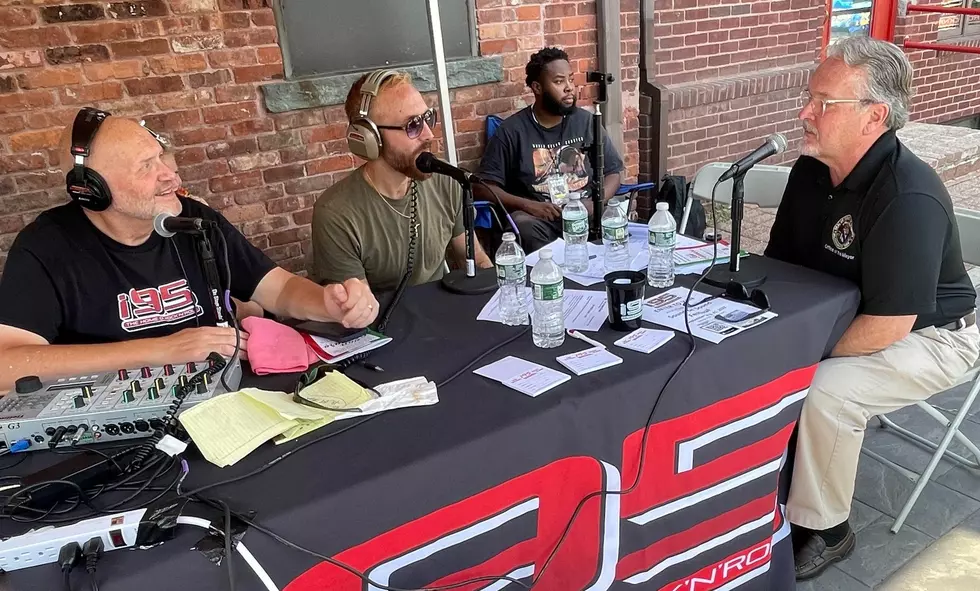 Danbury Mayor on Weed Retailers: 'We're Not Going to Make it Easy'
Lou Milano
When the State of CT made recreational marijuana legal, they framed it with an out for individual municipalities.
Each city and town in Connecticut could decide to welcome or disallow recreational cannabis businesses on their own. Some communities came out and decided against it right away. Other towns put a moratorium on the manner and a brave few were ready and willing. Danbury had a moratorium at first, and then decided to move forward, carefully.
Danbury Mayor Dean Esposito was a guest on the I-95 Morning Show on Thursday (11/3/22) to discuss a variety of items related to the Hat City. Ethan, Lou and Dave asked him about retail cannabis sales, this is some of what he had to say.
When should we expect it?
"Well, it's coming buddy. This specific issue has been huge, you all know that, we've been facing it. Again, we do our due diligence. I know it was passed by the state, I know it's a law to be able to sell cannabis as far as retail, and medical, and growing. But, the city of Danbury is taking it slow and steady to make sure that we have everything covered, that we need because believe it or not guys, there are some people out there that do not like cannabis. As a representative of all the people, we want to be fair to everyone, all of our residents and taxpayers of course. But the reality there, again, it was a state law that was passed by our legislature and we're going to abide by that."
Where will the retail cannabis business be located in Danbury?
"Our City Planning Department have been evaluating locations locations for retail and we made it very restricted, I'll tell you that straight up. We're not going to make it easy to open up shop in Danbury. But, we are giving the ability to open one. But, there are a couple, they've centered on two possible locations in the city. I don't know exactly where they are but there is a circle around it, you can't be near a school, you can't be near certain things but we are giving them the ability to retail in Danbury but it is very strict, ,and I'll tell you that straight up."   
You can hear the retail cannabis discussion below.
You can listen to our entire interview (11/3/22) below. Beyond the cannabis issue, we discussed the timeline for the Danbury Career Academy, Election season and what it was like on Deer Hill Avenue this Halloween.
You can hear more from Danbury Mayor Dean Esposito each Thursday morning on the Ethan, Lou & Large Dave Show on I-95. The morning show continues to provide more live and local content than anyone in the region.
The show is live every weekday morning from 6-10 on I-95 (95.1FM) locally. You can listen anywhere in the world by streaming on the I-95 Rock Mobile app. You can also listen to the show on-demand with the Ethan, Lou & Large Dave Show Podcast available on Apple and Spotify or wherever you get your podcasts.
Exclusive Photos, Videos, and Interviews on the Set of New Milford Horror Movie
"Candlewood" is a horror film that just finished filming in New Milford, CT. This is how the filmmakers described the project on their Indiegogo:
"Candlewood is the first movie of three in the psychological/horror feature film franchise. A blended family moves from the city to a small town in Connecticut, where a local urban legend adds chaos and terror to an already fragile family dynamic. The staunch patriarch, who desperately wants his family to not see him as a failure but as the father that did everything, he could to keep his family together through difficult times. Candlewood follows a family leaving New York City for a simpler life in the country town of New Milford, CT. The haunting and mysterious true stories of missing hikers near a popular state park, Lover's Leap, coupled with the town of Jerusalem sitting at the bottom of Candlewood Lake gives credibility to our narrative. We bring to life the struggle of good vs evil and what happens when lifelong, outdated traditions are challenged."
A while back I got in touch with the folks behind the movie, invited them on the I-95 Morning Show with Ethan, Lou and Dave and talked about the film, and shooting in New Milford. We spoke with Director Myke Furhman and Writer/Executive Producer Victoria Flores-Argue. During that discussion, I demanded to be in the movie, telling the duo that I have some experience acting on TV shows that never actually made it onto TV. Against all odds, they did invite me to participate and I visited the set on October 20th to shoot a scene that is important. I was extremely nervous and I had zero idea of what I was in for. Below are some insider moments from my day on-set and from others.
High Definition View From Way Above Bethel
Bethel is a beautiful place to stroll around at street level or to view from above like "basspig" did with their drone, from high above the town.