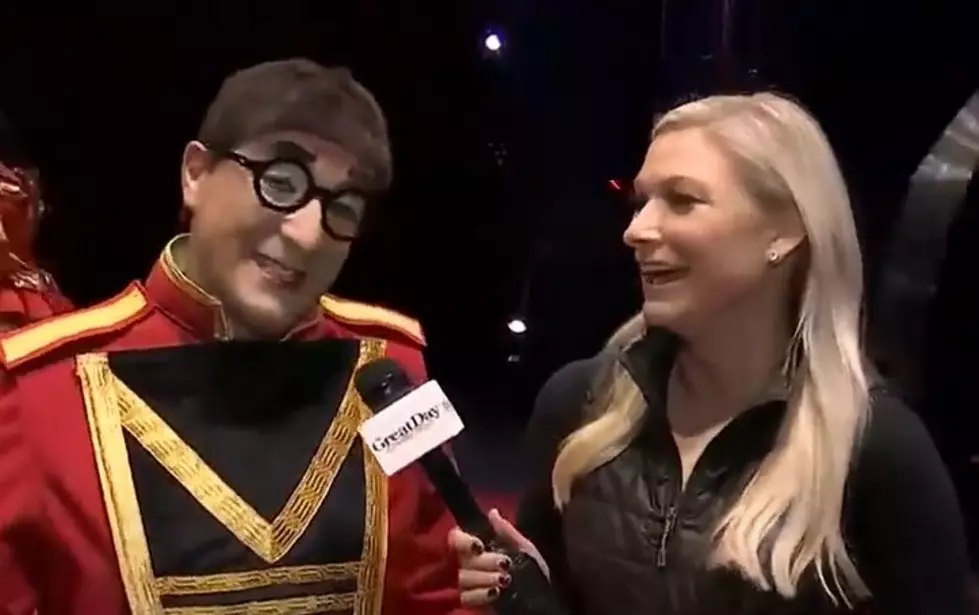 TV Report About Danbury Circus Hilariously Over-Analyzed
WFSB
Marcy Jones of WFSB caught up with a Circus Ring Leader named Steve.
She was doing a live report from Danbury, CT about the circus being in town. Marcy could not hold back her adoration for Steve's eyebrows. Jones said: "You have better eyebrows than me, I'm so jealous." Steve responded by saying: "Well, they make them of the show."
Boom, TV is amazing. Television in all its forms has never failed me. Where else can you get a reporter bringing a live interview to a screeching halt by calling out someone's brow-stache?
Shout out to Marcy Jones, it can be impossible to make those transitions. They kick it to you live, out of an up-tempo number, then you are responsible for providing the who, what, when, where, why and the vibe.
"You have better eyebrows than me, I'm so jealous." That is what we got, and frankly it is the literal best anyone, could have done.
People who don't interview people on a daily basis, don't get it. If you're doing your job right, it's supposed to look like two friends having a discussion that just happens to reveal all of the world's relevant information in :29 seconds.
But, is that how people really communicate? No. Go ahead and ask your friend one simple question and 30 minutes later, you're talking about freshman year and you've learned nothing. Now, instead of a friend, it is a stranger, in a literal circus, in a parking lot, in Danbury.
Well done Marcy, I dig your style, your vibes and your professionalism. Shout out to Steve for growing up in the circus, speaking at least two languages and making real-life impressions on people with his follicle choices.
Oh yeah, I almost forgot, there is an acrobat circus in Danbury called Flip Circus and it's supposed to be amazing. It's only in town until Monday, November 14th so get your tickets now.
Flip Circus was created by the imagination of the Vazquez Family. You cannot miss the enormous red and white tent in the mall parking lot, and you DO NOT want to miss the action inside like jugglers, acrobats, aerialists and the motorcycles inside the Globe of Steel. Flip circus says you'll laugh with their gleeful clowns like you never had before.
P.S. If the talk of "transitions" caught your attention as familiar, there is a reason. I was showing some love to the late, great Casey Kasem.
Danbury Area Folks Showoff Their Creative, Funny and Terrifying Halloween Costumes
Halloween (2022) had some strikes against it. It landed on a Monday and it rained for much of the night. However, there were more positives, the weather was warm, the Greater-Danbury area had a ton of free events and people used a ton of creativity for their costumes. The following were all sent to the Ethan, Lou & Large Dave Morning Show on I-95. These folks submitted their photos using the I-95 Rock Mobile App.
Exclusive Photos, Videos, and Interviews on the Set of New Milford Horror Movie
"Candlewood" is a horror film that just finished filming in New Milford, CT. This is how the filmmakers described the project on their Indiegogo:
"Candlewood is the first movie of three in the psychological/horror feature film franchise. A blended family moves from the city to a small town in Connecticut, where a local urban legend adds chaos and terror to an already fragile family dynamic. The staunch patriarch, who desperately wants his family to not see him as a failure but as the father that did everything, he could to keep his family together through difficult times. Candlewood follows a family leaving New York City for a simpler life in the country town of New Milford, CT. The haunting and mysterious true stories of missing hikers near a popular state park, Lover's Leap, coupled with the town of Jerusalem sitting at the bottom of Candlewood Lake gives credibility to our narrative. We bring to life the struggle of good vs evil and what happens when lifelong, outdated traditions are challenged."
A while back I got in touch with the folks behind the movie, invited them on the I-95 Morning Show with Ethan, Lou and Dave and talked about the film, and shooting in New Milford. We spoke with Director Myke Furhman and Writer/Executive Producer Victoria Flores-Argue. During that discussion, I demanded to be in the movie, telling the duo that I have some experience acting on TV shows that never actually made it onto TV. Against all odds, they did invite me to participate and I visited the set on October 20th to shoot a scene that is important. I was extremely nervous and I had zero idea of what I was in for. Below are some insider moments from my day on-set and from others.