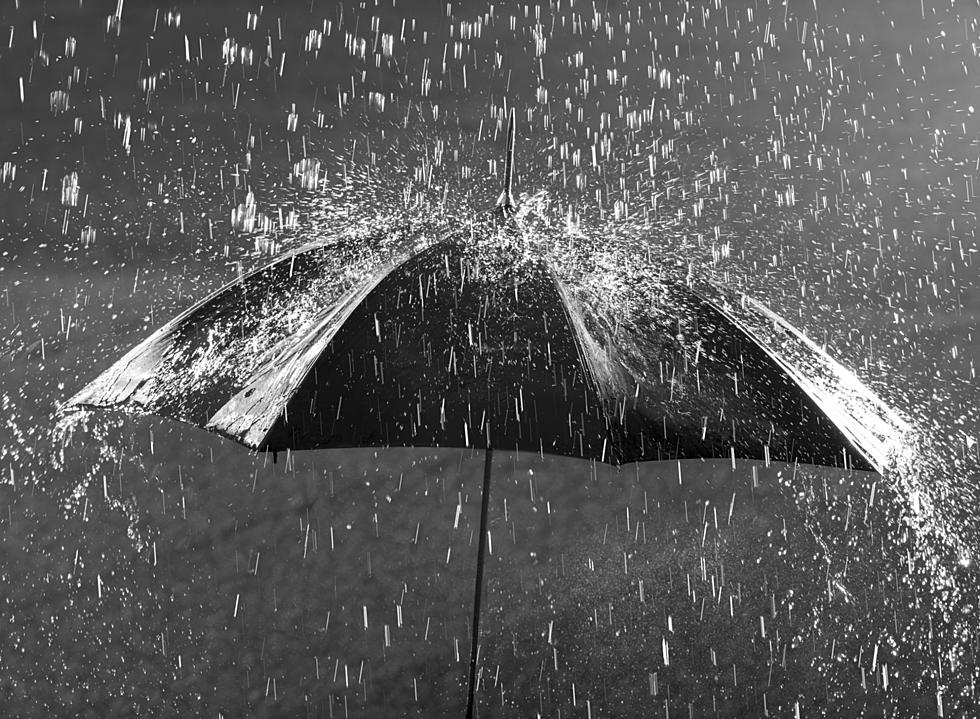 The Top Ten Classic Rock Rain Songs
arrfoto
April showers bring May flowers, that is what they say. These are ten classic rock songs I could listen to any rainy day.
O.K. So I'm not a poet but I am able to put together a list of ten great classic rock songs all having to do with rain. The clouds are about to give way so open your umbrellas and turn up the volume...
10

The first half of the 1980s was a dark time for Gregg Allman. He was reeling from divorce, band turmoil and alcohol abuse. Somehow he managed to record this cover of the Beatles 1966 classic.

This brilliant version of "Rain" finally saw the light of day on the Allman Brothers Band 1989 box set called 'Dreams'. It gave me the chills the first time I heard it and it still does - especially since Allman's passing.

9

"Rainy Day Women #12 & 35"

Bob Dylan

Feeling down on a rainy day? Take a hit of Bob Dylan's "Rainy Day Women #12 & 35". It's guaranteed to make you laugh. It's guaranteed to give you the munchies too.

8

"The Rain Song"

Led Zeppelin

George Harrison told drummer John Bonham he was a huge Led Zeppelin fan but then asked, "Why no ballads?" When George Harrison of The Beatles speaks you better listen. Zeppelin answered with this beautiful piece included on the band's 1973 album 'Houses Of The Holy'.

7

"Box Of Rain"

Grateful Dead

"Box Of Rain" is Phil Lesh's shining moment as a member of the Grateful Dead. He wrote the music for his dying father and then handed it off to Grateful Dead lyricist Robert Hunter who put the finishing touches on it.

According to Hunter it was one of the fastest set of lyrics he ever wrote. In his 1993 lyric anthology called 'A Box Of Rain: Lyrics 1965-1993' Hunter said this about the song: "If a lyric wrote itself, this did as fast as the pen would pull".

6

"Rain On The Scarecrow"

John Mellencamp

This song is easily the darkest song on the list. John Mellencamp's empathy for the plight of the farmers is well documented and this is his musical tribute to them.

5

"Let It Rain"

Eric Clapton

This rainy-day classic comes from Eric Clapton's 1970 self-titled debut. It is easily one of his best riffs and that's saying a lot.

This also has one of my favorite solos from Clapton. It comes right around the 1:35 mark of the song. It's a beautifully understated moment that shows his ability to pull back when he needs to. It's not until the end of the song when the skies open up and Clapton's emotions come pouring out of his guitar.

4

"Have You Ever Seen The Rain?"

Creedence Clearwater Revival

Some have thought John Fogerty wrote this classic about the Vietnam War but he's since confirmed it was actually about the rising tensions between him and his band mates in Creedence Clearwater Revival at the time. As the tensions rose, the rain came down harder and harder until CCR was sadly no more.

3

"Fool In The Rain"

Led Zeppelin

Led Zeppelin's last single before they disbanded is about a man who is supposed to meet a very pretty young lady on a street corner. When the woman doesn't show up, he is left feeling rejected. By the end of the song, however, he realizes that he went to the wrong street corner! That makes him a fool left standing in the rain.

2

"Riders On The Storm"

The Doors

The sound of thunder and rain has been used to set the tone of a song often throughout rock history but few have been able to pull it off as well as The Doors on "Riders On The Storm".

John Densmore's use of the symbols and Ray Manzarek's gentle touch on the keys is beautifully blended in with the thunder and rain sound effects gently pouring over this seven-minute plus jam.

It turned out that Jim Morrison's last vocal contribution to The Doors before his passing were his haunting whispers heard on this song. Jim rode out too soon but, man, did he ride out on an impressive note.

1

"Love Reign O'er Me"

The Who

The opening sixty seconds of this song from 'Quadraphenia' are spine tingling. What follows is a brilliant crescendo filled with crashing cymbals, thumping bass lines, screaming guitar licks, heart-wrenching keyboards and maybe the best vocals Roger Daltrey ever recorded on tape.

Nobody but Pete Townshend could write something like this and no band other than The Who could make it come to life the way they did.