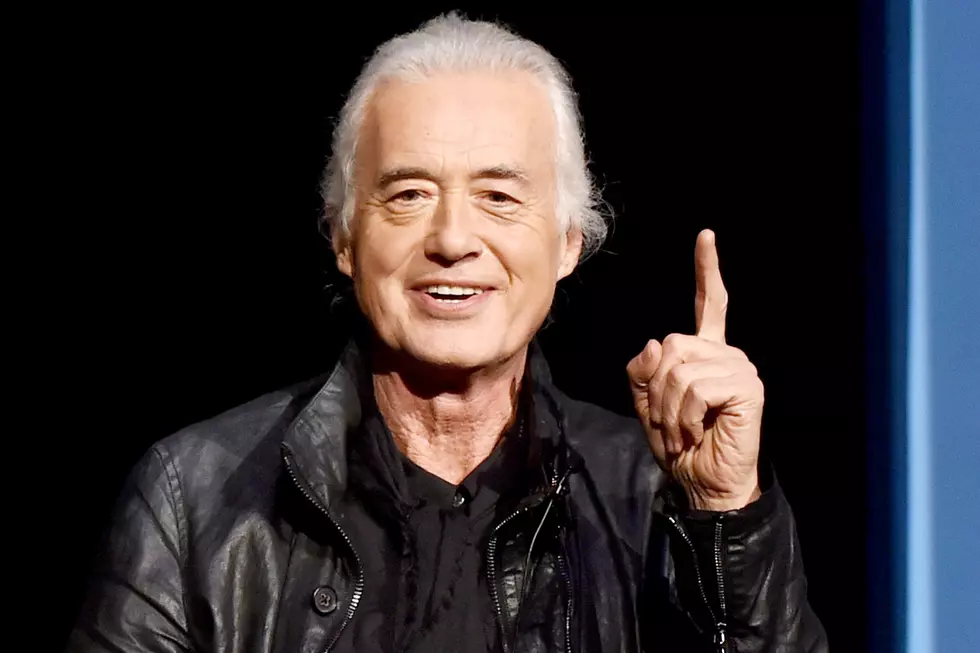 The Top Ten Singers Jimmy Page Should Make Music With
Kevin Winter, Getty Images
Robert Plant recently said Jimmy Page should "get on and do something" instead of waiting on a Led Zeppelin reunion. Sounds like a great idea to me. Here are the top ten singers I want to see Page make musical magic with:
10. Robin Zander – Talk about an underrated singer. Zander may be the most underrated of them all. The long-time Cheap Trick frontman has the range that takes him from ballads like "The Flame" to rockers like 'Gonna Raise Hell" with ease. He could likely sing anything Page would ask him to and do Zep covers live perfectly. Before joining Cheap Trick he was known as the man of 1,000 voices for his amazing ability to sing cover songs.

9. Geddy Lee – There was a time when Rush wasn't the world famous band they now are. In fact, radio listeners thought they were hearing Led Zeppelin when they heard Rush's early single "Working Man" back in 1974. So it would seem fitting that Geddy Lee get the gig right? He can sing the Zeppelin classics and imagine what kind of magic he could create with Page in the studio for all-new material. Think "Tom Sawyer" meets "Whole Lotta Love" and let your imagination run with it.
8. Jon Anderson – There was a time shortly after Led Zeppelin disbanded that Page almost formed a band called XYZ with Chris Squire (bassist) and Alan White (drums) of Yes but it never panned out. How about forming a band with a different member of Yes? Former Yes singer Jon Anderson would be a great fit. His unique voice singing on the Zeppelin songs live mixed in with some brilliant new music. Think of how amazing an epic ten-minute song would sound with Anderson's voice and Page's guitar complimenting each other throughout.
7. Ian Anderson – This is one that could really be interesting. Anderson has written some legendary music with his band Jethro Tull over the years and, if you are a classic rock radio listener, you know he comes up with some pretty wild lyrical themes. Jimmy Page could really stretch out both acoustically and electrically with a musical mastermind like Ian Anderson.
6. Roger Waters – Like Ian Anderson, this would provide an interesting twist to the Jimmy Page sound we know and love. Think The Wall meets Led Zeppelin IV with a thunderous crash of concept art and rock 'n' roll rhythym. The only question mark here would be hearing Waters singing the Zeppelin songs live. Robert Plant he is not but Waters has that creative mind to change things around to fit his unique style in a way only he can.

5. Steven Tyler – Here's a guy who almost got this gig! About five or six years ago Page, former Zeppelin bassist John Paul Jones and drummer Jason Bonham started to audition singers for a new version of Led Zeppelin and one of the guys who almost got the gig was none other than Aerosmith's Steven Tyler. He's got the pipes, the showmanship and the songwriting ability to make the perfect match for Jimmy Page. You don't need me to tell you that though. Jimmy already thought of it!

4. Sammy Hagar – Maybe it's the fact that he still has one of the most powerful voices in rock or maybe it's just the timing that makes me choose Sammy Hagar as singer #4. He spent the summer of 2014 touring with Jason Bonham on drums performing a slew of Zeppelin classics. It's actual proof that The Red Rocker can nail the Zeppelin songs live and if he can make studio magic with Edward Van Halen what's to stop him from doing the same with Jimmy Page?

3. Peter Gabriel – Man would this be a one-of-a-kind creative partnership. Peter Gabriel has proven to be in a league of his own both as frontman for Genesis and as a solo artist with his desire to stretch the boundaries and take musical risks every time. I think of the classic Gabriel solo song "Mercy Street" and Zeppelin's "No Quarter" as an example of how these two could strike up a very dark, melodic and magical partnership.

2. Mick Jagger – The hardcore Rolling Stones fans reading this article know that Jimmy Page's guitar and Mick Jagger's vocals have already been put on tape. Page contributed the guitar solo on the Stones 1986 song "One Hit (To The Body)". It's one of my favorite Stones songs from the decade and a clear indication that if these two legends got in the studio together some serious sparks will fly. As for Page and Jagger live, Mick singing a song like "Stairway To Heaven" with Jimmy by his side would be worth the hefty price of admission for this concert.
1. Paul McCartney – How could this partnership be anything but legendary? There are many who would rank The Beatles and Led Zeppelin right at the top of the list of greatest rock bands of all time. This has all the makings of a truly explosive musical partnership in the studio and probably nothing like we've ever heard before. Jimmy Page comes into the sessions with a batch of killer guitar riffs and Sir Paul adds his Beatle-esque melodies and hooks to give you the ultimate melodic rock song collection. I'm thinking these two would have enough ideas for not just a double album but a box set of new music. And can you imagine the publicity buzz that would lead up to a Paul McCartney/Jimmy Page tour? Promotors would have to reserve a weeks' worth of shows at Madison Square Garden to accommodate the demand.