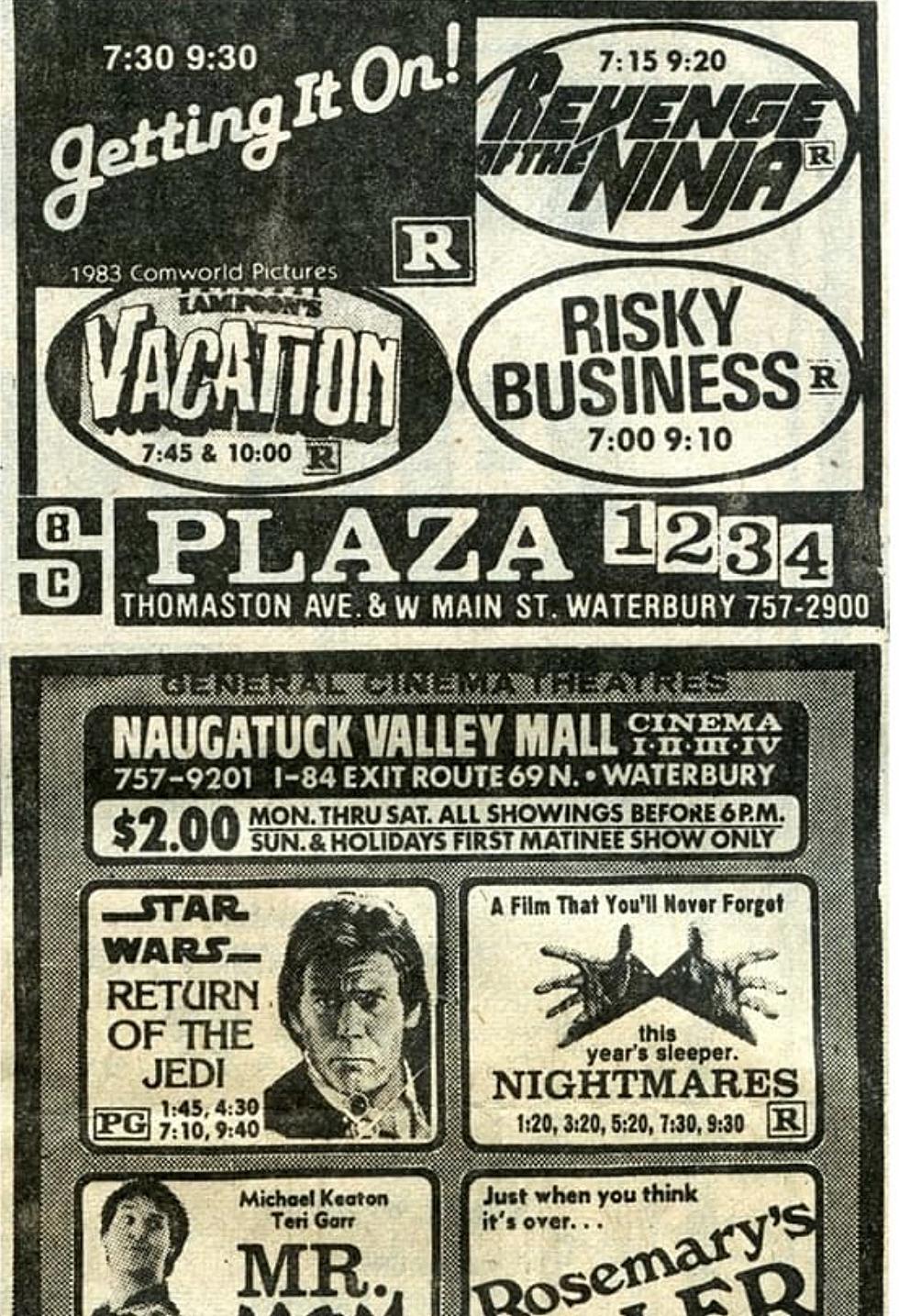 Once Upon a Time, Waterbury Had More Than One Movie Theater
Photo by Large Dave
I had a strange urge the other day, to go to a movie theater and watch a movie. It's something that I've enjoyed doing for almost 50 years, but damn, it's getting tough to do. It's not just the lack of movies good enough to justify the effort, these hallowed grounds of entertainment are disappearing even quicker around Connecticut. Do you remember when Waterbury had more than 1 movie theater?
I saved important newspaper clippings throughout my life, so most of my archive is from old copies of Waterbury's Republican, or American, or Rep-Am, whatever it is now. I saved this beauty you see above, which was the movie showtime page from August of 1983. I saw Return of the Jedi, gosh, maybe 5 times at the Naugatuck Valley Mall Cinema I, II, III, IV. I loved that theater, the location was on the backside of the mall, long before Apple Cinema, Waterbury's only current movie theater, even existed. Cruising Chess King, East-West, getting a slice and a Coke, shopping at Musicland, it was the dream of the 80's.
I also loved going to the other movie theater in Waterbury during the early 80's - Plaza 1234 in the Colonial Plaza, for a different reason, Crazy 8. I'll never forget seeing Purple Rain and The Terminator at that theater. Waking out of that dark, cavernous place on a sunny Summer day was a trip. The same characters you see lounging around the OTB now are probably the same ones you saw there back in the day. Every time I go to get Ami's, I think about that beautiful movie theater and arcade in that corner of the Plaza.
A Connecticut Seafood Lover's Restaurant Bucket List
I've shoved the best and the worst seafood that Connecticut has had to offer for a half a century. When I want a New England seafood favorite, here are the restaurants that I go to, my bucket list.
The Legendary 'Elephant's Trunk Flea Market' 2023
The Bridgewater Country Fair is Back and Here's Why You Should Go...