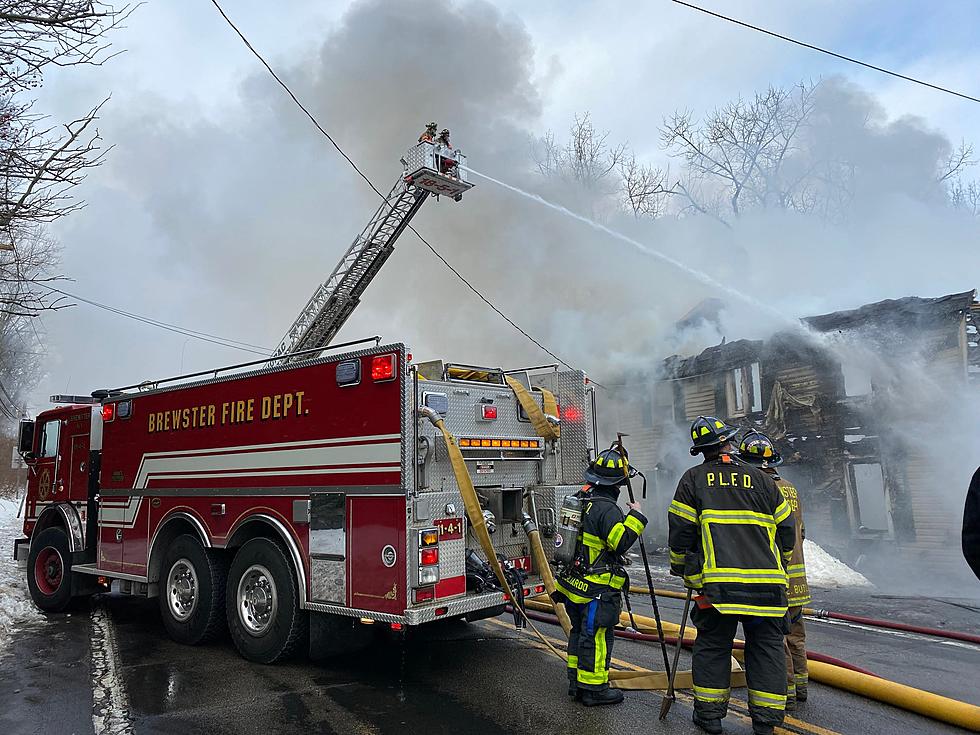 Multiple Fire Companies Respond to Brewster House Fire
Brewster Fire Department Facebook Image/Credit FRANK BECERRA JR. / THE JOURNAL NEWS
A house in Brewster was destroyed Wednesday morning and multiple fire companies were on the scene to battle the blaze.
If you live around the village of Brewster, you may have seen or smelled the smoke from a large house fire early Wednesday morning (January 2).
According to the Brewster Fire Department's Facebook page, the department got an emergency call at around 8:30 AM Wednesday morning about a fire at a two family home at 2592 Carmel Avenue in Brewster. Firefighters we told at the scene that a mother and son were still trapped in the house, which by that time was completely engulfed in flames. Firefighters tried to gain access to the structure, but were held back by the flames. It wasn't until a short time later that firefighters learned that the mother and son had escaped the home before firefighters arrived.
Apparently the blaze was being gas fed from a gas main close by, so firefighters were unable to extinguish the fire until crews from NYSEG arrived on the scene and shut down the gas main service to the home.
The sheer size of the blaze and its intensity led the Brewster Fire Department to call for assistance from other local departments. Crews from Carmel, Mahopac, Patterson and Croton Falls were all called to the scene to assist in battling the structure fire.
There were no injuries reported by any of the fire companies that were battling the fire, and now the Red Cross takes over to help families who lived in the house find shelter.
Here Is How To Blur Your Home On Google Street View
Here are 50 of your favorite retail chains that no longer exist.
LOOK: Famous Historic Homes in Every State