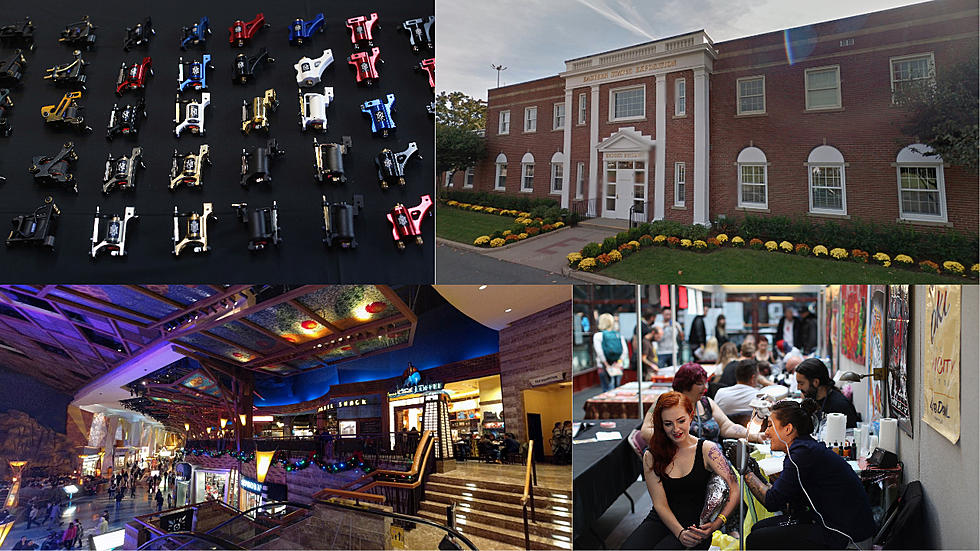 Mega Tattoo Conventions Coming To Both The Big E & Mohegan Sun
Getty Images/Google
The tattoo industry in the United States has experienced tremendous growth in the past 5 years alone, it's become a $1.2 Billion dollar monster in 2022. The number of tattoo artists has grown over 8% in the past 5 years also. What does that mean for the average person looking to get a tattoo? Tattoos are more accessible, by a lot more unproven artists, so be careful who you choose.
Where can you go to do some serious research before you commit to a piece of art on your body? A tattoo convention, and there's not only one, but two big ones coming to our area soon.
The Papillon Tattoo Convention is coming next weekend, February 25-27, 2022, to the Young Building at The Big E Fairgrounds in West Springfield, Massachusetts. Springfield is around 20 minutes North of Hartford, just a bit further up 91 from Bradley Airport, so it's an easy trip from the Greater Danbury area. The convention will feature on-site tattoo artists, vendors, live music, piercings, and 'Kid's Entertainment'. I hope the Kid's Entertainment area isn't next to the piercing area for dudes getting a Prince Albert.
If you can't make it next weekend, The New England Tattoo Convention is coming April 1-3, 2022 to the Mohegan Sun Expo Center in Uncasville. This convention will feature a slew of tattoo artists that have appeared on Ink Master, and Tattoo Nightmares, like Ink Master Judge Chris Nunez. In addition, plenty of local Connecticut artists are booked too, including Alex 'Solo' Perez of Ink Therapy in Southbury, Ashley, Jade, Dutch, Kaycee and Christi from Seymour's Sacred Art Tattoo, Fame from Eminence Ink in Willimantic.
Where to buy some of the best Paczki in Connecticut
Now that you know how to say it, where do get some of the best paczki around Connecticut?
The 10 Most Stolen Cars In Connecticut
The Wonders of Connecticut Hidden in Plain Sight