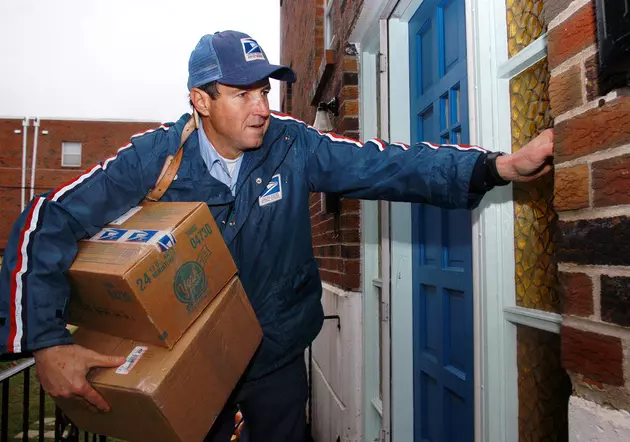 Don't Give Local Mail Carriers Gift Cards or Tips This Year
William Thomas Cain/Getty Images
It may be tempting to give your mail carrier a gift card for the holidays, but it's not a good idea.
This time of year everyone is in the giving spirit. If you're like me, you want to take time during the holidays to thank those people who go above and beyond and help make your day better. The one person I really wanted to add to my tipping list this year was my postal carrier.
But, apparently that's a terrible idea.
Our mail carrier is the best.  She always arrives at the same time each day, and because we tend to order lots of things online, she usually has to park her truck and carry packages right to our door. When that happens, she always brings up the rest of the mail with her, saving us a trip to the street.
Our family was planning on giving her a $25 gift certificate to Target or somewhere nice this year, but that idea quickly melted away after finding out that she won't be able to accept it.
According to the United States Postal Service, it's against federal regulations for any mail carrier to accept cash or any sort of cash equivalent, such as checks or gift cards. Sounds crazy, but it's right there in black and white:
All postal employees, including carriers, must comply with the Standards of Ethical Conduct for Employees of the Exec­utive Branch... cash and cash equivalents, such as checks or gift cards that can be exchanged for cash, must never be accepted in any amount.
We should note that UPS and Fedex drivers don't fall under these regulations, so feel free to tip away.
But the question remains; what can you do to thank those hard working postal workers? Well, federal regulations do allow customers to give their mail carriers small gifts that are worth $20 or less, as long as they're not gift cards or anything that can be exchanged for cash. So now it looks like I'm going to have to do some brainstorming to find just the right gift.
Are there any mail carriers out there with some suggestions?
'Lovin You Face-to-Face' — Ethan and Lou Sing an Ode to Facebook
Thanks for Giving Greater Danbury Kids a Christmas They Deserve