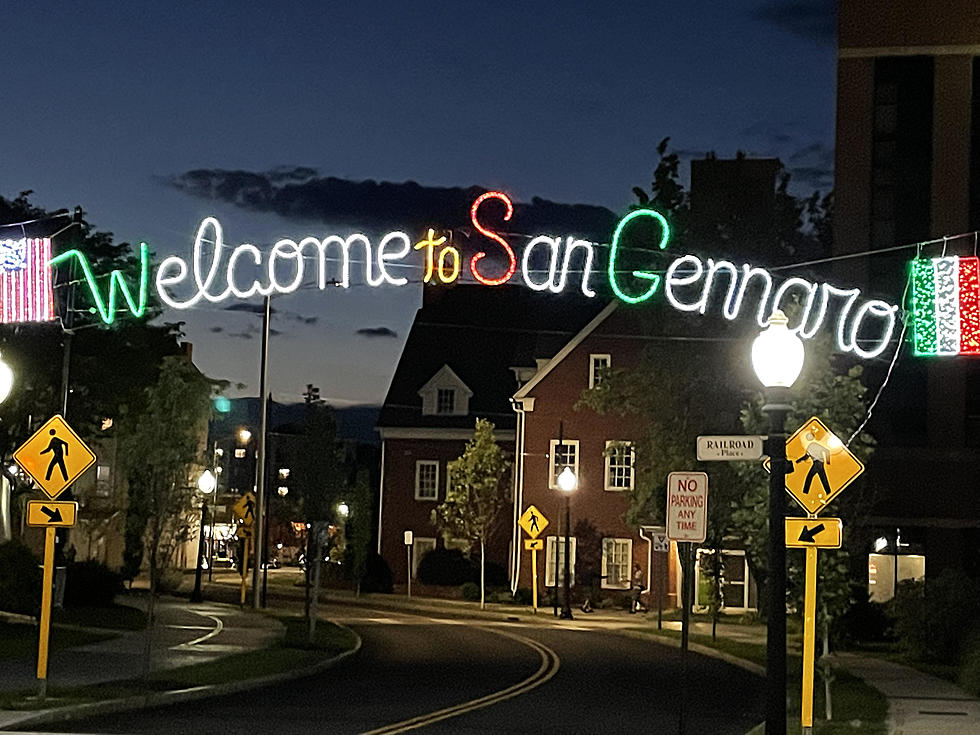 Danbury San Gennaro Everything You Need To Know: Grand Marshall, Music + More
Photo: Lou Milano
On Thursday (6/1/23), Danbury Mayor Dean Esposito was our guest on the I-95 Morning Show doing his weekly chat.
Big News
I could tell just by his delivery that the Mayor was all smiles through the phone which usually means he has positive breaking news to share. I was right, the Mayor told us:
"The big news of the day, I'm very excited about this for the San Gennaro Festival that you know is coming in August, August 23rd - 27th I was given the honor of announcing that our Grand Marshall this year is going to be the Bishop from the Archdiocese of Bridgeport, Caggiano. Bishop Caggiano is going to be our Grand Marshall so it's a very very special day for the City of Danbury and the Italian community in Danbury."  
I spoiled the Mayor's wonderful surprise by telling him I knew already, listen below.
More on Bishop Frank Caggiano according to Bridgeport Diocese 
"The Most Reverend Frank J. Caggiano was installed as Fifth Bishop of Bridgeport on September 19, 2013 at St. Theresa Church in Trumbull. In his installation homily, He spoke of the needs to build bridges to youth, those who are troubled, those who are neglected and to Catholics who no longer participate in the life of the Church."
Bishop Caggiano's parents were Italian immigrants who came to the United States from the town of Caggiano, in the province of Salerno Italy in 1958. The Bishop was raised in Brooklyn, New York and attended Yale University before leaving for the priesthood.
Music and More 
The Mayor's announcement is not all the news we have to share. There is plenty to know about San Gennaro 2023, the most important being admission is free.
There will be be amusement rides, face painting, glitter tatoos, hair braids, more food vendors than last year and boutique vendors, meatball eating contest and a cannoli eating contest.
2023 DANBURY SAN GENNARO 
DATES: Wednesday, August 23rd thru Sunday, August 27th
TIMES:
Wed – Friday: 5:00 pm – 11:00 pm
Saturday: 1:00 pm – 11:00 pm
Sunday: 1:00 pm – 10:00 pm
WHERE: City Center Ives Street , Danbury
ENTERTAINMENT SCHEDULE:
Wednesday the 23rd
4:00 - Bishop Frank Caggiano to hold Mass and bless the statue
5:00 - Procession down Main Street
5:30 Awards Ceremony
Italian Singer – Vito Lombardo will be there Wed – Friday
Crossfire Hurricane ( Rock band )will perform Wednesday night
Thursday the 24th 
Italian Singer – Vito Lombardo
Friday the 25th
Italian Singer Vito Lombardo
Phil Engel Band
Saturday the 26th
Vittorio DiCarlo The Graceful Tenor
Sunday the 27th
Vittorio DiCarlo The Graceful Tenor
Zac N' Fried
P.S.I'm an Italian-American, a Catholic, a resident of Downtown Danbury and when all of this is being celebrated at once, I can't calm down. I'm even more excited this year than I was last year and anyone will tell you, I was intolerable to be around while waiting for this event.
I've been keeping in regular contact with the event organizers and I know everything is being done bigger and better for San Gennaro 2023.
Check out the Ethan, Lou & Large Dave Podcast on Apple and Spotify
The First Night of the Danbury San Gennaro Festival Was a Huge Hit
The Italian culture can be explained in one word, Sunday. Being an Italian-American means, there are certainties on Sunday, Food, family and laughter. Trust me when I tell you, everyday is Sunday at San Gennaro.
Enthusiastic and Exuberant – My Weekend at Danbury's San Gennaro Festival
Danbury's first-ever San Gennaro Festival took place over the weekend on Ives Street. Thousands of people were in attendance each day and it's one of the best events I've ever attended. I was lucky enough to be able to work the event, broadcasting live Friday, Saturday and Sunday with I-95. I personally spoke to hundreds of people, and was able to work and see family and friends. I was so filled with excitement, exuberance and enthusiasm all weekend long.