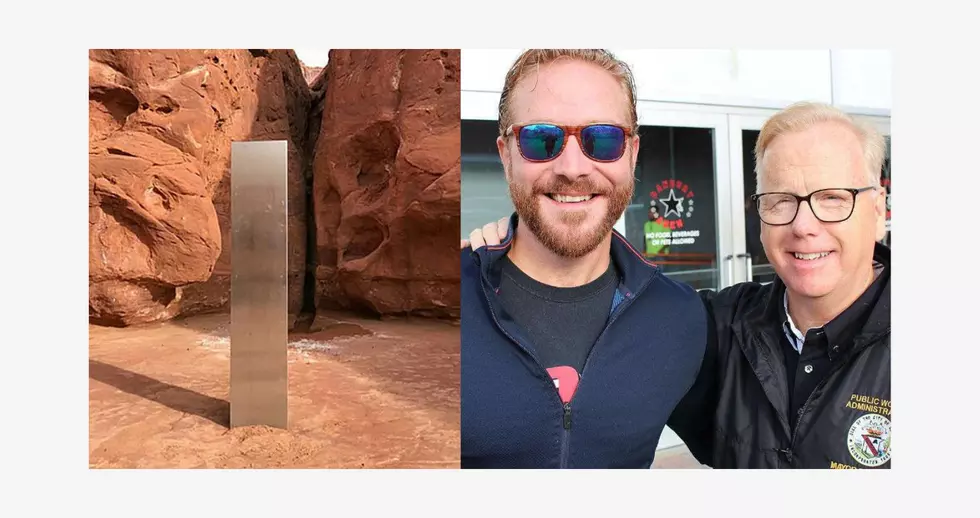 Danbury Mayor Backs Ethan and Lou Plan to Install Monolith in Hat City
Mercury News/Lou Milano
On the Monday (11/30/20) Ethan and Lou morning show on I-95, I (Lou Milano) developed a plan to put a monolith in Danbury, CT. I proposed installing it and mentioned the project could really take flight with the backing of the Mayor and City Hall.
We had the Mayor on the show Thursday (12/3/20) in his regular, weekly guest spot and asked him if we could count on his support, this is what he had to say:
"I am 110% on board, let's put it on the first fairway of Richter Park, right next to where I stole your golf ball."
When we asked him for what location would he really thought would be best to install a monolith like the ones in Utah, California and Romania he added:
"Well, we gotta put it in some place that nobody ever thought to look and they just stumble upon it, right? So, we gotta think about this, there's been a number of properties that have been acquired by both private entities and the city as open space and we can just pop it in there and let somebody stumble across it. 
That's the whole fun of that thing, right? And by the way, I love the guys who picked it up in the middle of the night and they're like don't tell anybody." 
It's at this point that I brought up the idea of installing the monolith on the Hearthstone Castle property and this was the Mayor's reaction:
"Absolutely and we will put some weird lettering on it and make up our own language and people just lose their minds." 
Jimmy's got a backer, Jimmy is jumping for dollars. The monolith train has left the station, buckle up Danbury for the hottest thing out, a monolith with our names on it in Danbury.
If you are an absolute lunatic and are currently outraged you should listen to the actual segment where the Danbury Mayor said the above words and check his tone.
It's clear the Mayor is not taking this plan seriously, but I am very serious. Since he is not into it, I can put one in on the front lawn of our radio station on Federal Road in Brookfield. Here is what I need:
Sponsor dollars
An engineer
Materials
Volunteers
Installation date
Let's go!!!!!!!!!!!!!!!!!!!!!!!!!!!!!!!!!!!!!!
Enter your number to get our free mobile app
Some of Danbury's Coolest Christmas Light Displays 2020