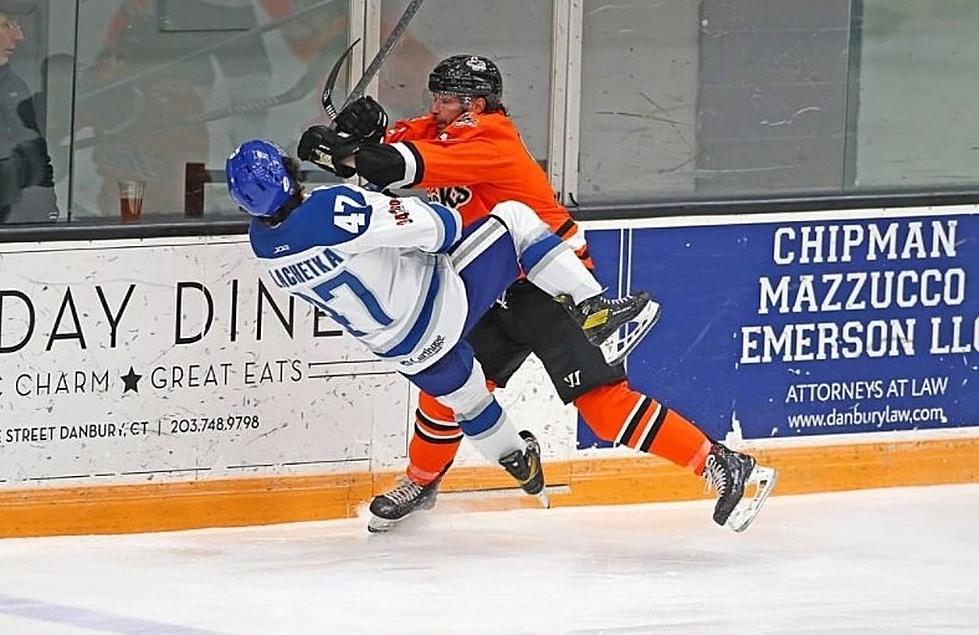 Danbury Hat Tricks Exec Still Confident After Rabbits Fall 0-2 in Finals
DHT
The Danbury Hat Tricks are in the Finals and playing for the Commissioner's Cup but they've dug themselves into an 0-2 hole in the best of five series after two road losses to Carolina.
Team President and co-owner Herm Sorcher joined the I-95 Morning Show and told us he believes they can overcome the deficit, saying:
"We gotta win on Friday, game time is 7:30 and I like our chances. We're an incredible team back at home. We play an exciting brand of hockey in this building, our fans I believe our fans are with us it's can't miss hockey, it's going to be an unreal night."
We've seen this before in five or seven games series, you've got to dig out of a hole and run the table?
"We've got to run the table but I'm a sports historian, you give me any team and I'll tell you a time that they made a miracle comeback or were on the other side of a miracle. Give me any team...."
Well it happened, I'm a Yankee fan so 2004 was a tough year. 
"2004, yeah that was a 3-0 (New York lead), Boston came back so we know it can happen. I don't even think it's that crazy a thing, if you said oh that Hat Tricks won it was the biggest miracle I've ever seen, no that's not really the case. We played 31 games in the Danbury Ice Arena this year, we've lost two in regulation, we lost to Carolina and Mississippi in regulation. We lost to Binghamton and to Columbus both in overtime. So, 31 games counting the playoffs and we've only lost two in regulation. You know these odds, this is a tough place to play. It is a tough place to play, the fans are right on top of you, you're one of those fans. You're in the 200 section hanging over onto the ice."
Yeah, been yelling some terrible things. 
"Exactly, and I would always say that our team is 100% focused on beating the other team. The teams that come into our building are 97% focused on beating our team and 3% focused on yelling at our fans and I think that makes a difference, I really do. I think when you say the game was a difference of a bounce or two, I really attribute a lot of that to it. Our fans are the best fans in the world, they know the game, they support our boys, they rally, they make noise and I love them. I can't wait to see what they bring on Friday." 
If you had to say one guy that could put the entire team on his back in a rough spot, who would that be?
"That's Johnny Ruiz. I mean Johnny to me is the number one draft pick in this league. He's a lottery pick, he's the first guy you take. He's carried us so many times, he's our all-time goal scoring leader, he's right there. I'm not putting any pressure on him I'm just saying he's the guy that if we win, I think he's going to have a big part in it. In that series against Binghamton he scored an empty net goal. not that scoring an empty net goal in the most spectacular goal he ever had. But, it was the time he did it, it was from center ice, he made a move, he deked a guy and put a hole in an empty net. It was just unbelievable and I think so many times in the three years he's played for the Hat Tricks he's lifted us and I think he's gonna do it again. Again, I'm not putting any pressure on him I just think he's that good. I think he's that good, that fast, that strong and I think he's a difference maker in this league and he's gonna do it." 
Herm went on to tell us the Ice Arena is doing an "orange out" for Friday's game. The first 1,000 fans in attendance will be given an orange Hat Tricks shirt to wear during the game. Everyone coming to the game is encouraged to wear orange so there is zero confusion about whose corner the fans are in.
You can listen to our complete interview with Herm Sorcher below.
Check out the Ethan, Lou & Large Dave Podcast on Apple and Spotify
8 Main Street Danbury Facts So Unbelievable, They Have to be True
Danbury: "The Hat City"
At one time. Danbury was known as the hat making center of the universe. The hat making industry is what this town was built on but frankly, I'm tired of talking about hats. We are so much more than that. Danbury has a lot of intriguing true stories and many of them originated in the same place, Main Street. Main Street Danbury holds truths so unbelievable, you kind of have to. How can one 2-mile stretch of road, hold so many stories? I just does.
Greater Danbury's 13 Most Amusing Photos Captured by the Google Car
Google Instant Street View is easily my favorite free application. You can take a digital cruise through the streets of Milan Italy, a drive down the PCH in California or tool around your local area without leaving your office chair. But the best use of Instant Street View is to catch unbeknownst moments. If you look long enough, hard enough, you will find some really funny things. I've spent years combing through the Greater-Danbury area Google footage and these are some of my favorite snaps.