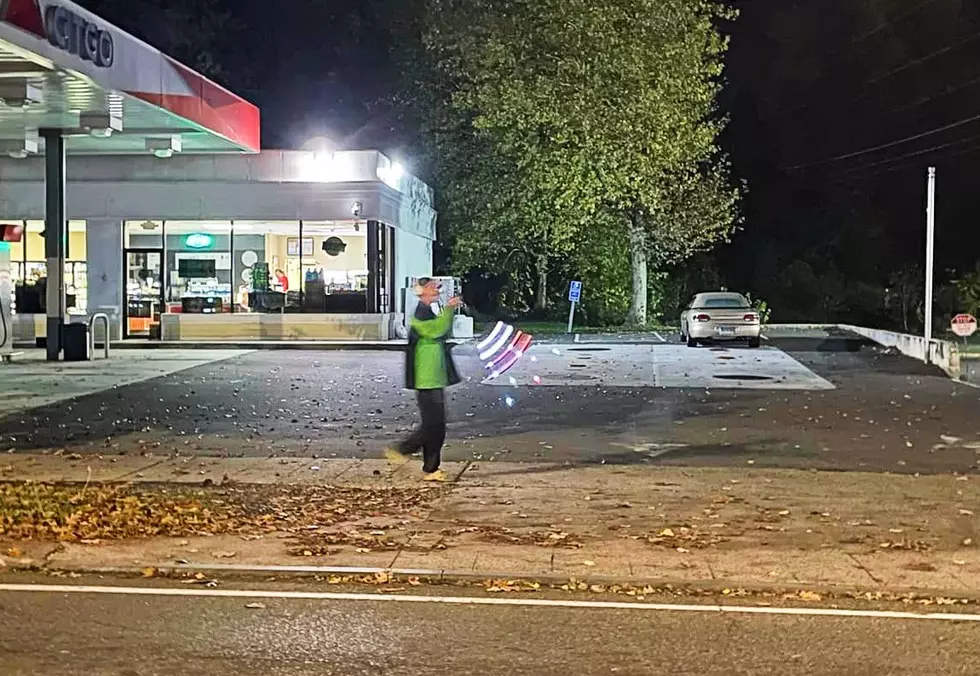 Not All Heroes Wear Capes – Introducing Danbury Superhero: The Flare
Lou Milano
I had Ethan Carey pick me up for work on Wednesday because my car needed work.
As we are driving down the road, he asked, "who the hell is that?" He spotted a man spinning a string of lights as he walked up and down Main Street.
I'd seen him before so I wasn't surprised and said, "oh, that is the wacky light man." We spotted him at about 5 am on Wednesday, but I usually leave earlier and have seen him out as early as 3:50 am.
Then, Thursday Morning (10/27/22) I saw him again and decided everyone needed to know that there IS indeed a magical light show taking place before sunrise each day on Main Street.
I swung around and took these pictures.
Now, I just want to know who it is and thank this person for brightening my morning. If you know the identity of the light man, reach out to me using the "chat" feature on the I-95 Rock Mobile App.
The picture quality is not what I wanted it to be because every time I reach for my phone quick to snap a picture, it immediately defaults to that slow-motion photo setting that takes three seconds to take one picture. It's not super swell for capturing a photo of a Gal Darn Superhero.
This article says way more about me than it does him. I've become some whack job night stalker snapping pictures of a guy minding his own business. I'm like a content degenerate, trying to get my fix when and wherever. I guess the conditioning is complete, everything is content.
Anyway, hit me up if you know who he is. Until further notice, he'll be known as "The Flare."
For more of this check out the Ethan, Lou & Large Dave Podcast on Apple and Spotify, or wherever you get your podcasts. It's the same show we do on the radio but with limited commercials and no music. Or, listen live by streaming the show on the I-95 Rock Mobile app, or tune into I-95 (95.1FM).
I took a second pass to get some video.
Also crazy of me, just go to work.
Peace, Privacy, Protection - 95 Stunning Acres of Land Waits in Cornwall
After the past few years, we can probably all appreciate the ideas of nature and privacy. Even if you're a city person, you must admit that solitude is sounding better and better everyday. If that is becoming, or always was your perspective, this will grab your attention. This is 95 acres of virtually unblemished Mother Earth, and it's just a shade over $1 Million.
Danbury Resident Has Astonishing Close Encounter With Famous Moose
His name is Daryl Pitman, and he's a Danbury resident who recently had a super-close encounter with a moose that has become famous in the Greater-Danbury area. In the past few days this moose has been seen in multiple Danbury locations, it's been seen in Newtown, New Fairfield, Woodbury and even Pawling, NY to name a few.
I saw Daryl's pictures in a different moose related thread and reached out to him. I asked him to tell me more. I wanted to know if these photos were real? Did he take the pictures? Was this in Danbury? When was this? How did he feel. An excited Daryl got back to me with the following responses.