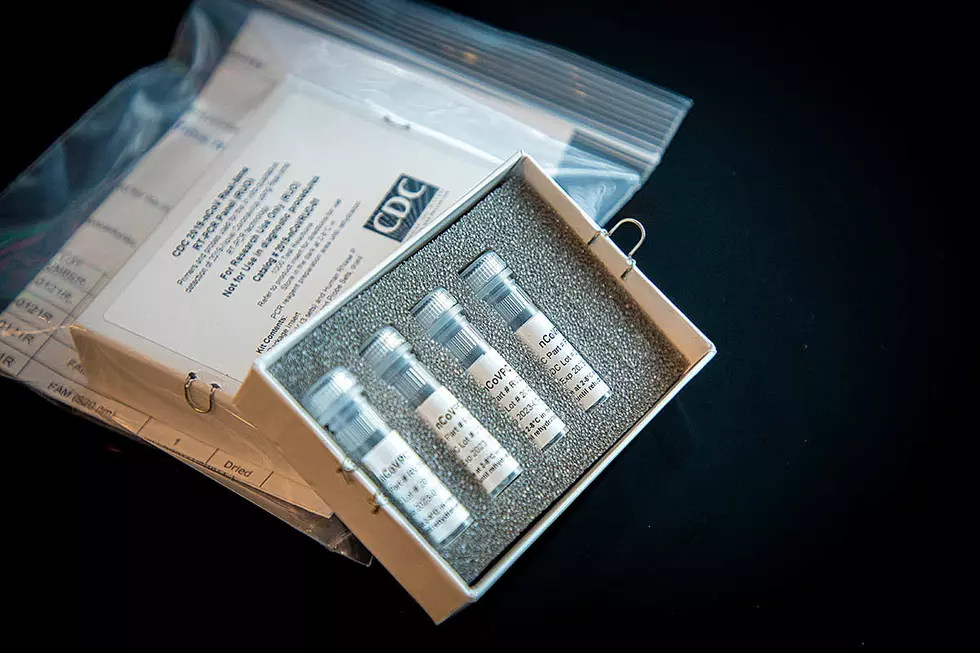 Connecticut Bans Large Gatherings, Officials Provide Current COVID-19 Stats
CDC
The Connecticut Governor's Office has issued executive orders banning any large gatherings of 250 people or more, as officials briefed residents on the current battle against Coronavirus.
In a news briefing at the Connecticut State Emergency Operations Center on Thursday (March 12), Governor Ned Lamont was joined by public health officials to announce that the ban on large-scale events is the latest right the state government is exercising as the result of the recent declarations of both civil preparedness and public health emergencies. Lamont also recommended that residents consider staying away from groups of 100 people or more.
Connecticut Chief Epidemiologist Dr. Matthew Cartter announced at the news conference that of the 95 patients that have been tested for the COVID-1 virus, only six cases have returned positive results; four in Fairfield County, one in Litchfield County, and one from New York State.
When addressing the public's health concerns, Cartter said, "Testing is very important and no one should think that it is not. These discussions will go on for a long time, but right now, this week, we have to make decisions based on what information we have right now. We must do everything we can to avoid the spread of the virus. Community mitigation will only work if we do things together."
Up until this week, the only testing for Coronavirus was being done by the state labs, but because of the emergency declarations, commercial laboratories like Quest Diagnostics and LabCorp are now able to accept specimens for testing with specific doctor's orders. Within the next few days, hospitals will be able to test specimens as well, with Yale-New Haven likely being the first and others will begin to follow suit shortly thereafter.
Dr. Cartter noted that "we need a place for people to be able to provide samples in a safe environment," and that these alternate testing sites will alleviate pressure being felt by private practices who cannot currently run tests, and have been turning people away.
The Chief Epidemiologist went on to provide some speculative statistics that health officials think state residents can expect. "When this is all over, about 70% of the population will have contracted the virus, because none of us have immunity. The main goal is to slow it all down."
"In the next month, we may see 10 to 20% of the Connecticut population contracting the virus," said Cartter. "This is not going to be over in a month or two. We're going to have a spring wave and then we expect to see this again in the fall, not for certain, but it's what we're planning for."
Enter your number to get our free mobile app
According to the Department of Public Health, the risk of becoming infected with COVID-19 is considered low for people who had contact with an individual who does not have COVID-19 and does not have symptoms. In other words, a contact of a contact is considered low risk.
Any resident that is not currently showing symptoms of the virus (two or three days of fever, cough, and shortness of breath) can dial 211 at any time with any basic questions.
Related stories: 
The Governor's Office has also provided residents with some important messages to keep in mind:
People without symptoms should not be tested for COVID-19. Testing individuals with no symptoms is not recommended by CDC.
If you were with someone who does not have symptoms, the risk of transmission is very low.
There are many respiratory illnesses circulating in Connecticut, such as the flu and the common cold. Having respiratory symptoms does not mean that you have COVID-19.
People are at higher risk for COVID-19 if they have symptoms of the virus (cough, fever, shortness of breath) AND if they were a contact of a positive case of COVID-19 (or have traveled to country with community transmission, such as China, Italy, South Korea, Iran, and Japan).
Someone is considered a contact if they have had direct, face-to-face contact with a person with COVID-19.
People who think they have COVID-19 should call their healthcare provider. These people should not go directly to a healthcare facility without first calling a healthcare provider (unless they are experiencing a medical emergency).
People with general questions about COVID-19 can visit ct.gov/coronavirus or call 2-1-1.
Everyone can help stop the spread of viruses in Connecticut.
Get your flu shot, and make sure the people around you do the same.
Wash your hands often throughout the day. Use warm water and soap. If soap and water are not available, use alcohol-based hand gel.
Cough or sneeze into your elbow. Viruses can spread by coughing or sneezing on other people or into your hands.
Stay home from work or school if you are sick.
Avoid touching your eyes, nose, or mouth. Germs spread this way.
Get plenty of sleep, be physically active, manage your stress, drink plenty of fluids, and eat nutritious foods.
Keep surfaces (especially bedside tables, surfaces in the bathroom, and toys for children) clean by wiping them down with a household disinfectant.