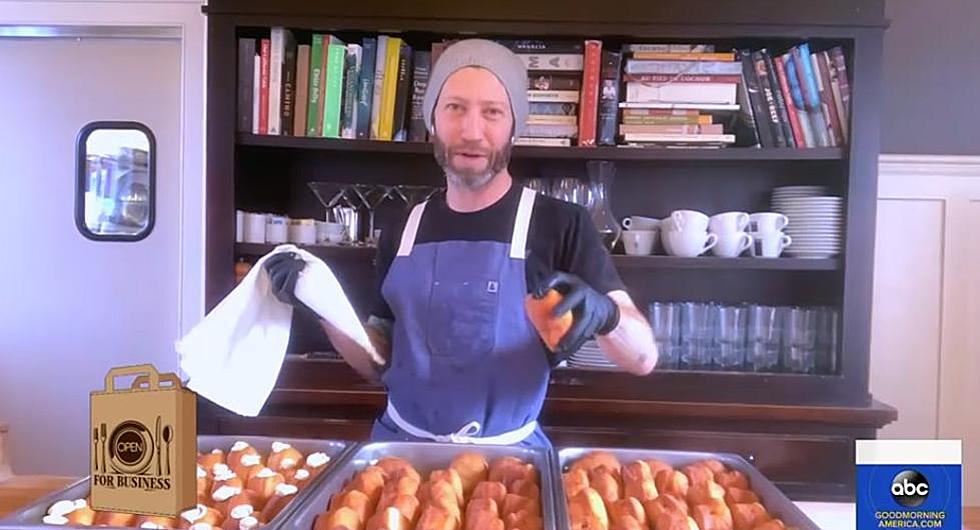 Wilton's Rise Doughnut Shop Presents Plans for Permanent Location
YouTube Video Image
Back in December, we told you about a popular Wilton donut maker who's a Food Network "Chopped" Champion and just happens to make some of the best donuts around.
The only problem was he didn't have a permanent location to make and serve the donuts everyone loves, but it looks like that's all going to change.
Chef Hugh Mangum had quite a reputation as a barbeque chef. He was the co-founder of Mighty Quinn's Barbecue in Westchester, former Chopped champion, a Jean-Georges alum, frequent judge on Beat Bobby Flay and Fire Masters, but that all changed when the pandemic happened and the barbeque business took a hit.
Then one day, he noticed his kids making doughnuts during quarantine and a light bulb went off. He and his wife decided why not start making the doughnuts. One thing led to another, and he decided to open a pop-up donut shop in Wilton. At first, the pop up shop was only suppose to be a one time deal, but as Mangum told ctbites.com, that all changed very quickly.
I expected no one to show up, maybe sell a hundred or two hundred max, but we sold out in 28 minutes! I had no idea what to expect because I'm used to people in New York City buying one or two, and in Wilton it was all dozens. I was caught off guard in a good way.
So due to popular demand, and as the lines grew each week, the one time pop up shop became an every Sunday morning thing, then in late September of 2020, Mangum moved Rise to it's current home at the Schoolhouse Restaurant in Cannondale. The only problem with the rise in popularity of his product, was he could only operate on a part time basis.
Now it looks like it's all going to change for the celebrity chef. Mangum has now filed an application for a permanent location in the old Lang's Pharmacy on Center Street. If all goes well, residents from Wilton and surrounding towns could be sinking their teeth into his now infamous deep fried donuts just in time for summer.
The upside to the new location would be expanded hours and a go-to location right in the center of town. Mangum is planning to have the new location open from 7 AM until 5 PM Monday through Thursday, and open late until 9 PM on Fridays and Saturdays.
According to stamfordadvocate.com, plans were presented a little over a week ago to the Wilton Planning and Zoning Commission for approval.
Of course, a public hearing is planned to go over the proposed plans, but local town officials don't see any major issues to hold back the deal citing basically a straight forward application, so officials didn't see any reason to keep the hearings process open. If all goes well, Rise Doughnuts will finally have their own home and a central location for all to enjoy these donuts that have taken the town by storm.
Here's a look at Hugh making the donuts on ABC's Good Morning America:
LOOK: Here are copycat recipes from 20 of the most popular fast food restaurants in America
CHECK IT OUT: See the 100 most popular brands in America