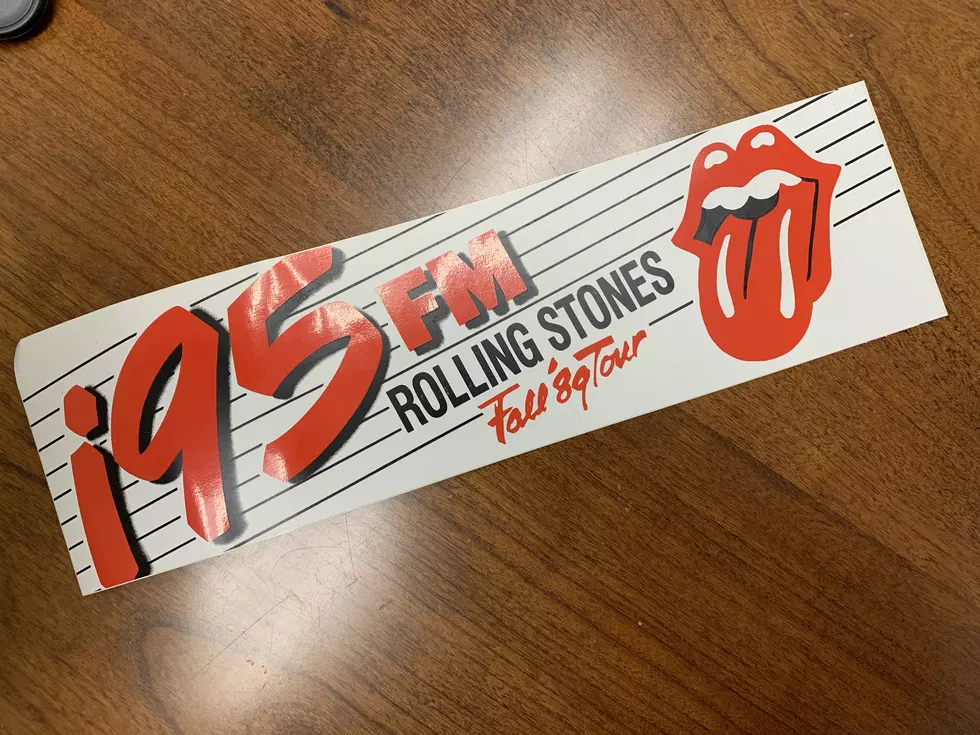 TBT: The Summer We All Went 'Stones Crazy' in Connecticut
i95 WRKI
We've been doing some Spring cleaning lately here at the Home of Rock & Roll, and this old bumper sticker that I found under some junk on a shelf in the back of the studio got me thinking about that crazy summer of 1989 when the Rolling Stones were rehearsing for their Steel Wheels tour in the quiet town of Washington, CT.
With one of the biggest bands in the world camped out at the former Wykeham Rise girls' school in Washington, the whole area was crazed with rumors of surprise club shows, and lots of i95 listeners have shared stories of sneaking through the woods near the property to try and hear a little bit of the music from their practice sessions.
We had a big sign welcoming the Stones to town, with an open invitation to stop by the studios, but they never did. I guess you can't blame them, they were rehearsing for their first tour in 5 years after almost breaking up due to tensions between Mick and Keith.
Their management did agree, however, to give us a copy of the Steel Wheels album a few days early, with the promise that we wouldn't play it on the air.
Even though we couldn't play the album, what we did do was set up a listening party at the Candlewood Inn, and invited i95's listeners to be among the first in the world to hear the band's new music.
As I recall, it was a beautiful night, the place was packed and everyone was stoked to hear the new songs. At some point, a few people even complained that we weren't announcing the title of each song, which was a surprise to us, as we thought people wanted to just hear the music, not us talking. But we quickly accommodated the request and everyone went back to having a great time.
Then, of course, there was the surprise show at Toad's Place right before the tour actually kicked off. I actually heard about it live on the air with i95 as I was headed to the old Hayloft in New Milford to see a friend's band.
Our morning DJ at the time, the Real Bob James, had a son playing in the Stones' opening act, the Sons of Bob, and he took one for the team. He left the epic show at Toad's to make the announcement on our airwaves, knowing that he wouldn't be able to get back in. I always thought that was pretty cool of him.
There was a second show scheduled for the Water Street Station in Torrington, but too many people found out about it, and they had to call it off.
Flash forward all these years, and both i95 and the Stones are still rockin', with their No Filter tour taking them across the U.S. this Summer. Pretty amazing.
Enter your number to get our free mobile app