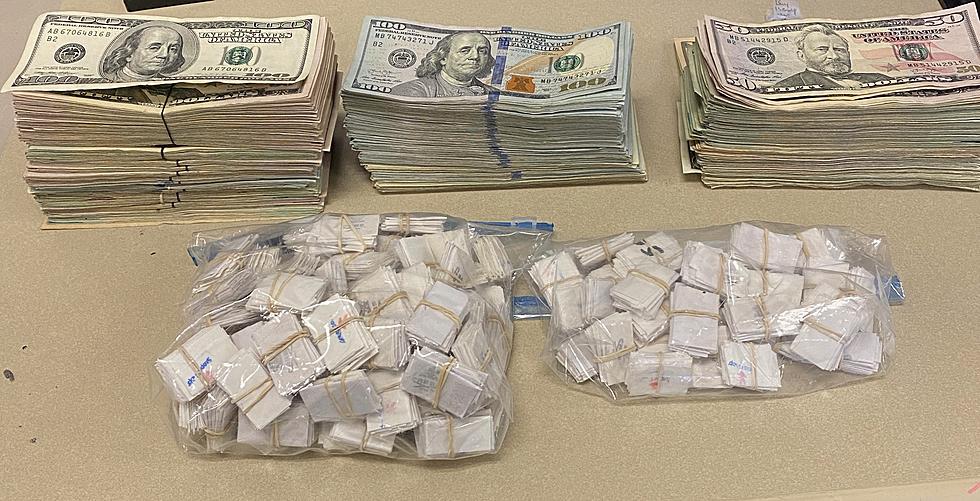 Police Seize Piles of Cash + Bundles of Narcotics in Danbury Drug Bust
Danbury PD
It seems like every week we are hearing about a drug bust in Danbury or New Milford and you can add another one to the list.
According to a press release from the Danbury Police Department, authorities say Joseph Losgar was arrested Tuesday (3/22/22) and now faces a variety of drug related charges including:
Possession of a Controlled Substance
Possession of Narcotics With Intent to Sell
Possession of a Controlled Substance With Intent to Sell Within Public Housing
Possession of Drug Paraphernalia
Interfering with a Search Warrant
Reckless Endangerment 2nd degree
Risk of Injury to a Child
The arrest was the result of a collaborative investigation conducted by the DEA (Drug Enforcement Agency), SID (Special Investigations Division) and officers from the Patrol Division.
Police served search and seizure warrants to Losgar. There were 4 warrants, one for his person, one for his home at 40 Mill Ridge Road and one for each of his vehicles. Authorities allege the search on Losgar's home yielded $66,840, 860 bags of Fentanyl. Cops say the search of his vehicle produced another 310 bags of Fentanyl.
Danbury officers say they went to Losgar's home to serve the warrants just as he was getting into his work vehicle. When Losgar noticed them he reportedly attempted to run away and was apprehended after a brief foot chase. Officers say that Losgar had his 18-year-old disabled child waiting in the car for him at the time of the arrest which is why he's facing the charge of risk of injury to a minor.
Losgar was not the only person arrested, his girlfriend Joily Mota was also taken into custody and charged with the following:
Possession of a Controlled Substance
Possession of a Narcotic Substance With Intent to Sell
Possession of a Controlled Substance With Intent to Sell Within Public Housing
Risk of Injury to a Child
These arrests were made as part of a large scale drug investigation.
A Curious Excursion in an Underground Brookfield Tunnel
Recently, I was having a discussion with a friend of mine, I told this person I'd accessed some caves and tunnels in my hometown of Brewster, NY which is just over the NY/CT State Line. He knows how much I love local history, and saw how excited I was about this journey. He told me there was an area of Brookfield, CT that I needed to see, one that most residents have never seen. He told me about a tunnel, one that was not far away from where we were sitting. I made note of the conversation and bookmarked the destination for a future trip.
Hilarious 80's Images from the Jefferson Valley Mall in Westchester
Wherever, there is money to be made, clever marketing will follow and the Jefferson Valley Mall had it in the 80's. The mall had become the setting of a Westchester, NY cable access TV show called "What's in Store." The products, fashion and mall culture were on display. Frank McNanty and Debbie Weiner were the hosts, and thanks to Youtube, these videos are still available today. These are Some of the Most Hilarious Images from The Jefferson Valley Mall in the 80's.
9 of the Weirdest Names in Pro Sports History
Danbury Google Images Hilariously Over-Analyzed: Part 2