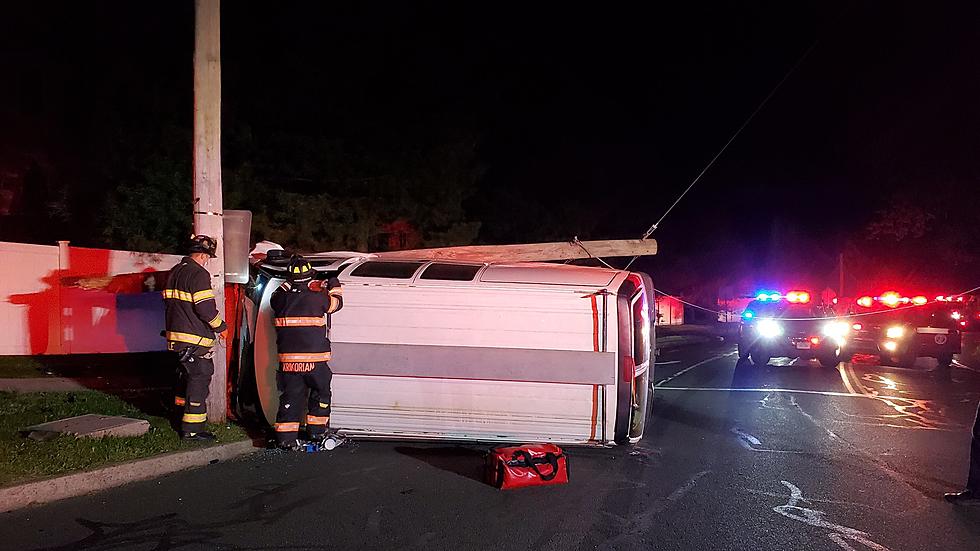 One Hospitalized Following Rollover Crash in Danbury
Danbury Fire Department
This past Sunday (May 2), Danbury officials responded to a motor vehicle accident where they found a van rolled over and into a utility pole.
According the the Danbury Fire Department, at around 1 AM on Sunday, Danbury Police Officers found a van rolled over right near the school on Shelter Rock Road, in which the van had rolled into a utility pole.
The report states that there was only the one driver in the car, but the driver was stuck inside the vehicle. Both Danbury Fire and EMS were called to the scene and needed to utilize the Jaws of Life to extract the doors and get access to the driver inside.
Thankfully, the victim was conscious and was able to help the first responders when trying to get extracted from the vehicle. The victim was transported to the hospital after being cared for by EMS on scene.
Both Eversource and Frontier Communication crews were on scene to repair the broken pole and wires from the accident, and the road was closed for most of the night to make sure everything was cleared.
There is no further report about the status of the driver. Another thank you and great job to our local first responders for always doing everything they can to keep our city safe.
Vacant Brookfield Properties Give Me the Creeps
Brookfield Connecticut is a beautiful New England town with picturesque landscapes and architecture. It does have one section of road that is about a mile long, that time has forgotten. When the highway got extended, the life started to drain from this portion of Federal Road and COVID-19 put the finishing touches on any business that was hanging on for dear life. There are supposed to be people in these places, that's why they were made. The absence of humanity in these spaces makes them tragic and chilling.
7 of Danbury's Most Interesting Signs
There is a song by Tesla and the lyrics go something like this:
"Signs Signs, everywhere there's signs blocking out the scenery breaking my mind, do this, don't do that can't you read the sign?" I think the song was actually written by a man named Les Emmerson but that is for another day. Signs can block out the scenery, disturb or even make people laugh. Danbury, CT has it's fair share of signs, these are just a bit more interesting than your average public message.
Some of Danbury's Best Gas Stations When You Are in A Rush
Whether stopping for gas, getting a coffee or just grabbing a snack, gas stations/convenience stores should be convenient, but that is not always the case. Sometimes you wait in long pump lines, some gas station lots have an odd configurations, the staff can be slow to ring you out or you get stuck behind people buying 50 Lotto tickets. These Danbury gas stations have cracked the code, they don't fall into the common mistakes that make a gas station stop a headache. These are "Some of Danbury's Best Gas Stations When You Are In a Rush."