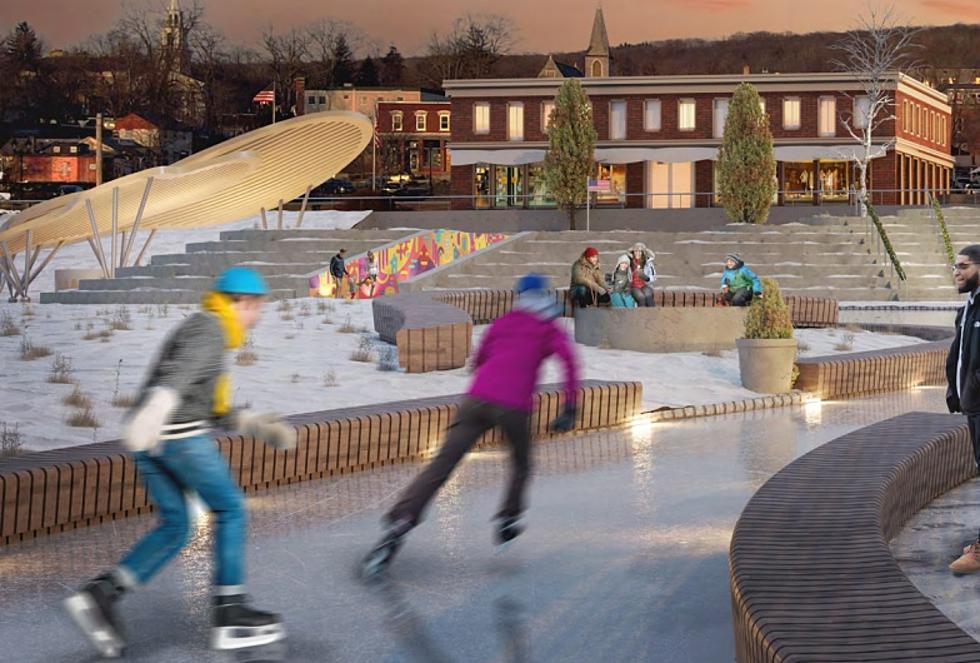 New Milford Mayor Pete Bass on What Riverfront Could Look Like in 10 Years
New Milford Riverfront Revitalization Report
New Milford Mayor Pete Bass is a regular guest on the I-95 Morning Show.
When Bass joins the Ethan, Lou & Large Dave Show, we typically cover a wide array of topics in a short 10 minute chat. Lately, one item has been at the center of those talks, the Riverfront Revitalization project. These riverfront discussions have been pretty vague until now. We spoke to New Milford Mayor Pete Bass on the Thursday edition  (6/8/23) of the show to get a bit more detailed, this is a portion of that interview.
If you had everything go your way, what would New Milford's Riverfront look like in 10 years?
"You'd come over Veteran's Bridge into Downtown, you'd be making a left to go on Young's Field Road and what currently is the green space which has the tennis courts and the skate park and the ball fields, you'd have the ball fields we're going to be moving those to a state of the art community ball field. They'll be multiple baseball, softball fields, all purpose fields for football, soccer, lacrosse, they'll also be a BMX bike track, pickleball courts there as well. These particular community ball fields will hopefully be in the Route 7 area. Then, down there you will hopefully have a splash pad that will convert to an ice skating rink in the winter time. They'll be a band shell down there so we can do live performances by the river. Also, for those who have been to Young's Field there is a steep incline to go up to Patriot's Way, we're looking at part of that to kind of lessen the elevations so to speak to make it a little smoother so in the winter people can sled down there as well. We'd expand the skate park, expand the basketball and tennis courts there as well and they'll also be a lot of green space for people to be able to relax and enjoy the view of the riverfront and all of the wonderful activities that would happen in that area. Then, right next to the green space is the Public Works area, we're actually in the process of moving those that whole facility over to Century Brass which is about half a mile down the road and freeing up all of that area so we can redevelop all of that. We want to make it really where it kind of attaches to the downtown area as well so that you have a true relationship with the river to downtown which is what we all want. That is kind of what we would see, hopefully in 10 years." 
RECAP:
Move Public Works out of the area
Move the ball fields out of the area a while replacing them with better ones on Route 7.
Install a splash pad/ice skating rink
Install a band shell for live performances
Expand the skate park
Enhance Basketball/Tennis Courts
Create more green space
Smooth out the Big Hill for sleigh riding
Add more shops and restaurants (He did not say that in this interview but we know).
I can see it, that was a phenomenal elevator pitch. If they pull this all off, I'm moving back to New Milford. While the Mayor is integral in this process he's part of a much larger group of people, as he mentioned. According to the New Milford Riverfront Revitalization Report:
"The plan builds on the input gathered from more than 20 stakeholder interviews, three public workshops with more than 400 participants (digital and in person), multiple design team charrettes, consultation with the New Milford Town Council, and guidance from the Riverfront Revitalization Committee and Brownfield Area-Wide Revitalization Planning Grant Committee who met regularly over the year-long-plus process."
My thoughts  - The report appears to a comprehensive and thoughtful look at what could be a bright future for the Town of New Milford. That said, I've not reviewed every ounce of it because I'm not part of the process and I have a job.
There will no doubt be detractors who don't have anything better to do than pick this apart piece by piece and insist the folks who wrote it are trying to destroy New Milford. I don't talk to those people anymore I talk through them. I believe, if you want to have a say in how things go, grab a shovel and get in the mud otherwise piss off.
DISCLAIMER: The opinions expressed in the "my thoughts" portion of this article are mine and mine alone. They are not the thoughts of the Mayor, the folks behind the report or Townsquare Media.
Listen to our entire interview with New Milford Mayor Pete Bass below. The Mayor addressed a recent town tragedy, the addition of a new local business and shared stats on the growth of New Milford.
Ancient Egypt and Boy King Come to Life in Brilliant CT Experience
"Beyond King Tut: The Immersive Experience" is a window into the distant past. This is a chance to see Ancient Egypt and King Tut without ever leaving Connecticut or 2023.
Greater Danbury's 13 Most Amusing Photos Captured by the Google Car
Google Instant Street View is easily my favorite free application. You can take a digital cruise through the streets of Milan Italy, a drive down the PCH in California or tool around your local area without leaving your office chair. But the best use of Instant Street View is to catch unbeknownst moments. If you look long enough, hard enough, you will find some really funny things. I've spent years combing through the Greater-Danbury area Google footage and these are some of my favorite snaps.