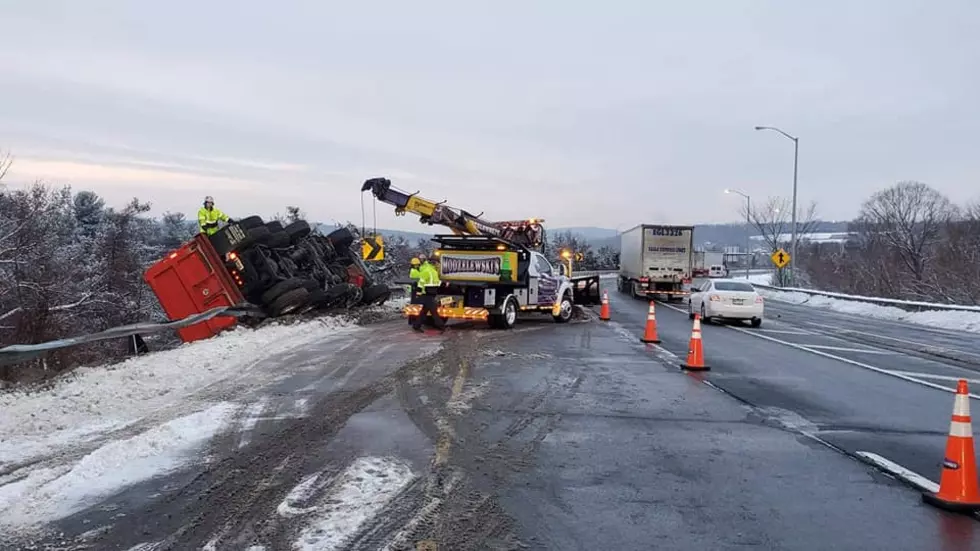 Nasty Rollover on I-84 in Danbury, Passersby Help Driver
Danbury Fire Department
This morning was not a good one on I-84 in Danbury.
According to the Danbury Fire Department, there was an accident this morning that occurred on I84 westbound between exits 4 and 3 at the route 7 split. It appears that a truck had flipped over the embankment.
Before emergency personnel arrived, two "good samaritans" climbed up the truck to help the driver get out, according to a newstimes article. Danbury Fire Department spokesperson Jamie Gagliardo said that the driver was able to exit the vehicle with their help, and exited it unharmed.
Enter your number to get our free mobile app
If you were in the area this morning, you know there was a lot of traffic and the left lane was closed. Crews remained on scene to assist with the heavy traffic flow.
As of about 10 AM, the truck was removed from the highway and emergency personnel cleared the highway.
Thank you to the first responders, and thank you to the good samaritans that helped the driver. This is a scary thing to see and to know that people will jump in and help in any way they can shows that there will always still be positivity in a sometimes not-positive world.
I feel lucky to be surrounded by this community!
The Worst Intersections in Danbury