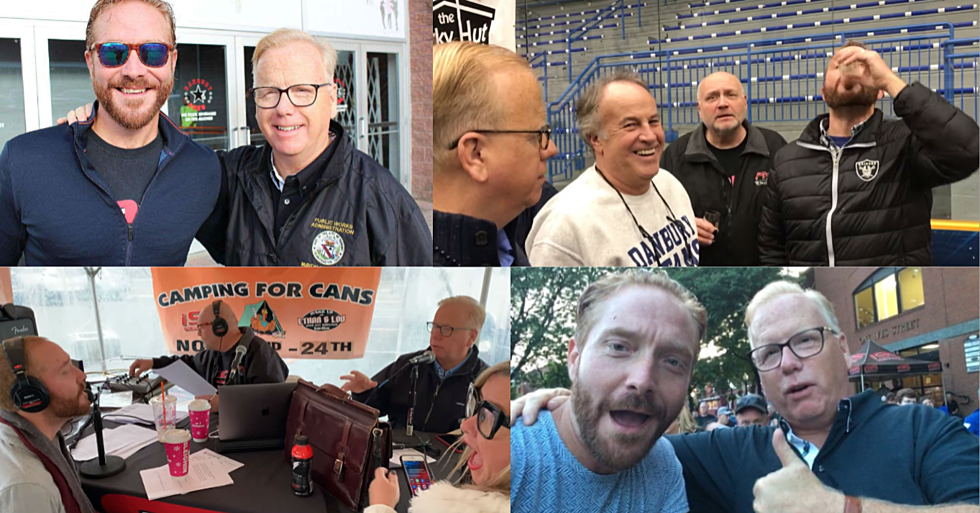 Mayor Mark Boughton Reflects on a Decade With the Ethan & Lou Show
Lou's phone
As the decade comes to a close and we bid the 2010s adieu, it got us to thinking about what the Ethan and Lou show's identity has been in those ten years. We threw around a lot of themes, bits and guests during this discussion and one name kept coming up: Mark Boughton.
Mark is the Mayor of the Great City of Danbury, a friend and longtime guest of the Ethan and Lou show. The show has been on the air at i95 for thirteen years and Mark has been on since the beginning, but it was the last ten years, in particular, that really made the relationship strong.
We had the Mayor on the show in his regularly weekly spot and asked him what his favorite memories were of the last ten years on the show and this is what he had to say:
I would have to agree that the last six months were, for obvious reasons, our most active and intriguing with the Mayor. It was an election and it was top-of-mind, so a lot of interesting things happened that were easy to remember. I knew we had others that I could not remember and went and dug up some more of the best of the Ethan, Lou & Mark show and these are my favorites:
Mark Marries my wife Erica and I: 
On Jun 17th, 2015 Erica and I were married outside City Hall, in front of about ten people with Mark performing the duties of the celebrant. For obvious reasons this is a moment I'll never forget and neither will Mark. Mark can't forget it because of my tears and he reminds me of this every time we are together.
Mark returns from health scare to celebrate Ethan & Lou 10 year Anniversary: 
(Video production by R Media)
In 2017, Mark had a serious health scare, he had to have a benign tumor removed from his brain. He sought out the best care, had surgery and thank God, he survived. Before he had a clear picture about the seriousness of his condition and before the surgery, he had agreed to be our guest at our 10 year anniversary celebration. Once we learned what kind of jeopardy he was in, we did not expect to see him that evening. Just weeks after his surgery, Mark did join us on stage at the Ridgefield Playhouse. He was still not cleared by his doctors for activity, his condition was still being monitored closely and no one would have blamed him for passing. He was a trooper and when he walked on the stage, he got a touching reception. I'll never be able to thank him enough for his support that night. That night, in classic Mark fashion he said "I've listened to you guys for 10 years so you gave me a brain tumor."
The Uncle Sam Speech: "Stolen Thunder": 
Mayor Mark, donors, city hall and city officials worked diligently for years to bring a symbol of Danbury back home where it belongs. The Uncle Sam statue that used to stand at the Danbury Fair was sold many years ago to a theme park in New York. Many people, including the Mayor put in a lot of time and work to get it back here and were eventually successful. The statue now stands in front of the Danbury Railway Museum. Mark had scheduled a statue dedication for July 25, 2019 at 2 pm. I decided to beat him to the punch, do my own speech and take credit for everyone else's work. As expected he actually enjoyed it and said it was funny but the speech was extremely derivative.
"No One Cares About Bike Paths" 
Back in March of 2019, I asked Mark about the potholes in the Hat City, he answered, I did not like the answer and I hit him with one of my best lines ever; "no one cares about bike paths."
Missed Headlines with Mark & Christine:
On the morning of Friday November 22nd, Ethan and I were kicking off the 12th Annual Camping for Cans to raise money/food for the Hillside Food Outreach. We were honored to have both Mark & Comedian Christine O'Leary help us start the event off. Both joined us and we figured while they were there, they should play along with our favorite segment.
Mark fires back during contentious campaign:
Mark's former opponent for Mayor of Danbury this past year, Chris Setaro was critical of one of Mark Boughton's hires. Mark Boughton hired his former gubernatorial campaign manager Marc Dillon to a position in City Hall. Chris compared this hire to Gov. Ned Lamont hiring his cousin with no experience to a high paying State job and added:
"You've got a situation where the Mayor's campaign's being run out of the Mayor's Office."
In response to the critique Mayor Mark pointed out Marc Dillon, unlike Ned Lamont's rapper cousin, has many years of municipal experience. Mark also pointed out that the hire saved Danbury money and reminded everyone, that Dillon's position was not to run a city campaign, Mark had a city campaign manager already. He did not stop there, Mark added this:
"Chris, once again is borderline delusional with his accusations and um, just plain wrong so I think he owes an apology to Mark, he owes an apology to our campaign and he's gotta get his facts straight."
He's a fighter, he's loyal, he funny and he is a great leader. We are proud to be pals with Mark and we thank him for his time over the last ten years and look forward to another ten with him as a contributor to the show.