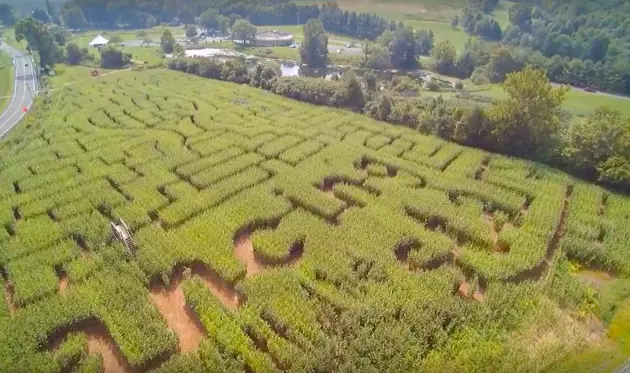 'Dancing With the Stars' Corn Maze in CT Is Nothing Short of A-MAZE-ING
Credit: Lyman Orchards Youtube Video
In the summer we told you about Lyman Orchards' sunflower maze, which amazed lots of people, and now they've created a corn maze that tops that sunflower maze.
It may be one of the hardest to waltz out of, because this year's theme for the maze is "Dancing With the Stars" (why ask why -- it's just such a cool maze) with the mirror ball trophy and all. It's super intricate and the corn is 12 feet high.
Lyman Orchards' Dancing With the Stars themed corn maze is set up across 4 acres, located at 32 Reeds Gap Road, Middlefield, Connecticut.
They have two and a half miles of trails, beautiful views, and of course pick your own fruit. 28 varieties of apples are grown there, which you can currently pick, in addition to peaches, nectarines, and more.
The corn maze is open Wednesday through Friday 3-6 pm as well as weekends and holidays 10-6 pm. The latest you can enter the maze is 5:30 pm. You can give them a call at 860.356.3703 before heading over to the orchard. Be sure to bring back something sweet for your favorite DJs!
Ethan and Lou's "Missed Headlines"
From Pink Dinosaur to Fore 'N' Aft: Remembering the Old Route 6 in Brewster: