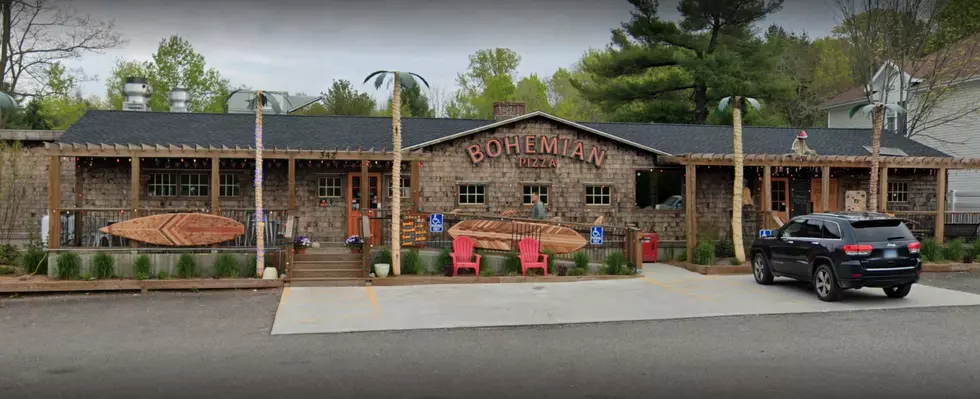 Litchfield's Eclectic Bohemian Pizza Temporarily Closing
Google
UPDATE: Right after this article was published this morning, I received a Facebook message from Bohemian Pizza employee Cynthia Benno, who may have offered some clarification on what exactly is happening at the place. We have also reached out directly to Bohemian Pizza for an official statement, but in the meantime, here is what Cynthia had to say:
"I am a bartender at Bohemian Pizza and I would like to clarify the situation because your post has a very misleading headline. The business, the building, the 7+ acres it sits on and the capital equipment all belong to a man named Gary. Gary has owned the business since day 1. Gary took on a partner 14 years ago, to run the kitchen portion of the business. That person is Jason MacKenzie. Jason was a partner, not THE OWNER. Jason's minority ownership position was bought out, by mutual agreement. Gary now owns all of it again. After a short closure, we will be back open with the iconic Pizza everyone loves, some unique new menu items and many of the same restaurant staff members. All of your beloved bartenders are still on staff. Not much will change from the customer's point of view. Not much is changing, from this staff member's point of view...just a kitchen change. We have an amazing new Chef already hired. After about a week of deep kitchen cleaning, new inventory stocking and some refitting of kitchen equipment, we will be back open. Jason posted a notice yesterday on the restaurant's page saying they sold it. He had no business doing that. I don't know why he did it but it's since been deleted. I work for Gary and this is the actual story. Please update your post WRKI because misinformation will cause ME future income if people think Bohemian is forever closed."
---
The restaurant business is so very unpredictable. We take it personally when one of our favorites suddenly evaporates, or gets sold. All of a sudden, what do you do? That's the big question this morning in Litchfield, because yesterday morning, the owner's of Litchfield's beloved Bohemian Pizza, at 342 Bantam Road (Rt. 202), announced on their social media pages that they had sold their business, they are shutting things down permanently, and moving on to the next chapter of their lives.
I saw this post on Instagram yesterday, and Bohemian also posted a similar one on their Facebook page, both of which have garnered hundreds of comments and shares. Most of which are "WHAT??!!!", and "Is the new owner going to keep the pizza/menu?", to "Oh, we gotta get one last pizza tonight". The pizza was obviously the main draw to Bohemian, the menu was full of unique pizzas and bar-food favorites. I loved the decor, I snapped a couple of photos in November of 2019, the last time I was in the place.
I loved looking at all of the different records on the wall, and there was a massive fish tank in the middle of the place that I could just sit next to and stare at for hours.
So it looks like today might be your last chance to get a Bohemian Pizza, they're offering $10 pizzas, and a very limited menu, while it lasts, from 4-8PM.
8 Good Places to Get Fresh Pasta in Connecticut