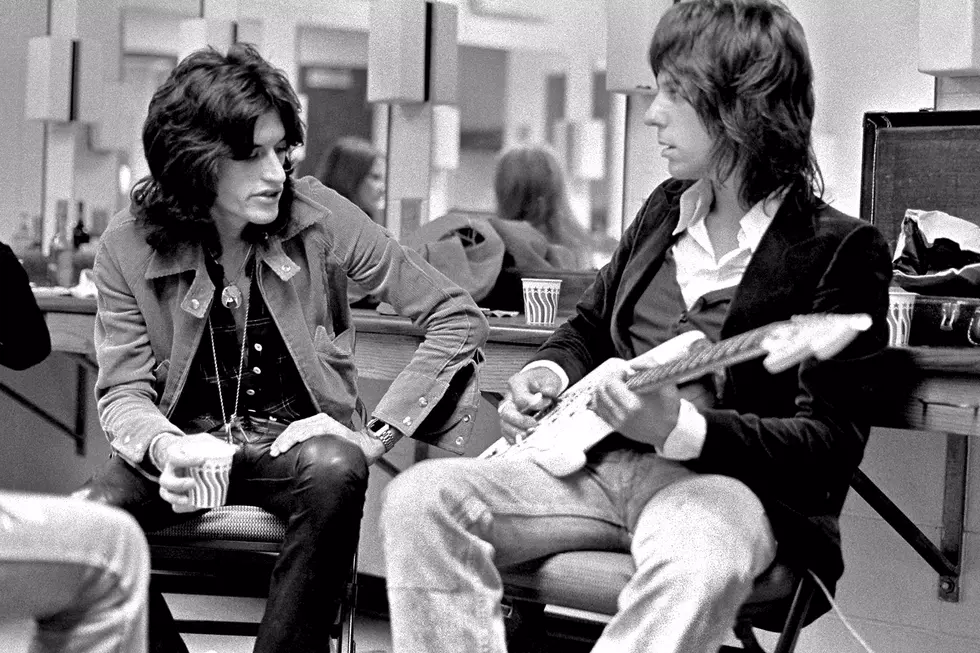 How Joe Perry Wound Up With a Stolen Jeff Beck Guitar Pedal
Ron Pownall, Getty Images
Aerosmith guitarist Joe Perry said he'd always felt bad about winding up with a guitar effects pedal stolen from Jeff Beck – and told how he managed to "adjust the karma" nearly four decades later.
In a new interview with Guitar World, Perry explained that he'd come into possession of the device in the early '70s, although he didn't have it for long.
"When we were just starting to make it in Aerosmith, our manager had been one of the big promoters in Boston and so we were able to get tickets and backstage passes to a Jeff Beck show," he recalled. "We had a road manager who was a great guy, but he just looked at the world a little different. Backstage, I didn't talk to Jeff then, but he was using an orange Colorsound [pedal]. We're driving home and our road manager pulls this orange Colorsound out of his jacket. He said, 'Well, he had six of them so I just picked it up for you!'"
Perry said he'd "got really pissed off," continuing: "I said, 'No, we don't do that! That is not us.' But we were still pretty hand-to-mouth, and back then getting equipment going back and forth across the pond was a big deal. What was I gonna do – ship it to him?" He added: "I had it for about three weeks and then it got stolen from me. I was actually kind of happy to see it go. I always felt bad about it."
He never entirely forgot about the incident, but in 2009, when he took part in Beck's Rock & Roll Hall of Fame induction, he was able to make reparations. "[M]e and Brad [Whitford] were some of the first guys to get some Klon Centaur pedals. We each had three or four of them ... I took one of my original ones and after the Rock and Roll Hall of Fame soundcheck I told Jeff the story and said, 'I just want to adjust the karma here, so I want you to have this.'"
He concluded: "I think he was pretty surprised to get it and I was really happy to give it to him."
Aerosmith Albums Ranked
Any worst-to-best ranking of
Aerosmith
must deal with two distinct eras: their sleazy '70s work and the slicker, more successful '80s comeback. But which one was better?