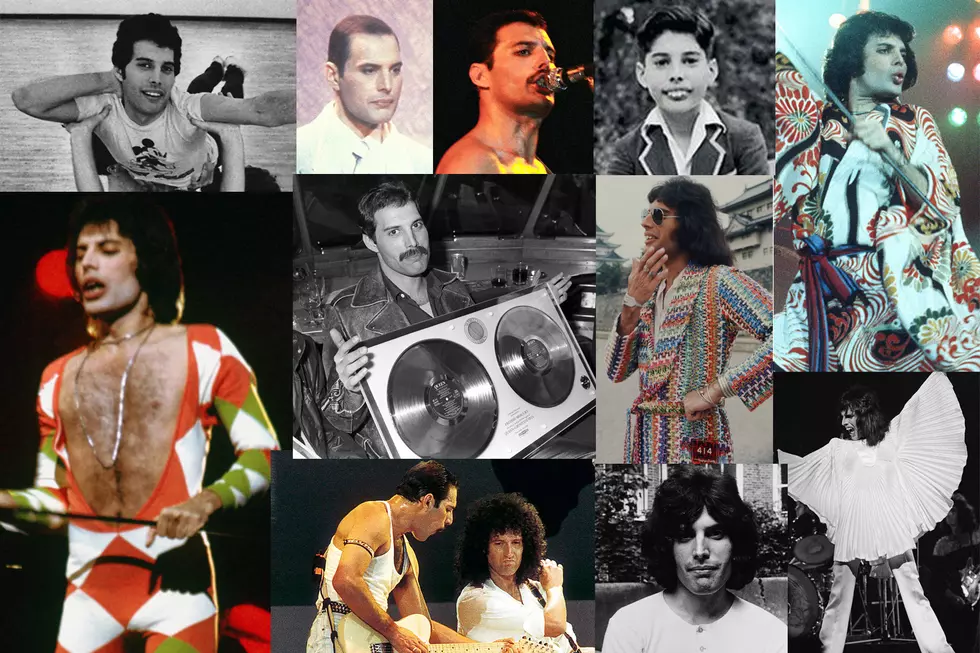 Freddie Mercury Year by Year: Photos 1973-1990
Redferns / Getty Images
Few frontmen in rock history have had the flair and charisma of Freddie Mercury. We've collected pictures of the Queen singer from throughout his life in the spotlight in the gallery below.
We begin with a picture of him as a schoolboy (year unknown) and then jump to 1969, by which point the Zanzibar-born Farrokh Bulsara was living in London, later fronting a band from Liverpool called Ibex. By 1970, he had taken over as the singer for a group called Smile, which contained Brian May on guitar and Roger Taylor on drums. Within a year, they picked up bassist John Deacon and, by the time they released their self-titled debut in 1973, the band had changed its name to Queen and Farrokh Bulsara had become Freddie Mercury.
It took a little more than a year for the public to catch on to their unique sound -- their first major hit, "Killer Queen," was from their third album, Sheer Heart Attack -- but once they did, they latched on and didn't let go. A string of classic records, including "Bohemian Rhapsody," followed, and Mercury's flair for the theatrical, complete with a flamboyant stage persona and outrageous costumes, took center stage. It all culminated with a show-stopping performance at Live Aid in 1985.
However, at some point in the mid-'80s, Mercury was diagnosed as HIV positive, and, although he continued to record with the band, rumors about his health spread in the press. When the band accepted the Brit Award for Outstanding Contribution to British Music in February 1990, he looked frail and didn't say anything other than "Thank you ... goodnight" to the crowd.
Mercury then retreated from public life, completing the sessions for 1991's Innuendo. On Nov. 23, 1991, he acknowledged to the world that he had AIDS, and passed away the next day.
Take a look at photographs from his remarkable life below.