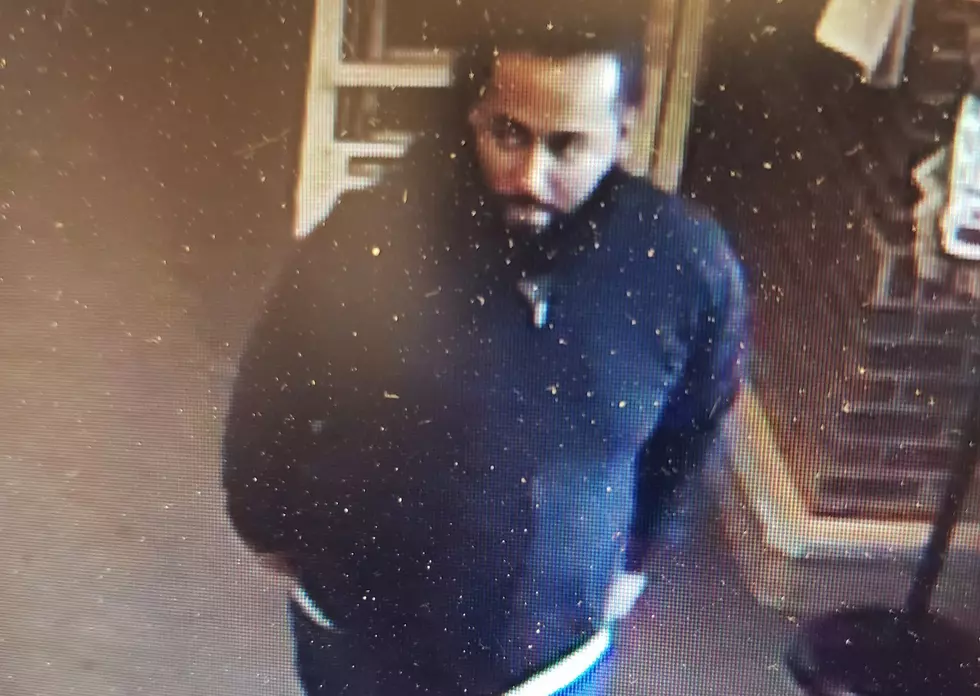 Do You Know This Man? New Milford Cops Are Investigating Him for Larceny, Vow Justice
New Milford Police Department
The New Milford Police Department is seeking the public's help to identify a man, they say is a larceny suspect.
On Sunday, Novemeber 27, 2022, the New Milford Police Department published the following statement to their Facebook page:
"Officer McIntyre is seeking the public's assistance in identifying the following suspect and suspect vehicle. The male and vehicle are suspected to have been involved in a Larceny at Stop and Shop."
In addition to the caption were two photos, this one
And this one.
Anyone with information is encouraged to contact Officer McIntyre at dmcintyre@newmilfordpolice.org
I'm a curious person by nature so posts, like this one, from authorities drive me mad. I want to know more, I need to know more so I'm going to work with what I have, and dissect this a bit. For starters, Merriam-Webster defines larceny as:
"the unlawful taking of personal property with intent to deprive the rightful owner of it permanently."
I get the concept but what property are we talking about? Since they included the photo of the car, it's possible the car was allegedly stolen? I needed to know more about CT larceny laws and according to criminaldefenselawyer.com
Larceny includes theft of property, services, utilities, and motor fuel, as well as:
obtaining property or services through fraud, false pretenses, or false promises, and
keeping lost property without using reasonable efforts to find the owner.
Instead of dividing up many of these similar offenses, Connecticut combines most of them in its main larceny statute.
(Conn. Gen. Stat. § 53a-119 (2022).)
After digesting that information, I was even further from the answer. If I'm reading that right, a larceny suspect could be someone who steals a bag or groceries, or car. A larceny suspect could go to a Stop and Shop, to meet a friend and pickup a stolen washer machine from them. A larceny suspect could be someone who picks up my lost cell phone, puts it in their pocket and walks away.
Finally, I realized I was getting nowhere fast so I reached out to New Milford Police Chief Spencer Cerruto. Cerruto made the situation very clear, and seemed determined to find the suspect, writing:
"The larceny charge is for shoplifting from Stop and Shop on 11-10-22, over $500 in items pushed cart out without paying. Employees attempted to stop but he got in a black 4 door sedan possibly a Nissan. We are asking for the public's help in identifying this criminal. We are not going to let this go until we find the perpetrator. I want these thief's to know that if they come to New Milford to steal and commit crimes that we will be relentless in our pursuit of justice. They will be tracked down and arrested. Criminals like this are a menace and have no respect for the property of others." 
Now it's crystal clear to me.
The 4 Best Places to Get Punched in the Face in Danbury
Exclusive Photos, Videos, and Interviews on the Set of New Milford Horror Movie
"Candlewood" is a horror film that just finished filming in New Milford, CT. This is how the filmmakers described the project on their Indiegogo:
"Candlewood is the first movie of three in the psychological/horror feature film franchise. A blended family moves from the city to a small town in Connecticut, where a local urban legend adds chaos and terror to an already fragile family dynamic. The staunch patriarch, who desperately wants his family to not see him as a failure but as the father that did everything, he could to keep his family together through difficult times. Candlewood follows a family leaving New York City for a simpler life in the country town of New Milford, CT. The haunting and mysterious true stories of missing hikers near a popular state park, Lover's Leap, coupled with the town of Jerusalem sitting at the bottom of Candlewood Lake gives credibility to our narrative. We bring to life the struggle of good vs evil and what happens when lifelong, outdated traditions are challenged."
A while back I got in touch with the folks behind the movie, invited them on the I-95 Morning Show with Ethan, Lou and Dave and talked about the film, and shooting in New Milford. We spoke with Director Myke Furhman and Writer/Executive Producer Victoria Flores-Argue. During that discussion, I demanded to be in the movie, telling the duo that I have some experience acting on TV shows that never actually made it onto TV. Against all odds, they did invite me to participate and I visited the set on October 20th to shoot a scene that is important. I was extremely nervous and I had zero idea of what I was in for. Below are some insider moments from my day on-set and from others.
10 Educational Steps to Keeping a New Milford Cow Happy
These are the 10 steps to keeping a New Milford Cow Happy. I already reviewed them and I'm going to need one more go-round.