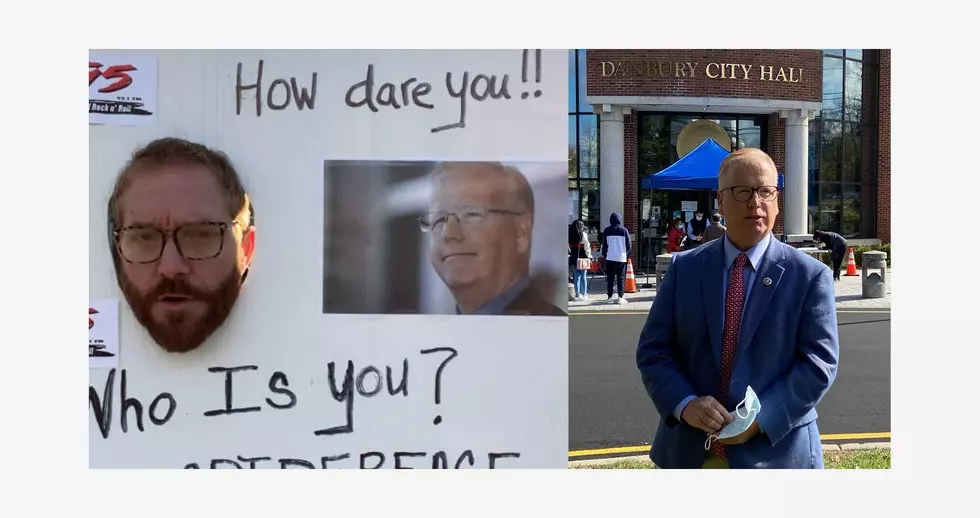 Danbury Mayor Explains Decision to Leave City Hall in Favor of State Job
Photos: Lou Milano
Thursday night the news started floating around social media that Danbury Mayor Mark Boughton was appointed to Tax Commissioner for the State of CT, meaning he would have to leave his position as Mayor of Danbury.
On Friday when the Mayor would not return my texts, I went down to City Hall and yelled at the building, he wasn't even there. Later that day we were able to get him booked on the show for today. We spoke to Mark this morning (12/14/20) and he explained his decision. (Full interview audio below) 
We asked the Mayor how long he's known he would take the State job and leave his Danbury position, he had this to say:
"It was firmed up a week ago, Tuesday."
We asked about what his responsibilities will be in his new role as Tax Commissioner, he replied:
"Yeah, there's two main components to it, the department is about 800 people, one side of it is compliance, auditing and enforcement, right? The other side of it is revenue generation, taxes, tax collection, those kinds of things.
So, those are the two pieces to it and one of the things we'll be working on, which this is really a decision of the legislature and the Governor, but certainly I'll be asked to work on it will be whether or not we determine to sell marijuana legally, recreational and of course sports betting which we've talked a lot about on this show. So, how much money will it generate, what are we going to do with it, where should we put it, that kind of thing."
I mentioned to the Mayor that in my discussions with people over the last few days, I've heard a lot of people say that the Governor seems to need him more than he needs the Governor. I sited the Mayor's popularity, rising fame and the public gaffes that Lamont has made since taking office. Bougton responded with:
"I think that part of being a good chief executive is recognizing when you need some area filled in and bring somebody in to help you, right? So, I knew that as Mayor and recognized I don't have all the answers and ideas and I want other people around the table that will bring ideas.
So, I applaud him for doing that and thinking strategically. For me it's just, you know, I made a decision about 6-8 weeks ago that was not going to run next fall because already I'm in an election year.
So, I have to make a decision and normally that decision is made in just about these two weeks and I said, no I think I am done, I think 10 terms is enough. And then it was a question of, what are you going to do next?
Literally the Governor called, not on that day. We had been kidding around for about 4 or 5 months, nothing serious and then he said, listen I am serious, I want you to come aboard. He didn't know what my decision was but he was serious and we had a serious offer on the table and I thought about it a lot and made up my mind to do it."
When we talked about this unusual bi-partisan pairing between he and Governor Ned Lamont, Boughton said:
"I just want to be clear, I'm not switching parties. I'm a Republican and I will be a Republican in Hartford."
Mayor Mark will do his final segment on the Ethan and Lou Show this Thursday (12/17/20) as Mayor. It will not be his last segment ever, he will come on now and again as our national political correspondent.
Listen to the full interview below where we also covered the transition process from Boughton to Cavo, what the Mayor thinks we can expect when Cavo is Mayor and who he thinks the Democrats will put up for Mayor next fall.
Enter your number to get our free mobile app
13 Crazy Relatives You'll See Over Christmas Vacation