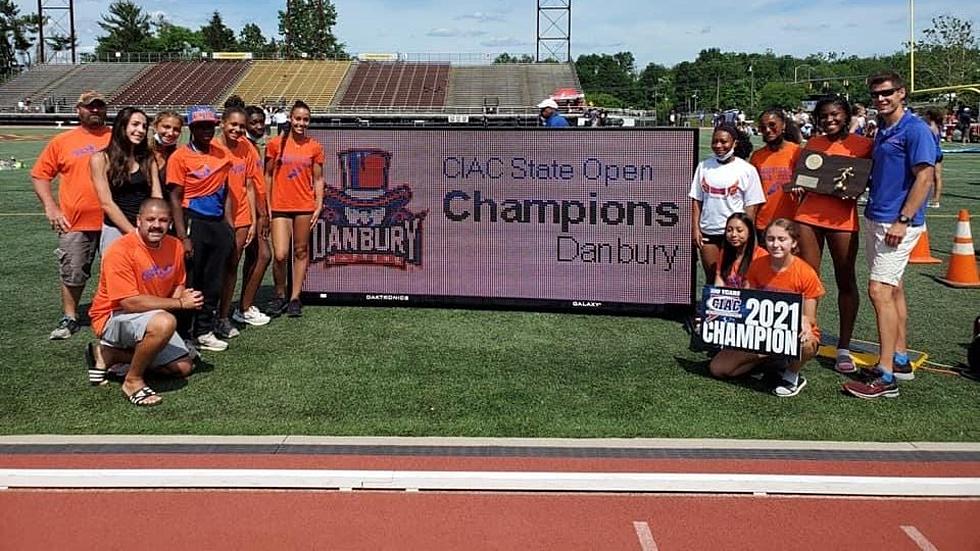 Danbury Girls Track Team Named Track and Field Team of the Year
Image Credit Danbury High School
The Danbury High School Track and Field program has always been one of the best in the state, but recently the girls track and field team has taken team of the year honors.
It's another award for the trophy case in the hallway adjacent to the schools gym, as the CIAC, the Connecticut Interscholastic Athletic Conference, has named the Danbury Girls Outdoor Track and Field team the 2021 Connecticut team of the year.
The team was led by Junior Alanna Smith who was named the CHSCA Girls Outdoor Track athlete of the year.
According to bvmsports.com, Smith led the Hatters to their second straight State Open title after her gold medal wins in the 100 meter, 12.03 seconds, and in the 400 meter run, 56.78 seconds. She also became the state champion in the 200 meter with a time of 24.49 seconds, which shattered the schools previous record. To put the whole thing in perspective, Smith was responsible for 30 of the 44 points for team Danbury.
The school is also pumped for next year as Smith is set to return again for her senior season.
When interviewed by the NewsTimes, and asked about whether or not he saw the "Team of the Year" honor coming, Danbury's girls' outdoor track and field coach, Nick Fraticelli, explained that his coaching philosophy isn't typically focused on things like the award, but rather making sure that the athletes work hard together as a team, and of course, have a good time doing it. He also acknowledged the fact that this particular season was much tougher on the Hatters than others in the past because of the circumstances surrounding all of the hybrid and remote learning throughout the year. That must've have been very difficult in building a bond among the athletes.
LOOK: 20 Fascinating Photos From the First Modern Olympic Games in 1896
To celebrate the history of international sports cooperation,
Stacker
 took a look back at that groundbreaking event in Athens, when the modern Olympics were born in 1896. Keep reading to learn more about the athletes, spectators, and sports at that iconic event.
CHECK IT OUT: 100 sports records and the stories behind them