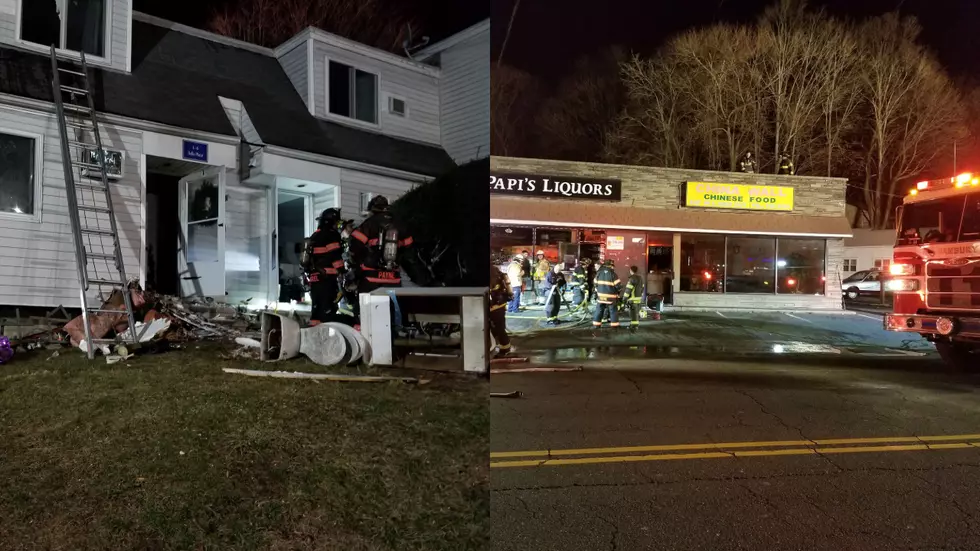 Danbury FD Fight Two 2nd Alarm Structure Fires in One Night
Danbury FD
The Danbury Fire Department says it was quite the "busy night" in the Hat City, with the city's bravest having to battle two working structure fires in a within a very short period of time.
According to a social media post from the DFD, fire fighters responded to a report of a structure fire on Bells Place just after 6:00 PM on Sunday (December 23). After confirming that it was a working fire in the basement of a six unit residential building, a second alarm was requested and the responding firefighters brought in backup.
The crew was able to distinguish the structure fire with haste and actually salvaged most of the residents' Christmas gifts. Most importantly, no one was injured.
As the city's Fire Marshal investigated the cause of the fire, the American Red Cross was also on hand, since the fire caused 24 local residents to be displaced. The Danbury Fire Volunteer Council say they're putting together some additional gifts for the children of the families who've unfortunately had a tragic life change just two days before Christmas.
As if that weren't enough action for one night, Danbury's Bravest was cleaning up the scene in the aftermath of the Bells Place fire when the received a second call for a restaurant fire on Lake Ave.
Upon arrival, Engine Company 23 confirmed that there was yet another working structure fire in Danbury. This time, it was the China Wall restaurant at 73 Lake Ave. At that point, the fire fighters that had been at the scene of the Bells Place fire rushed over to the restaurant.
The fire ended up extending up into the loft that sits above the restaurant, but the firefighter fighters were able to contain it to just China Wall, and its neighbor, Papi's Liquor was able to be re-occupied. The owner of the restaurant was the only one who suffered a minor injury, and was taken to Danbury Hospital to be treated for a small burn.
In the DFD's social media statement they had this to say about the hard work and diligence of the city's first responders:
Its nights like this that make us all realize how hard our dedicated first responders and City Departments work to keep our city safe. This evening was a true reflection of the teamwork from our career and Danbury Volunteer Fire Department, City of Danbury Police Department, Western Connecticut Health Network Danbury Hospital EMS, City of Danbury Building, Electrical, Health, Water and Public work departments. Every agency quickly pulled together to keep damage to a minimum and assist our residence in a time of need. Also, thank you to Bethel Fire & EMS and Brewster Fire Department for the mutual aid assistance while all Danbury units were operating.