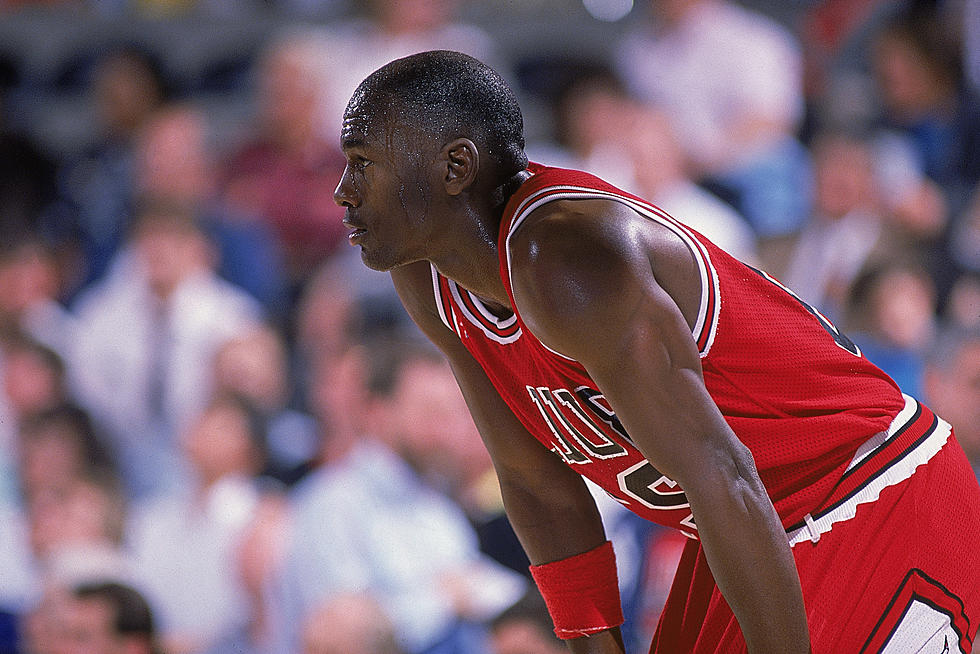 CT Man Has Michael Jordan Game Ticket Worth Hundreds of Thousands
(Credit: Mike Powelll/Allsport/Getty Images
If you're a sports fan, there's a good chance you have a bunch of old ticket stubs from games you went to stashed in a junk draw somewhere.
For one Connecticut man, a ticket stub he's had since his college days is worth a pretty penny, actually it's worth hundreds of thousands of dollars. The ironic part, he didn't even remember he had it and had no idea the ticket was worth it's weight in gold.
His name is Mike Cole, and he's an Admissions Director at Quinnipiac University, and according to Yahoo Sports, it was just by accident that he realized the stub could be his meal ticket to send his kids through college.
See Mike likes to save ticket stubs from games he's attended, so when he fell asleep watching one of the recent NFL playoff games, then went on line to catch the highlights of the game, a headline on the site he was visiting got his attention.
A ticket stub from Michael Jordan's NBA debut in 1984 had just sold at auction for $264,000 dollars, which by the way was a new record price for a vintage sports ticket.
The more Cole read about the record setting ticket stub, the more he began to freak out. See Mike Cole always saved his old tickets, actually he kept them in what he calls a memory box, and for years that box had sat in the basement of his home.
The highly priced stub was from a game he attended when he was just a freshman at Northwestern University, and it just happened to be the debut game of a new player on the Chicago Bulls named Michael Jordon.
According to the article, the even more ironic was the fact that he was given two tickets for that game but since the Bulls weren't much of a draw at that time, Mike couldn't get anyone to go with him, so not only did Mike have his stub, but he had a complete unused ticket as well.
After finishing the article on the auctioned ticket, Cole ran down to his basement and checked his memory box, sure enough there it was, the unused ticket and his ticket stub from Michael Jordan's debut game.
Once he had the ticket in hand he began to e-mail some sports memorabilia auction houses to inquire about possibly selling the prized ticket. It seemed that everyone who he e-mailed called back right away.
He finally decided to put the ticket on the auction block and listed it through Heritage Auctions, billed as the world's largest collectables auctioneer. As of today, (February 18) the current high bid for Mike's ticket is $250,000 dollars, but a spokesperson for the auction house said that it looks like the ticket could surpass the recent world record for a vintage ticket, and could fetch up to $1 million dollars for Mike.
If that happens, Mike already has some plans on how to spend some of his new gotten gains. Looks like he and his wife will use it to pay off their mortgage on their Connecticut home, put his kids through college, and take a trip overseas.
Not a bad payday for an old ticket that no one actually used.
LOOK: 50 images of winning moments from sports history
Sometimes images are the best way to honor the figures we've lost. When tragedy swiftly reminds us that sports are far from the most consequential thing in life, we can still look back on an athlete's winning moment that felt larger than life, remaining grateful for their sacrifice on the court and bringing joy to millions.
Read on to explore the full collection of 50 images Stacker compiled showcasing various iconic winning moments in sports history. Covering achievements from a multitude of sports, these images represent stunning personal achievements, team championships, and athletic perseverance.
30 famous people you might not know were college athletes
Stacker
dug deep to find 30 celebrities who were previously college athletes. There are musicians, politicians, actors, writers, and reality TV stars. For some, an athletic career was a real, promising possibility that ultimately faded away due to injury or an alternate calling. Others scrapped their way onto a team and simply played for fun and the love of the sport. Read on to find out if your favorite actor, singer, or politician once sported a university jersey.