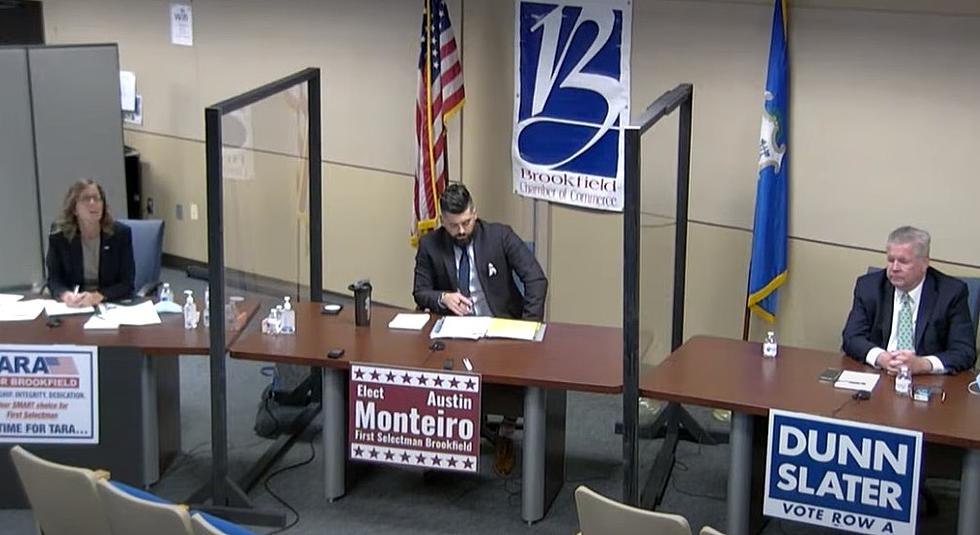 Brookfield First Selectman Candidates Exchanged Verbal Blows Over Affordable Housing at Debate Tuesday
Youtube/BrookfieldCT
Brookfield's Chamber of Commerce held a debate with the candidates for First Selectman on Tuesday evening (10/12/21).
Candidates Steve Dunn, Tara Carr and Austin Monteiro exchanged verbal blows and shared their vision for Brookfield's future. The event had become a bit controversial after the Chamber announced there would be zero capacity for spectators.
Instead of residents being able to watch the debate in-person, the Chamber held a live stream of the proceedings on Youtube. The video of the full debate is available at the bottom of this article.
NOTE: There are, what appears to be spectators in the room, in the Youtube video. I reached out to Austin Monteiro who told me the only people there were the moderator, Chamber of Commerce members and a reporter.
I watched it and wanted to share a bit of what I believe were the highlights. Most of the evening centered around the streetscape project and affordable housing in town. Below are some quotes I've pulled on those matters from each candidate.
Tara Carr on the Streetscape Project:
"It has been a complete and utter mess, a missed opportunity time and time again. I don't care if these plans were laid twelve years ago or six years ago. You've had six years of involvement Mr. Dunn and it has been a disaster. You ask ten different people on your staff what is happening down there, you are going to get ten very disjointed answers. Nobody knows the answer, you talk about streetscape, you talk about the phases of this, that and the other thing, you talk about future development, you talk about uh, let's not avoid the elephant in the room, 8-30g which I oppose tremendously I just want to make that very clear upfront. There is far too much affordable housing going on down there, and it should be no development for the sake of development. People were promised a nice downtown area, they have not gotten that, and again it's turned out to be a mess."
Austin Monteiro on Low income housing:
"I am not against low income housing, at all. I think it's very expensive to live here especially coming from a younger perspective. I have three brothers who are in their mid-20's, It's a very expensive town. The average rent for a one-bedroom house, one-bedroom apartment is $1,600 in Brookfield, CT, to me that is crazy. So, I'm not against low income housing, I think it needs to be put in the proper place, and I think we need to, at times help people in the community out who are struggling financially and who need help to get going. For the younger person in Brookfield, there is not much opportunity, I want to help bring some opportunity here for the under 30 crowd. They all leave to Texas, California, Colorado basically all my friends have left, they're not here, the cost of living is not good here. So, low income housing is not off the table for me, it needs to be in the right spot."
Steve Dunn on affordable housing:
"Yeah, when we took office there were two developments, Brookfield Village and Laurel Hill that were 100% affordable. Laurel Hill used a loophole in Federal law to move there affordable from a 20% affordable to 100% affordable, those were done before we took office. We immediately, when we took office, we are one of six towns in Connecticut that has an affordable moratorium against 8-30g. Now, I'm not against affordable housing but I am against 8-30g because 8-30g allows any developer to come into your town in one did, trying to build a six story building in our downtown and we couldn't stop them. I called them in my office, I said to them, here's the deal you can build a six story building but it's going to take you seven years. I'm going to take you to court my residents will give me the money to take you to court and seven years from now you can build it."
Here is more on 8-30g.
It will be interesting to see what happens on Election Day, the Ethan and Lou Show will cover all the results and proceedings leading up to that day. All three candidates, Steve Dunn, Austin Monteiro and Tara Carr have appeared on the show already this election season to share their ideas for Brookfield and we intend to have them all back at least once more before the votes are cast.
Inside the Charming Russian Village in the Woods of Southbury
Every Tuesday you can hear "The Place You Live" on the Ethan and Lou Show featuring Mike Allen. Mike takes a deep dive into one local story each week and this week it was all about a Russian village in Connecticut. This week we learned that Southbury, CT is the home of a tiny Russian Village designed by some of Russia's most well respected writers.
Inside the Holding Cells and Grand Rooms of Danbury's Fairfield County Courthouse
One of Danbury's most significant buildings is the vacant courthouse on Main Street. I took a tour of it recently and captured images to share with you. This is a look at the judge's chambers, inside the holding cells and around the grand courtroom of the Fairfield County Courthouse.
Drone Captures Crystal Clear Images of Brookfield From High Above
While cruising Youtube recently I found a video that captured my attention, drone footage from high above Brookfield, CT. The video happened to be of a section of Brookfield right above the radio station I've been worked at for 21 years, I-95.
Amazing Pictures and Facts About I-95 (WRKI) and Its Broadcast Tower
Mark Weiss is a retired broadcast engineer, avid I-95 listener and a drone enthusiast. Recently, I published an article that featured drone photography and Mark messaged me and said, "that's nothing, you should see what I have."
I asked him to share what he had and he sent these stunning photos. He photographed the I-95 (WRKI) broadcast tower from above. Weiss shot the photos in 2018. He sent them to me and attached a note that read: "Flown by DJI Phantom 4 Pro 2.0."
Rather than just publish the photos, I wanted to add some accessory information. I spoke to a few current employees, a few former employees and dug through the oldest file cabinet we have to find out some things, even I didn't know. These are some amazing photos of our broadcast tower and some fun information about it's history and the history of I-95.
44 Images From Inside the Haunting + Historic Old Jail in Danbury
Rich history and survival is the story of Danbury's Old Jail. It's historical significance in the Hat City is unquestionable, and many residents know some of the facts. What people may not know, is that it took great effort on the part of many Danbury residents to keep it protected. It's not a miracle that it stands today, it's a result of hard work and respect for the City's narrative. Here I share with you some of the facts that make the Old Jail special, the work it took to keep it intact and why I found the space haunting.
Greater Danbury Bobcat Sightings, Too Close for Comfort
This morning (4/28/21) on the Ethan and Lou Show we were discussing a viral video from North Carolina. In it, a couple was brutally attacked by a rabid bobcat but according to
USA Today
, they are going to be OK.
This sent me off on a tirade about bobcats because this happens to be one of my pet peeves. In the Greater-Danbury area, wildlife sightings are frequent and when one animal gets photographed, everyone piles on and says, yeah me too You saw a bear? I saw a bear!
I made the case that too many people are claiming to have seen bobcats recently, and with no proof. I said, look I know they are prevalent but they can't be around in the numbers that people will have you believe. Every Frank and Fran in the area says they saw one yesterday.
I said, if you saw a bobcat, prove it. It looks like I may have been underestimating the bobcats and the Ethan and Lou listeners because they did prove it and in a hurry. These are the Greater-Danbury Bobcat Sightings That are Too Close for Comfort.
The 100 Best Places to Live on the East Coast