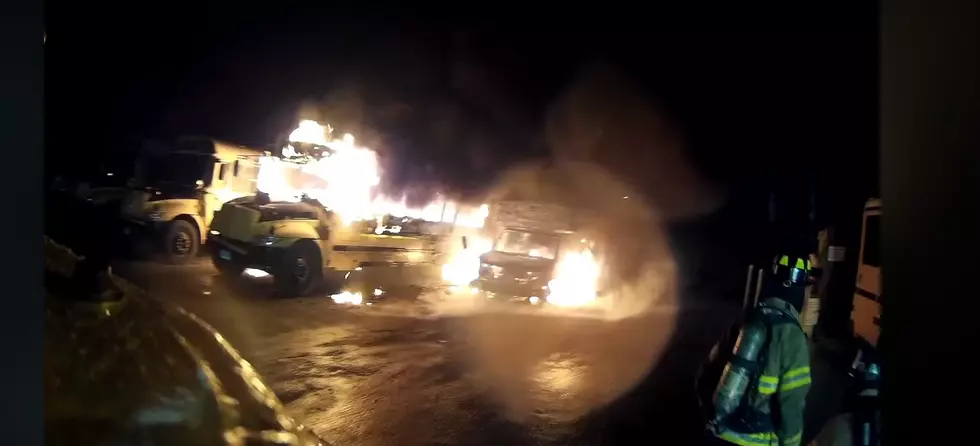 Bethel Police and Fire Marshal Investigate School Bus Fire
Video Image Courtesy Of The Stony Hill Fire Department
Bethel Firefighters responded to a fire early Sunday morning (January 12) at the First Student Bus Company on Henry Street.
When firefighters arrived right around 2:30 AM, they were shocked to find that two full size buses and one mini bus were engulfed in flames. The situation could have been much worse, however, according to the Stony Hill Fire Department:
If it weren't for the observant Bethel Police Officer who smelt smoked in the Greenwood Ave area, this could have been a more serious situation. Recognizing that the odor wasn't just chimney smoke, the officer began to search the downtown area, quickly finding the source on Henry Street.
Multiple sources, including newstimes.com, are reporting that the fire broke out at around the same time local residents in the Henry Street area reported on Facebook about hearing a "loud bang."
The firefighters also told dispatch that the fire broke out about 15-20 feet from a fuel source that could have led to some major issues.
Bethel Superintendent Christine Carver says that all three of the buses were damaged beyond repair and, while the investigation is underway, Bethel Emergency Management and the Fire Marshal will be investigating the fire. They'll also be inspecting all the other buses to make sure they weren't damaged from the fire.
Fortunately, the buses that were destroyed by the fire were spares, and there was no disruption in service as kids went back to school on Monday morning.
Enter your number to get our free mobile app