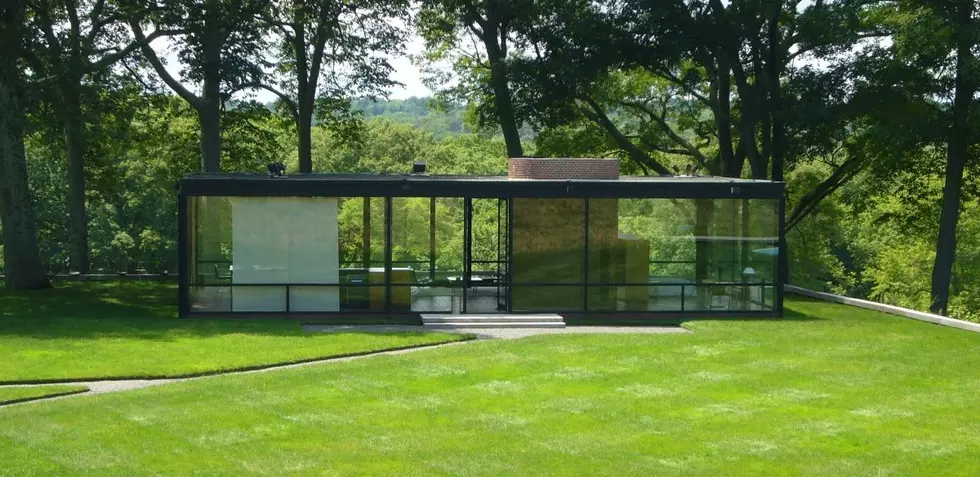 A Unique Connecticut Tourist Attraction Can Be Found in New Canaan
Public Domain/CC/Staib
How crazy would it be to have a house almost entirely of glass? Forget privacy for one thing, depending on how far from the road you were or how close to the neighbors you lived. It would definitely determine your in-house attire on a day-to-day basis, or, of course, you could block the windows somehow with blinds or drapes or whatever. Regardless of how you would approach living in a house like that, the architecture, design, and overall look of the house make it super cool and interesting.
The Glass House is located in New Canaan, Connecticut, just an hour away from New York City (48 minutes from Danbury), and is the work of renowned architect Phillip Johnson. According to his biography, Phillip Cortelyou Johnson was born on July 8th, 1906 and his career spanned almost three-quarters of a century. Phil is a rich kid from Cleveland who went to Harvard to earn degrees in philosophy and architecture. He built his own house in Cambridge, Massachusetts right after he graduated from Harvard in 1943 and immediately served in the US Army during WWII.
Those of you who follow architecture are, I'm sure, well aware of Phillip Johnson. He worked on the design of The Museum of Modern Art in New York and was its first curator of architecture and design, which seems like kind of a big deal. He was awarded the American Institute of Architects (AIA)'s Gold Medal in 1978 and in 1979 was the first recipient of the Pritzker Architecture Prize, both, again are kind of big deals. Bottom line is that Phillip is definitely a major influence in the world of architecture on many different levels and styles.
The Glass House in New Canaan is no doubt a very unique structure with all the walls made of glass. Johnson was influenced for the design of The Glass House by The Edith Farnsworth House in Plano, Illinois. The Farnsworth House was the weekend home of Dr. Edith Farnsworth and was designed and constructed by Ludwig Mies van der Rohe. Both are very similar in their design and have been designated as historic sites owned and operated by the National Trust for Historic Preservation. Below is a picture of The Farnsworth House.
Not only is the house cool to look at, but you can actually pay a visit and check it out up close and personal. The Glass House visitor center is located at 199 Elm Street in New Canaan and is set up for one hour tours, two hour tours, self-guided tours, private tours, group tours, extended tours, in-depth tours, and more. If you would like to pay it a visit, make sure you check all of the visitor policies before you leave regarding parking, check in, dress code, and other information you will need to know. The Glass House location also has with it a Studio, The Brick House, Painting Gallery, Da Monsta, Pavilion In The Pond, Sculpture Gallery, Monument To Lincoln Kirstein, and Ghost House.
The Glass House In New Canaan, Connecticut
Abandoned 100-Year-Old Home in Rural Connecticut
The Jewelry of A Treasure's Trove And Where They Were Found
A Treasure's Trove is a book that offered clues to the location of hidden tokens throughout the United States. The book has ties to Danbury, Connecticut, and Robert Underhill, the founder of Jewelry Designs and maker of most of the jewelry featured. The tokens were hidden from sea to shining sea from Swanny City Park in Moab, Utah to Ricketts Glen State Park in Pennsylvania.