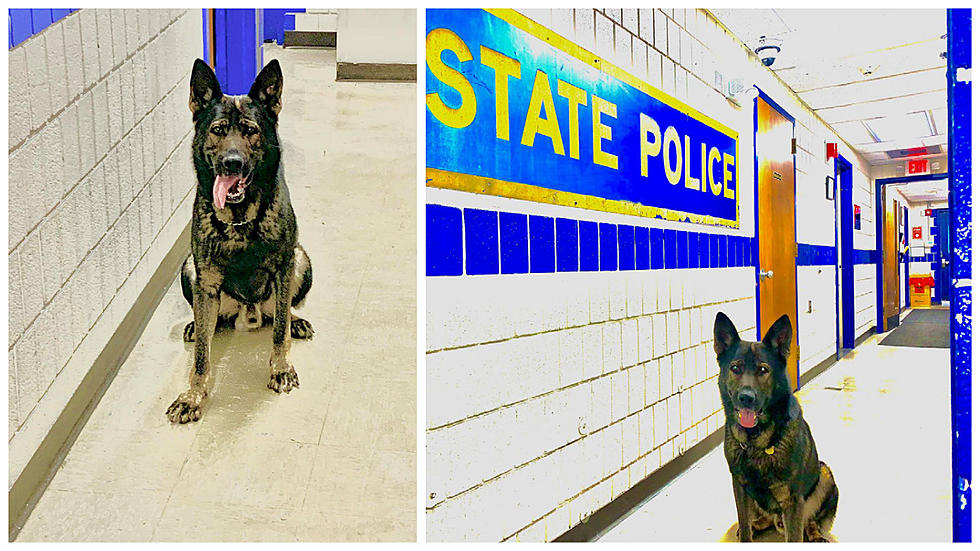 CT State Police K9 Helps Locate Two Suspects Involved in Disturbances
CT State Police - Troop E
Who's a good boy? Connecticut State Police - Troop E's K9 Jack, that's who. Jack was busy last week, he helped to apprehend not one, but two subjects in very different circumstances and locations.
In the first incident which occurred on Saturday June 12, 2021, State Troopers, Montville and Mohegan Sun Tribal Police Officers all were called in to assist with locating a male subject involved in a disturbance.
K9 Jack and his Officer began to track the subject in the vicinity of Mohegan Sun Boulevard and they were able to flush the subject out of the woods. As the 49-year-old male attempted to flee across Mohegan Sun Boulevard, K9 Jack was able to bring the guy down before he got away and he was placed under arrest. Turns out, the suspect had an active, extraditable warrant, issued out of Rhode Island.
Jack had few quiet days after the first incident, but just over a week later, at 7PM on Sunday June 20, 2021, CT State Troopers responded to a call from the Groton Police Department to help locate a male subject who had allegedly assaulted and threatened a female at the Flagship Inn and Suites on the Gold Star Highway in town. The suspect fled into the woods as officers arrived on scene.
K9 Jack and his hander joined in on the search and after tracking through a wooded area and several hundred feet of a walking trail, Jack was able to flush the suspect out of the woods, who surrendered and was taken into custody. The suspect, 48 years old, was arrested by the Groton Police.
So, if you're a 48 or 49 year old man in Southeastern Connecticut and you feel like being an idiot, and committing a crime, take a look at the fuzzy face above. That's what you're going to be looking at, as K9 Jack and The CSP run you down.
Check out these 50 fascinating facts about dogs: