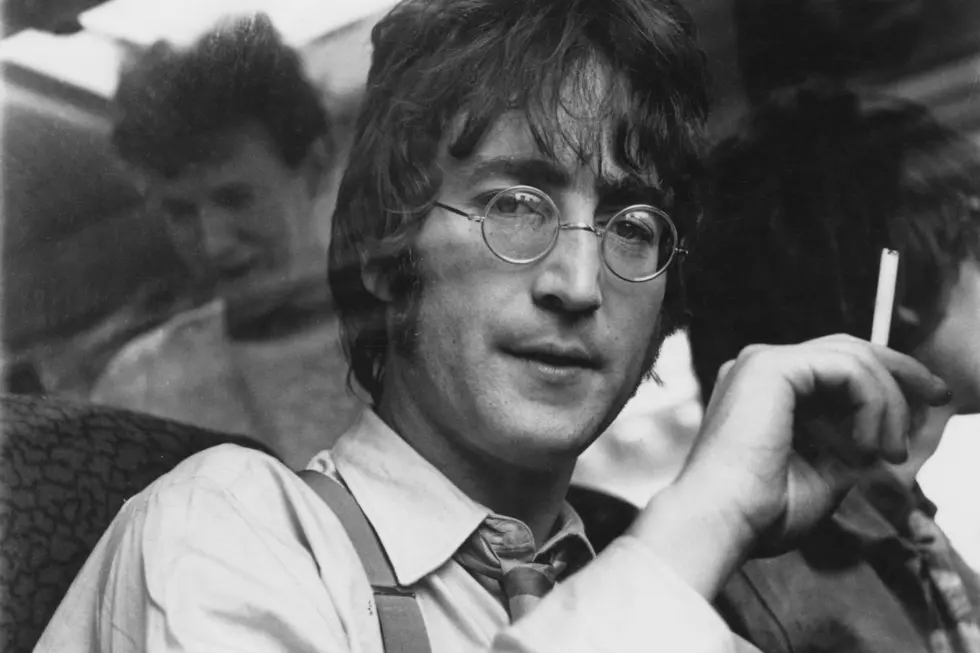 The Nine Greatest John Lennon Tribute Songs
Jim Gray / Hulton Archive, Getty Images
"And I've been knocking but no one answers
And I've been knocking most of the day
Oh and I've been calling, oh hey hey Johnny
Can't you come out to play"
Elton John - "Empty Garden (Hey Hey Johnny)"
On the night of December 8th, 1980 the world was stunned to hear the news that John Lennon was assassinated outside the Dakota Apartments in New York City. It was on that cold dark night that the music had stopped. There would be no more songs to be sung by one of the most iconic figures in music history.
In the years that would follow many of Lennon's fans, friends and former band mates paid tribute by writing songs in his honor. There are many that have been recorded but, for John, we will round this list out to his favorite number - 9.
9

"Ballad Of John Lennon" - The Elect

This is a hard-to-find recording of a Lennon tribute by a band called "The Elect". The song was posted a couple of years ago on YouTube but it's only gotten a couple hundred or more views. The recording is pretty raw but a very cool folksy tribute to John.

8

"John Lennon's Guitar" - Barclay James Harvest

This 1990 song from the English progressive rock band Barclay James Harvest was written by guitarist John Lees. Lees played the same Gibson Epiphone Casino that Lennon had played during the Beatles' last ever live performance in January 1969 on the recording of the Barclay James Harvest song called "Galadriel" from 1971.

7

This touching 2008 recording by Oasis samples an audio excerpt of a John Lennon BBC Radio interview done two days before his death. If only John had more time.

6

Anything Freddie Mercury and Queen recorded is worthy of a listen but a tribute to John Lennon? That just makes it that much more special.

The lyrics to this track from the band's 1982 album 'Hot Space' are mostly about Freddie's realization that John Lennon was gone and never coming back. It was a hard dose of reality that Queen fans would come to experience almost a decade later.

5

"Roll On John" - Bob Dylan

Over two decades after John Lennon's death Bob Dylan sang about that fateful December night in 1980 on this song from his 2012 album 'Tempest'.

The song features several Lennon lyrics including "Come together right now" and "I heard the news today, oh boy."

4

"John Lennon" - The Outfield

There is much more to The Outfield than they're 80s hit "Your Love" and this track from 1990s 'Diamond Days' album is one example.

Guitarist John Spinks not only wrote this song but he also sang lead vocals. Sadly Spinks passed away from cancer in 2014 but this tribute to his fallen hero stands out as one of his finest moments.

3

"All Those Years Ago" - George Harrison

George Harrison had stated in an interview that this song was originally written for Ringo Starr. After Lennon's death, however, he changed the lyrics and released this dedication to his band mate, friend and the man he "always looked up to" - John Lennon.

2

"Here Today" Paul McCartney

A year after George Harrison paid tribute to John Lennon with his song "All Those Years Ago" (Song #3 on this list) Paul McCartney followed with this touching tribute to John in 1982.

Paul McCartney and John Lennon - The greatest songwriting duo in music history. Hard not to shed a tear listening to Paul singing about his friend and musical soulmate.

1

"Empty Garden (Hey Hey Johnny)" - Elton John

Elton John had developed a close relationship with John Lennon both personally and professionally at the time of his death. Elton was and is the Godfather of Lennon's second son Sean, he performed on several of Lennon's songs and it was at an Elton John concert on November 28th of 1974 that John Lennon made his last-ever live appearance.

This is the highest-charting Lennon tribute ever recorded as it reached #13 on the charts in 1982. The lyrics were written by Elton's lyricist Bernie Taupin and, as with all other Elton/Taupin classics, Taupin tapped into Elton's emotions like no one else can.