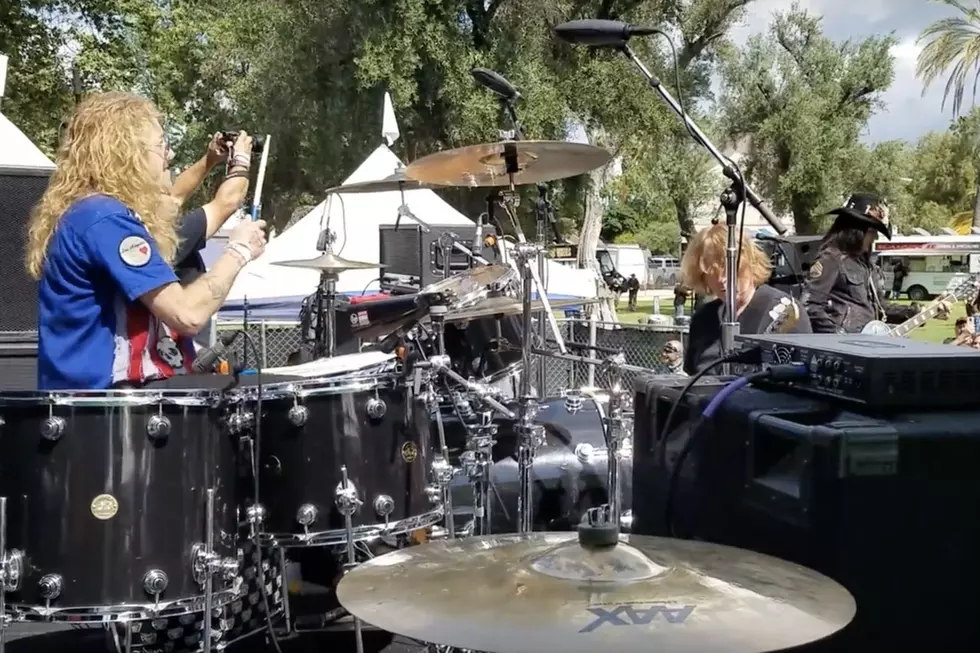 Watch Steven Adler Play Guns N' Roses Classics With Lita Ford and Jeff Pilson
YouTube
Former Guns N' Roses drummer Steven Adler dipped into the band's classic catalog for a good cause over the weekend, revisiting three of the band's songs during his set at the 2017 Ride for Ronnie rally on May 7.
As seen in the fan-shot footage here, Adler was joined by a roster of rock vets that included singer Lita Ford and Foreigner bassist Jeff Pilson, with the lineup rounded out by Quiet Riot vet Alex Grossi, Hurricane guitarist Robert Sarzo, singer Patrick Stone and Whitesnake bassist Michael Devin. The group treated the crowd to renditions of GNR favorites "Welcome to the Jungle," "Sweet Child O' Mine" and "Rocket Queen."
Part of a broader annual event benefiting the Ronnie James Dio Stand Up and Shout Cancer Fund, this year's Ride for Ronnie rally and concert marked the third edition of the celebration spearheaded by Dio's widow, Wendy, who's dedicated herself to helping battle the disease that claimed his life in 2010. As she recently shared with Ultimate Classic Rock, it's an event that's only continued to gather momentum.
"The first year with the ride, we had about 150 riders and about 500 people attending," Dio told UCR. "Last year, we had 350 riders, and 1,500 people attending – and this year we're hoping it'll even be more. We're growing and raising more money for cancer, and keeping Ronnie's music and legacy alive."
Adler, meanwhile, continues to hold out hope that his abbreviated involvement in GNR's partial reunion tour might lead to something more substantial later on. Noting that this summer marks the 30th anniversary of the group's landmark Appetite for Destruction LP, he recently mused, "I was thinking why don't we just do four or five shows and play all of Appetite from beginning to end, throw [in], like, 'Civil War,' and maybe something off of… like 'Patience'… and record it, videotape it ... I thought that would be really cool. But that's my idea. If it was up to me, it would be a different story. But it is what it is."
Guns N' Roses' Most Historic Concerts