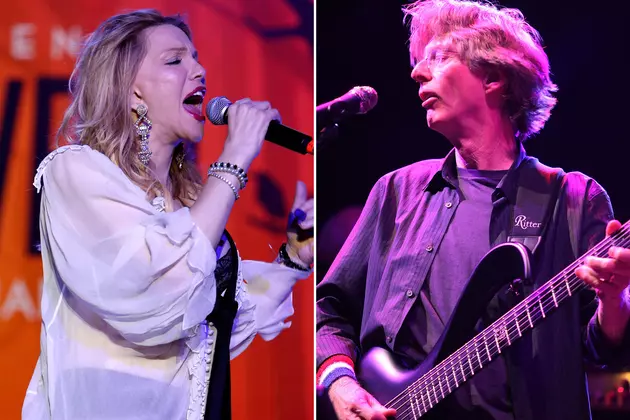 Is Grateful Dead's Phil Lesh the Godfather of Courtney Love?
Randy Shropshire / Vince Bucci, Getty Images
Courtney Love said she wanted to know the truth behind rumors that Grateful Dead bassist Phil Lesh is her godfather – but admitted she had been "too shy" to ask the question directly.
Instead, she asked John Mayer – currently the guitarist in the offshoot band Dead and Company – to find out on her behalf, promising him a Rolex watch in return.
Love's father, Hank Harrison, has a long history with the Dead, having been part of the backstage team since their early days as the Warlocks and for some time afterward, though he's said to have fallen out with the band, apparently after writing three unapproved books about their career in the '70s.
Harrison and his daughter appear to be permanently estranged, particularly after he spent several years claiming in public that he could prove she'd been directly involved in the death of her husband, Kurt Cobain, in 1994. Last year he published a book caleld Love Kills: The Assassination of Kurt Cobain, in which he discussed his position.
"My insane father, who briefly managed the Warlocks (and apparently stole from them), after dosing me at 4, and loads of other crazy stuff," Love commented on an Instagram picture posted by Mayer last month. "He told me Phil (Lesh) is my godfather. It may be true. Will you find out? I was too shy to ask in Albany once on tour. Maybe he's not. I don't know. ... And I'll get you a nice Rolex, John. Lol lol."
Lesh declined to be part of Dead and Company when they formed in 2015. The band -- which does include Grateful Dead members Bob Weir, Mickey Hart and Bill Kreutzmann -- completed a short U.S. tour last month. They play the Lockn' Music Festival in Arrington, Va., on Aug. 25 and 26. Love recently appeared onstage alongside old flame and sparring partner Billy Corgan.