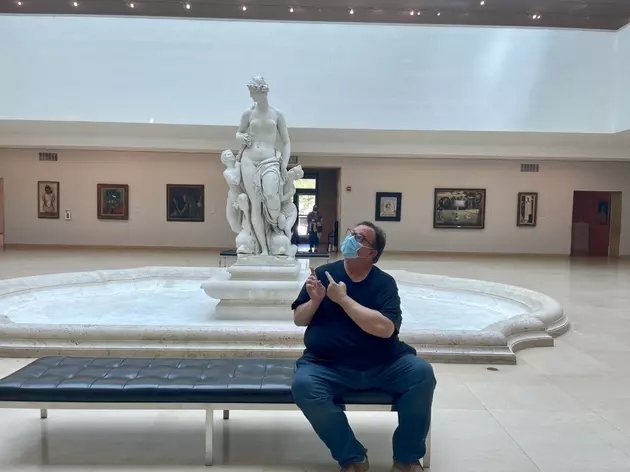 Over 130 Connecticut Museums Offering Free Admission For Kids
Photo by Mrs. Large
What you see above is a photo of me as I recently took in the amazing Wadsworth Atheneum Museum of Art in Hartford. Standing in front of a Salvador Dali, a Picasso, or a van Gogh thrills me, and I think it's important to pass that wonder and respect for our animals, artists, and their beautiful works of art along to our children. The State of Connecticut agrees with me, and they've done something about it.
Starting tomorrow, July 1, right through September 5, 2022, over 130 museums, aquariums, historical societies, and our only zoo in Connecticut, will all offer free admission to kids 18 and under. The state program has been dubbed CT Summer at the Museum, and CT Governor Ned Lamont has just announced the list of participants for 2022.
Here's how it works - From July 1 to September 5, Connecticut children 18 and under, plus one accompanying CT resident adult, can visit any of over 130 participating museums free of charge. There are a couple of minor rules and regulations, which you can read all about by clicking HERE, but wow, the list is huge.
All of the heavy, tourist-attraction-hitters are on the list, including my beloved Wadsworth Atheneum and the CT Science Center in Hartford, Bridgeport's Beardsley Zoo, Mystic Aquarium, the gorgeous New Britain Museum of American Art, Maritime Aquarium in Norwalk, and the newly-opened Katherine Hepburn Museum in Old Saybrook.
Those are the big boys, but there are over 120+ more Connecticut attractions offering free admission through the Connecticut Summer at the Museum program. Maybe it's time to take your train-loving kid to the Danbury Railway Museum? Or how about checking out Stepping Stones in Norwalk? Free, if your kid is under 18. Check out the complete list of participating places by clicking HERE
7 of the Best Family Beaches in New England
Your Guide to Greater Danbury Farmers Markets for 2022
A look at 10 Farmers Markets in the Greater Danbury area.
100 Diverse Danbury Eateries to Keep Your Taste Buds Busy
It's a lot to take in, Danbury has well over one hundred places to eat, these just happen to be the 100 Hat City spots that I can remember from the top of my head.
NOTE: There is a link in the description box to each businesses' menu or website.