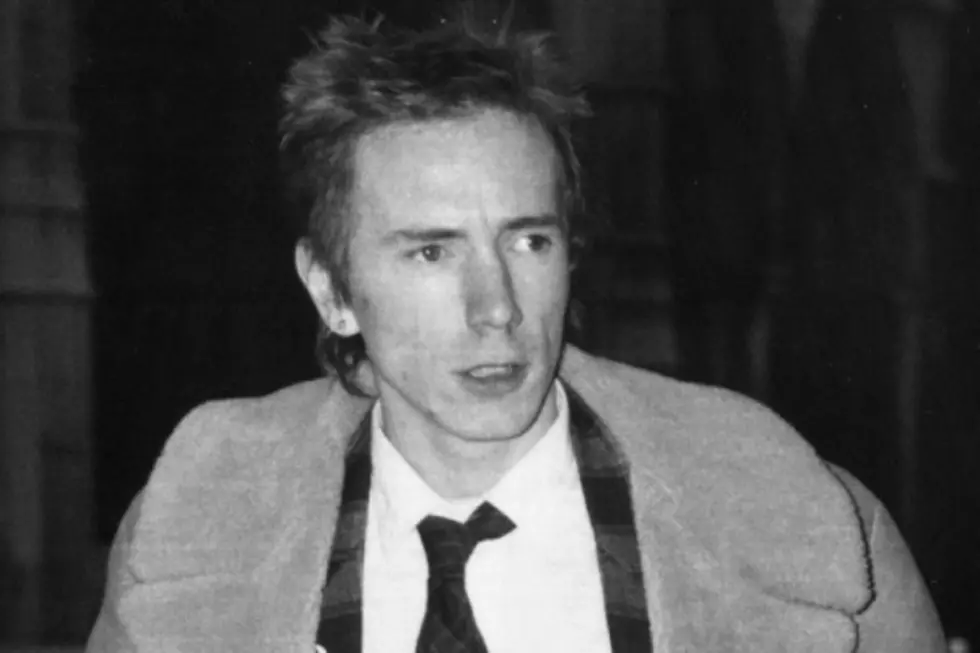 When John Lydon Got Arrested After a Pub Fight
Central Press, Hulton Archive, Getty Images
Under ordinary circumstances, it might be easy to assume that a celebrity arrested for some sort of public rowdiness might be given preferential treatment after being hauled off to the hoosegow. John Lydon has never been "ordinary," however, and the officers who arrested him after an Irish pub brawl weren't exactly fans of his work.
Lydon looked back at the incident, which took place Oct. 6, 1980, in his memoir, Anger Is an Energy. As he later told the Irish Times, even though he's the son of Irish immigrants, he wasn't welcomed upon returning to his homeland: "I went to a pub and the barman wouldn't serve me. Words were exchanged and the police were called. I was arrested for attacking a policeman's fist with my face and thrown in Mountjoy for the night. Some homecoming. The police and the screws made a big deal out of me, they tried to shatter my morale – well, good luck on that one."
In Anger Is an Energy, Lydon accused Irish authorities of going the extra mile to try and humiliate him in front of his fellow prisoners. "On my arrival the warders decided to make an example of me. They stripped me down, threw me into the yard and hosed me down," he wrote. "Inside there, it was tough — really really tough and hard – and a punishing regime."
After being repeatedly woken during the night by the sound of the guards' batons on his cell door, Lydon recalled being brought into the common area for his allotted daily hour of television. "Who came up but yours truly on the news?" he wrote. "The embarrassment. I just wanted to crawl under the concrete."
When he stood trial three months later, Lydon said he found himself quickly vindicated. "The judge saw right through the contradictions in the two witnesses' statements. They didn't even bother to turn up, at least not till after the case had been dismissed," he recalled. "I was acquitted, but not before I was asked to make a £100 donation to the 'poor box.' That's Irish justice for you."
As a result, Lydon refused to perform in Ireland for more than 20 years, and as the Quietus notes, he channeled his outrage over his arrest into "Francis Massacre," a song on Public Image Ltd.'s 1981 album The Flowers of Romance whose lyrics find the former Sex Pistol declaring "I will not plead guilty" and vowing to "go down for life." "I didn't even wait for the band to get into the studio," he said. "I had to get this anger out of me."
When Lydon did finally return to the Irish stage in 2008 with the reunited Sex Pistols, he remained rather ambivalent about his roots. "A number of the drunken louts actually thought we were there to celebrate the royal family — despite all I've said and done about that institution over the years," he clucked to the Irish Independent. "I thought 'Oh, my God, it's true — the Irish really are dumb.'"
See the Sex Pistols Among the Top 100 Albums of the '70s